Bhindi Masala: Let's Talk Okra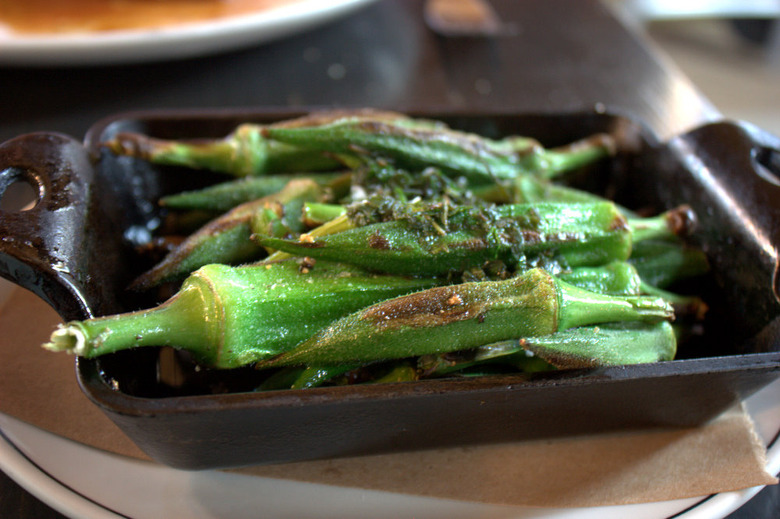 When I cook lunch for myself, I usually have the same first craving: quick okra curry, or bhindi masala. It takes no time to make, is unbelievably healthy (as I'll get into shortly) and is so addictive you'll wonder how you ever lived without okra.
Quick fact: okra has so much digestible fiber that you'll be "internally cleansing" for days. I believe in the fiber fairy. It's miraculous in that it will keep you full longer than meat of any kind in any portion — and believe me, I've eaten some unwise portions of meat.
But isn't okra slimy, tough and suitable only for frying? Yes, yes and it is suitable for things in addition to frying. Stir-frying, in particular. As for the slime, or mucilage, as it prefers to be called, it lowers cholesterol, regulates insulin levels, has tons of B vitamins and, can't emphasize this enough, facilitates the fiber's "internal cleansing" like a bottle brush shot through a T-shirt cannon. Okay, maybe not quite that fast, it's actually a rather gentle process, but I definitely digress. Let's get cooking.
Heat two tablespoons of canola oil in a large non-stick pan over medium heat, then add a heaped tablespoon each of minced garlic and peeled ginger root and stir-fry until fragrant, about 2-3 minutes. Add half a finely chopped red onion and half a serrano chile, seeded and minced, and continue to fry, stirring frequently, until onion is translucent.
Add a pound of okra, trimmed of tops and tails, sliced on a bias into 1-inch thick rounds and two tablespoons of garam masala and toss well to coat everything. Lower heat slightly and cook without stirring for 5 minutes, then flip the bottom layer to the top and cook for another 5 minutes. Wait, it gets better.
Push the okra into a pile in the middle of the pan, then make two wells and crack an egg into each. Pour two tablespoons of water into the pan, cover with a tight-fitting lid and cook for 3-4 minutes or until the white has set but the yolk is still runny. That serves two people who previously thought they didn't like okra (or any Indian food besides tandoori chicken), and is perfect with toasted crusty bread to mop up the good stuff. Like the sardine and cream cheese sandwich, it's one of my favorite lunches of all time.
I really wish I had a picture of it. That's my project for this weekend (win-win). Check out our Instagram, I won't leave you hanging.
More healthy lunches on Food Republic: