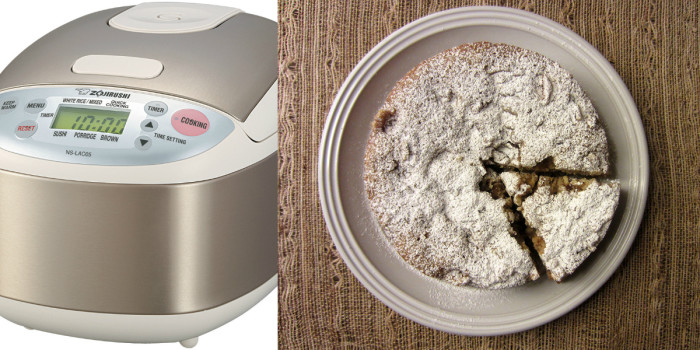 Rice cookers have gotten mighty fancy these days. What was once a plug-in pot with a single on/off switch has evolved into a multi-function machine that resembles a NASA control panel. Why buy a complicated contraption when a cheap saucepot will do the same job?
Zojirushi makes a convincing case with its latest Micom rice cooker. The machine uses fuzzy logic — a feature that intuitively adjusts cooking time and temperature — to cook perfect grains of rice with zero effort. Settings include: white/sushi, mixed, porridge, sweet, brown, cake, steam and quick cooking.
We tested various types of rice — and even baked a cake! — to see if the Micom measures up to its promises.
Positive (+)
Its form is impressive. The rice cooker is deceptively lightweight with stainless steel parts and a plastic steamer basket that are easy to clean. The exterior stays cool to the touch while cooking, and a retractable power cord provides clutter-free storage — and that's only in the rare event that you ever have to put it away.
Function is even better. Jasmine and brown rice both cooked evenly using their respective settings, and a warming function kept rice hot indefinitely. It also worked for an easy breakfast. Steel cut oats and milk were added in the evening and slow-cooked using the porridge function — by morning they were piping hot and ready for toppings. Quinoa and pearl barley both cooked into fluffy, not mushy, grains, and chicken steamed in the basket over short-grained rice was cooked through but moist.
The only setting that raised skepticism was the cake baking function. An instruction manual included specific recipes and warned that common quantities of cake batter would be too much for the rice cooker. We halved a banana cake recipe and gave it a go: the 60 minute cycle turned out to be too short, but after running it through the machine a second time, dessert was done. The cake was tender with perfect, springy crumb.
And all of the above required nothing more than the press of a button.
Negative (-)
At over $100, the Micom is more expensive than other fuzzy logic rice cookers on the market. Cooking times are also longer than rice made on a conventional stovetop (a regular white rice cycle is one hour.) Finally, a "Twinkle, Twinkle, Little Star" starting chime can be cute or annoying, depending on your perspective. Other than that, it's hard to find fault with this machine.
Verdict
If you're a regular rice eater, you will love this machine. And if not, you're bound to become one. Whether you want a bowl of beans and rice or a slice of cheesecake, the Micom can act as a countertop substitute for pots, pans, slow cookers and ovens. Personally, my saucepots have been collecting dust ever since this machine arrived. A hundred dollars is a small price to pay for such an invaluable appliance. Zojirushi Micom Rice Cooker & Warmer, $132, amazon.com
---
More Gourmet Gadget Tests on Food Republic: