Are You Cool Enough For Iceberg Ice?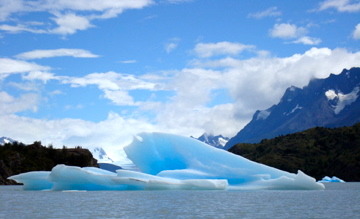 Some years ago, in Chilean Patagonia, I boarded a narrow, yellow kayak and paddled out to a big, blue iceberg. I was in Torres del Paine national park, and happened to be sharing my boat with a writer from National Geographic.
The main difference between us? While we both gazed up in awe at the sheer magnitude of the looming cobalt-blue structure, a stunning wind-carved sculpture dating some 12,000 years, I was the only one to wonder aloud, "Mmm... I wonder how it tastes?"
I did break off a piece of iceberg ice and pop it into my mouth that day — our guide said it wouldn't hurt the great frozen hulk. I didn't taste iceberg again until last month at the Manhattan Cocktail Classic, when I attended a seminar called, "Ice Capades." It was led by two friends of mine: cocktail blogger Camper English, who makes a heckuva lot of specialty ice at home, and Wayne Curtis, who wrote a book about rum and most recently has been dabbling in illicit ice imports.
"Glacier ice is a novelty since it doesn't actually affect the flavor of the drink," Curtis told me after his talk. He had brought a slab of glacial ice to the seminar and had it broken down to chill the drinks of those in attendance. "It's just something that adds to the story of the drink," he continued. "That popping in the glass? It's air that's been entombed since before the Industrial Revolution, so it's as pure as can be. There is something cool about that."
No pun intended, I'm sure.
So, how can you get your hands on a cube from the Great Ice Age? Well, it's not easy. If you happen to live on a cold-weather coast — say, Alaska or Newfoundland — you may be in luck. People harvest glacier ice for use in the production of vodka, beer and even bottled water. But for these products, the ice gets melted down so that it can be tested for pathogens. The problem with getting a hold of glacier ice as a solid is getting it approved for safe consumption. You don't want to find a frozen fish floating in your cocktail.
In Newfoundland, where Curtis got his slab of glacial ice, people harvest broken pieces of iceberg that wash up from Greenland and sell them out of the back of their pickups by the side of the road. In Chilean Patagonia, you can get a cocktail chilled with iceberg ice, but be careful who tries to sell it to you. A man was arrested earlier this year for stealing glacier ice in order to resell it as designer ice cubes in trendy bars.
With the handful of designer ice companies that have surfaced in the last few years (Hundredweight in New York, Névé in Los Angeles), it seems like there would be market for glacier ice should the legal kinks ever get ironed out. It's nothing new, anyway. Before ice machines, people only had access to harvested ice. The ice trade blew up in the early 19th century, when ice from Maine and Massachusetts was shipped to thirsty southern cities like New Orleans and as far as Havana, Martinique and even India.
"The rise the Cobbler and the Mint Julep was basically built around the availability of natural ice," says Curtis.
Just think what the availability of iceberg ice at your favorite watering hole could bring. At the very least, it would take the vintage cocktail trend to an epic level.
---
Read more about mixology on Food Republic: