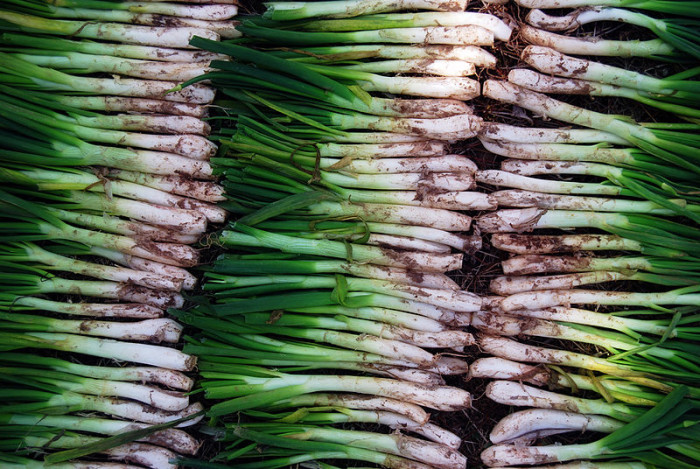 There comes a point in every food-loving life when you have to face hard questions. Has your passion for seasonality taken a dark turn? Is your commitment to local produce alienating friends and loved ones? Do vendors at your local farmers' market avoid eye contact when you approach?
If so, you may be suffering from an affliction striking culinary communities around the globe. From Catalonia to the Caribbean, we food fans are in danger of becoming maniacal, celebrating a single, seasonal ingredient to the point of obsession.
Whether you're paying $20 per pound for onions in New York, or inspiring actual fruit-related protests in Israel, know that you are not alone. Take a deep breath, step away from the altar of Alice Waters, and read on to see if yours falls within the world's top five singular culinary obsessions.
1. New York: Ramps
When these garlicky little rock stars hit farmers markets for their six-week limited engagement each spring, New Yorkers start eagerly forking over funds for any menu item featuring the bulbs. Twitter feeds are ablaze with the sort of excitement usually reserved for Jeter sightings or cobras on the lam. While ramps are admittedly delicious, New Yorkers' endless enthusiasm for them begs the question: Would wild onions by any other name taste so sweet?
2. Tokyo: Matsutake
In a city known for manic culinary crazes, Matsutake mushrooms inspire an almost religious devotion amongst food-loving Tokyoites. Once a major seasonal symbol à la spring cherry blossoms, the fall fungi now have to be harvested by hand and are thus exceedingly rare. With a limited season of just a few short weeks, individual 'shrooms can run around $200 a pop, yet sell out of purveyors stalls and restaurant menus every year.
3. St. Croix: Mangoes
Summer in St. Croix means mangoes. With over 80 varieties grown on-island, Crucians employ the fruit in everything from butter to sushi to home-brewed beer. At the annual Mango Melee, now in its 13th year, mangoes take a starring role at events like Mango Dis, Mango Dat, a hugely popular Iron Chef of sorts, in which local chefs compete to create the best mango-centric dishes. Go with an open mind and an empty stomach.
4. Barcelona: Calçots
Cousin to the scallion, calçots are a Catalan tradition. The cultivation process, in which roots are replanted and repeatedly covered with dirt, is so specific that calçots from their native Valls are geographically protected by the E.U. Harvest season was extended due to popular demand; fervent Barcelonans now hold elaborate calçotada, or parties and festivals in calçots' honor, for up to three months each spring. Come early and come often to taste the charred bulbs dipped in garlicky salvitxada sauce.
5. Tel Aviv: Passion fruit
In 2005, a Tel Aviv flash mob staged an actual demonstration against passion fruit. First brought to Israeli shores by Australian farmers in the early 20th Century, the perennial flourished in the Eastern Mediterranean climate, and became so omnipresent on fine dining menus and farm stands alike that angry Tel Avivians simply couldn't take it anymore. Let this be a lesson to us all.
---
More about local food on Food Republic: