Mexico: 36 Hours With Chef Richard Sandoval. Tequila Involved.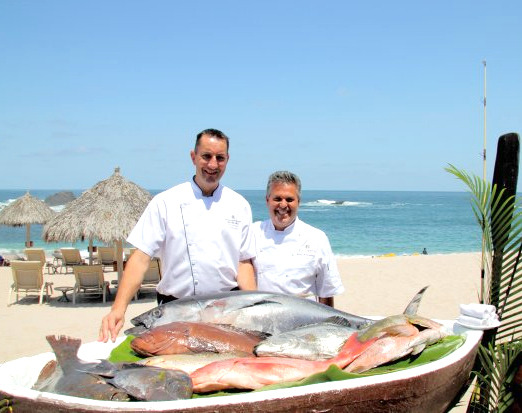 Richard Sandoval grew up in Mexico City at a time when Mexican food in America amounted to little more than burritos and crunchy tacos. Today, he owns some 20 Latin-inspired restaurants around the U.S. and in Mexico, Dubai and Qatar, with several new ventures planned for this year. He takes regular trips back to Mexico – for inspiration more than anything. On a recent one, I tagged along.
I didn't see much of Richard for the first few days of our trip together. This was no vacation, after all. He had restaurants to look in on, recipes to research and a mini empire to run remotely. (I was kept busy with trips to markets, sweets shops and cooking classes.) But once we got to the Four Seasons in Punta Mita, where he has a restaurant called Bahia, he finally got to relax a little. Well, not quite. Here is how the next 36 hours or so unfolded:
2 p.m.
Richard, in chef whites, meets the fishermen bringing in catch of the day on the beach. A family staying at the resort corners him with a million questions about the different species. He doesn't seem surprised at how much two little girls are interested in a yellowfin tuna big enough to eat them. He also doesn't seem worried at how much they're poking it.
3:00 p.m.
Armed with a couple pink snappers from the afternoon's catch, the chef grills up some fish tacos for a small, informal cooking class. See the recipe. The secret? Chipotle mayo. The class doubles as lunch.
6:00 p.m.
I'm taken to a private yacht owned by the Four Seasons and, upon boarding, I find Chef Sandoval already aboard, sipping tequila.
6:05 p.m.
I too am now sipping tequila. Followed by Champagne. Followed by more tequila. This goes on for a couple hours as we munch carrot, celery and jicama sticks and sail the Riviera Nayarit. Someone aboard figures out how to plug an iPod into the boat's sound system. More tequila ensues.
8:00 p.m.
The yacht begins to pull in to dock. Richard asks if we should have one more round. I make the mistake of saying yes. The captain is instructed to take one more lap around the bay. And I'm instructed to drink more tequila. The rest is blurry.
8:00 a.m.
My bags are packed and I'm ready to meet Richard and the rest of our group to leave for Guadalajara.
8:05 a.m.
I discover that departure has been delayed a few hours so everyone can sleep off last night's tequila.
12:00 p.m.
In the car driving toward Guadalajara. After passing the 10th or 11th roadside mercado, we pull over for green coconuts. We drain them quickly and get the meat inside sliced, salted, peppered and squeezed with lime to snack on. Richard has his first piece of noni, a prehistoric-looking fruit with super-sticky flesh that tastes of mango and bananas. It's my first time having it, too.
1:07 p.m.
Still driving. I'm napping, while Richard is on the phone discussing a soon-to-open restaurant back in the States. He's giving exacting plating directions for shrimp cocktail. There's a way to keep a shrimp from flopping over, apparently. I doze.
1:37 p.m.
Still on the road, passing billboards advertising presidential candidates. Richard knows the favored man; he's an old school chum. I ask him whom he will vote for in the next election. He says he won't.
2:12 p.m.
Dozing again when we arrive at Casa Herradura, a tequila distillery just outside Guadalajara. More tequila, but also a primer on how it's made. Richard tells me he likes to take his chefs here. He believes that only by taking them to Mexico to see how the food – and drink – is made can they truly understand his cuisine.
8:00 p.m.
In Guadalajara and it's time to eat again. We're at Latina, a funky little spot painted in bright reds and blues with rows of decorative pigs on the walls and live music, the kitchen sends out plates and doesn't stop until we can't muster another bite. A standout is a fried fish taco with a thin slice of jicama as the tortilla. Richard has a similar dish: a Peking duck taco with a thin slice of daikon radish as the tortilla.
11:48 p.m.
It becomes clear why Richard Sandoval keeps coming to Mexico. It's not just his home; these trips are recipe recon missions. It's where he gets his inspiration. And you can't build an empire without it.
---