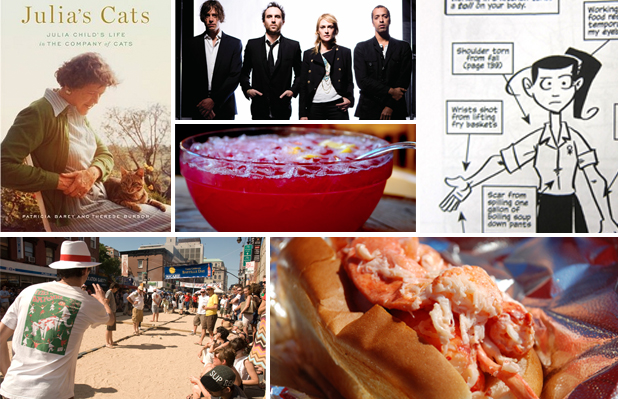 1. Getting people drunk with punches
OK, you should always drink responsibly, especially in the July heat. But nothing says backyard BBQ like a large communal bowl of highly refreshing (and potent) punch. Our cocktail writer Brain Quinn detailed the best way to drink outdoors, including ice and glass management. Drink Ford Tough columnist Simon Ford also provided some tips, along with a great Fish House Punch recipe. Here's another solid recipe with rum. Or you can batch out a Bramble and serve over crushed ice. Your friends will thank you, just before they black out.
2. Finding exotic cured meats to pair with Lambrusco
Here's how you get your homesteading rockstar of a neighbor to share his newly cured duck prosciutto: bring over a bottle of Lambrusco and mention you heard he was making charcuterie. Could you possibly take a peek? Oh wow, duck prosciutto. And me here with this condensation-coated freshly chilled bottle of refreshing sparkling Italian red…
3. Road trip to New Haven, CT
One of FR's editors (to remain nameless) has never been to New Haven. It's not really that big of a deal except for the fact that New Haven is home of two incredible — and historic — pizza and burger spots. Frank Pepe Pizzeria Napoletana (known simply as Pepe's by the locals) and Louis' Lunch, which claims to be the birthplace of the hamburger, are two of the city's most-visited. There's also a location of Mamoun's up there, which is never a bad place to visit. Frank Pepe Pizzeria Napoletana 157 Wooster Street New Haven, CT 06511, 203-865-5762 Louis' Lunch 263 Crown Street New Haven, CT 06511, 203-562-5507 Mamoun's 85 Howe Street New Haven, CT 06511, 203-562-8444
4. Daytime drinking and the European (soccer) Championships
The world's eyes will be on Poland and the Ukraine throughout the rest of June, as 16 teams from Europe compete for one of soccer's most coveted championships. What that means for us is sneaking out of work in the early afternoon to watch the games live from the States at our favorite bars. Good thing we've been practicing our daytime drinking. Oh, and who are we putting our money on? Let's just say we'll be drinking German beer come July 1. Now through July 1.
5. Summer booze in large-scale popsicle format
Guess what's great about figuring out the right ratio of St. Germain to pear juice to vodka for boozesicles? All the slushy just-won't-freeze mistakes you'll make until you hit that sweet spot. Remember: practice makes perfect. Don't look up a recipe, that's cheating (and other lies we tell ourselves as we suck down delicious slushy spiked goodness). Possibly related: What To Do When You Burn Your Tongue
6. Bastille Day
Here are 8 things you can do on Bastille Day, which goes down July 14: 1. Play Edward Champagnehands 2. Sword-fight with baguettes in public 3. Wear a neon orange beret, as per summer color trends 4. Dress up as a mime and act out your favorite scene from 50 Shades of Grey 5. Play "who can smoke this pack of cigarettes the fastest" 6. Watch a classic French film. 7. Go to Brooklyn and play pétanque in the streets (more info in the special events section of Bar Tabac's website). 8. Brush up on your French food phrases.
7. Michigan sweet corn. It beats Jersey corn, OK?
We're pretty even handed here when doling out the "best" designation. It's sort of our job as editors. But right now, it's time to not do our jobs and get a little biased in stating that Michigan sweet corn, pulled from the farms outside Vicksburg, Boyne City and Muskegon, is the best in the country. In the world! We're already counting down until the first week of August, when it will be in season and we can throw it on the grill. Sorry Jersey, the Wolverines got you.
8. Outdoor beer pong
There's something depressing about playing beer pong inside while it snows. It really is more of a summer activity. What do you mean "just wait until summer?" That's not very competitive of you. Take the game out of doors. You'll play more efficiently when you realize how fast half-cups of beer heat up in the sun.
9. Michael White Opens The Butterfly In New York City
New York City chef Michael White, master of pastas and rustic Italian awesomeness, has long planned to open a restaurant that tips to his Wisconsin roots. Yes, White is a cheese-in-the-veins Midwesterner. And proud of it. The Butterfly, set to open in Tribeca, will feature basement sleeper menu items like French bread pizza and spinach dip. He's also planning to serve brats and fried cheese curds. Not sure what fried cheese curds are? Book your flight to Madison, stat! You can follow Michael White on Twitter for updates.
10. Summer albums!
Summer is a great time of year for lots and lots of new music — to play in cars heading out of the town and in backyards choked with meat smoke. We're most excited for albums from Metric (June 12), R. Kelly (June 26), Twin Shadow (July 10), Passion Pit (July 24), Animal Collective (Sept. 4). And we're giving special consideration to the new Justin Bieber album (June 19). The what? It's going to be interesting at least, the next Justified at best. And, regardless of what some bro writer at GQ will tell you, this kid might just be growing up. Oh, and if you're a snobby indie type with Euro leanings (like our Editorial Director), check out Echo Lake (June 26).
11. Tales of the Cocktail
The annual TOTC in New Orleans is a July tradition for many who work in the spirits world, including bartenders, writers, brand ambassadors, professional party animals, mixology groupies and Ron Jeremy last year. This year we'll be down there to partake in some drink, eat a lot of local seafood and visit the famous cookbook store. Plus, drink a little more. Goes down July 25-29 throughout New Orleans.
12. Pairing tomatoes with fruit
Ted Allen shared some great advice: pair super-ripe tomatoes with super-ripe fruit like peaches and strawberries to pump up your produce intake while complementing the culinary poster child of the summer.
13. Throwing tomatoes on the grill
Linton Hopkins told us a little secret; when he's grilling steaks, he cuts open a tomato or two and grills 'em right alongside the meat. Why? "'Cause they just soften and become pulpy and that becomes your tomato sauce with the steak." Yum.
14. An excess of mini lobster rolls at food events
It's lobster roll season! And that means where there are canapés, hors d'oeuvres and other tiny versions of food, there will be mini-lobster rolls. We've seen it happen before. And we're excited. We're perfecting our "oh hey server with the canapés, didn't see you over there. Well, yes, sure I guess I'll have another mini lobster roll" faces.
15. Clambakes
Is there any better way to inhale seafood than at a New England clambake? We don't think so.
16. Growing stuff on my fire escape
Any long-term New Yorker will extol the virtues of a good fire escape. In the winter, it saves your chain-smoking pals the long haul downstairs. In the summer, it's a solid 15 or so square feet of primo gardening space. Lay down a few beds of herbs, edible flowers and small vegetables, quit complaining that you don't fit in your shower and look forward to juicy, flavorful tomatoes that didn't cost $6/pound.
17. The Julia Child cat book
Julia Child may have single-handedly brought French cuisine to the American mainstream and pioneered food television into the billion-dollar business it is today. But, at the end of the day, Julia was a cat lady — and proud of it. Authors Patricia Barey and Therese Burson detail Child's love for cats through letters, poems and anecdotes from friends. We can assume much of the book will revolve around her relationship with an orange tabby named Minette (additional reading). Julia's Cats: Julia Child's Life in the Company of Cats is being released in early August, just in time for your girlfriend's birthday.
18. BBQ festivals around the country
If you only go to one food-focused festival all year, it should be barbecue-themed. We're personally psyched for North Carolina's Carolina Mountain Rib Fest and the Heritage BBQ over Labor Day, but you can find out what festivals are going on year-round in our guide to barbecue festivals across America. Just remember the golden rule of barbecue festivals: don't get distracted by rolls, sides and desserts — it's the meat you need to focus on.
19. Summer movies
We assume everyone's as excited as we are about the release of summer blockbusters Abraham Lincoln Vampire Hunter (June 22), The Amazing Spider-Man (July 3), Savages (July 6) Dark Knight Rises (July 20), Killer Joe (July 27), The Bourne Legacy (August 3) and The Campaign (August 10). Feel free to raise your giant movie theater sodas (while you still can, New Yorkers) in a toast to Dark Knight director Christopher Nolan for once again providing us with top-notch summer entertainment. We sure will.
20. The U.S. Open is the world's largest restaurant
The U.S. Open, which runs August 29-September 11, is the world's highest-attended sporting event, attracting a ridiculous 700,000 fans over the course of the two-week tournament. In this food-obsessed day in age where jeers about a team's crappy stadium food can overshadow even poor play, it is essential to the Open planners that they get concessions right. We've covered the Open's food scene for the past three years, having witnessed a dedication to working with local vendors (Pat LaFrieda Meats, Blue Marble Ice Cream) and celebrity chefs (Susan Feniger, Tony Mantuano). The best thing to order: Mantuano's Mediterranean small plates, like tomato bread with Serrano ham and a really good ouzo shrimp — the flaming crustacean is blasted with a burst of lemon. You might order it twice. August 27 – September 9
21. Food at Outside Lands and Lollapalooza
We all know that music festivals are ramping up in the food and drink arena, which makes it exciting to see what will be going down at Outside Lands and other festivals with a serious food and drink focus. We'll also be curious to see if these fests learned anything from last month's ambitious Great Googa Mooga in Brooklyn, NY. As of now, over 40 restaurants are confirmed for Lands, which is schedule for August 10-12 in San Francisco's Golden Gate Park. Initial menu items include tonkatsu sandwiches, choripan, shawarma "snow cones" and Korean tacos. At Lollapalooza (August 3-5), Chicago's chef and restaurateur Graham Elliot continues as culinary director and will be overseeing the 25+ concessions. We'll keep you posted as to what Graham has up his sleeve.
22. Cooking from a CSA share
Ah, the inimitable feeling of abundance that comes with opening your CSA box. It's all the bounty of gardening, with none of the work! Speaking of which, can someone do my shift at the co-op? I have a thing I have to do. Here's a tip for when your CSA box comes with more of one thing than you could possibly use: rather than get tired of summer squash (impossible, we know), blanch and freeze it in vacuum-sealed bags. Come December, you won't have to hate on mealy veggies that all taste like potatoes.
23. The Dirt Candy cookbook
Since opening her vegetarian restaurant Dirt Candy in NYC's East Village in 2008, Amanda Cohen has broken all the rules associated with opening a vegetarian restaurant in NYC's East Village. Faddish meat-proxy cooking (crispy seitan chicken; bulgur wheat prime rib) has been scrapped in favor of vegetable-centric concepts that showcase produce in its most decadent arena — so, there's no shying away from butters and creams in dishes like the all-universe grits and corn cream with pickled shiitakes and an egg fried in tempura batter. This summer Cohen will be releasing her first cookbook, which promised to be published in comic book form. This is a first. This is awesome!
24. Cracked-out fortified wine + moonshine
From the makers of Hendrick's Gin comes "Spodee" — a pre-bottled mixture of fortified wine and white whiskey (a.k.a moonshine) that was popular during the Depression. The drink comes in an innocent-looking plastic milk bottle and the website encourages you to mix it with Coke. In other words, just what your summer picnic was missing.
25. Sour cherries
If you find yourself in Michigan in late July don't miss out on the seasonal wonder that is sour cherries — because regular cherry pie just can't compete with a sour cherry pie. See for yourself at Michigan's National Cherry Festival in Traverse City, where you can go to a cherry pancake breakfast, a farm-to-fork "Cherries Grand Buffet," or a pie make-and-bake. But if you're like us, you'll probably head straight to the cherry pie eating contest. July 7-14
26. Food (and Drink) Fights!
We're still hoping that cooler heads will prevail and that chefs will still be able to use foie gras in California, but the ban is still slated to go into effect July 1. Until then, chefs and food fanatics will surely pull out all the stops to get the politicians to overturn the ban, but like a Hollywood film, expect a lot of suspense until then. Not to be outdone, New Yorkers will surely take sides in Mayor Bloomberg's battle against big sodas. Though like most movies made in NYC, it'll probably be less entertaining and more cloyingly quirky than its West Coast counterpart.
27. Food & Wine Classic In Aspen
The annual Food and Wine Classic in Aspen is like summer camp for celebrity chefs, media and jet-set food fans. Tens of thousands decamp to the sleepy Colorado resort town to attend seminars, cooking competitions, grand tastings, porcine blowouts and plenty of parties fueled by premium tequila. This year marks the 30th anniversary and we're pretty sure Jacques Pépin has been to every one. Dude knows how to live. For more information visit the festival's website. June 15-17.
28. London Olympics
Food is going to be insane at this year's Olympics, held in one of our favorite eating and drinking (and more drinking) cities, London. Or, if you're fortunate enough to have tickets, you can always hit up a gastropub or 10. July 27 – August 12