PGA Winner Mark Wilson Says The Cottage Cheese Makes Him Drive Straight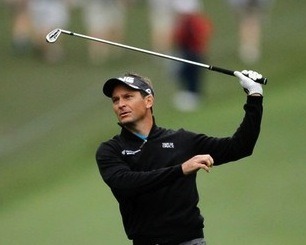 Like everyone from Wisconsin (at least the people we know), five-time PGA Tour winner Mark Wilson is a diehard Green Bay Packers fan. So much so that he even wore a cheesehead during last year's Phoenix Open. That's dedication. Wilson currently lives with his family in Elmhurst, Illinois and chatted with us on the eve of this week's U.S. Open about what he eats on the course, his pre-tournament rituals and rocking the cheesehead.
Do you follow any particular diet while on the tour?
In order to eat a more balanced meal, about 10 years ago I discovered cottage cheese and now I eat about a cup of it every morning with my oatmeal. I don't like the taste of eggs, and don't care for sausage in the morning, so cottage cheese gives me great protein. I also make a chicken sandwich before I leave for the course and take it with me for my round. As for what I stay away from, I certainly avoid sweets. You won't see me chomping down on a donut or candy bar during a round.
What's your fitness routine like? Do have a trainer or do you work out on your own?
I do two full workouts a week (about 1.5 hours each) whether at home or at a tournament. I have a trainer who pushes me when I am home and then emails me workouts to maintain on the road. I also have a 15-minute stretching routine I do every day before I go to the range.
You've won five times on the PGA tour. How do you celebrate?
Two of my wins came on Monday mornings, so those consisted of heading down the road to the next event. My favorite celebration had to be for the 2012 Humana Open. My family and I were staying with my wife's parents so we heated up leftovers and watched the replay of the tournament that night, then we celebrated in style the following evening at my favorite Italian restaurant in the country, Castelli's, in Palm Desert, CA. Their garlic bread is something you must try. It will keep you coming back for more.
What are some of your favorite places to eat in and around Elmhurst and Chicago?
We love eating as a family in our backyard — there's nothing better than a nice summer day, grilling out and enjoying the meal on our back porch. If we do go out in Elmhurst, you'll probably find us at Roberto's or Francesca's Amici for Italian, Labriola or Tom and Eddies for a good burger. Another favorite is taking a bike ride with the family to Southtown Dogs for hot dogs and ice cream to finish.
How do you prepare for a golf tournament? Are there are pregame rituals that you must adhere to?
That question I could write a short book on. There are so many things that go into it — it's anything I can control like packing my own lunch or having the protein bars that I like in my golf bag. I take care of all of that ahead of time so I can focus on each shot that comes up. I also make sure my clubs are just right, whether that means regripping them about eight times a year or checking the lofts and lies to make sure nothing has been altered during travel.
You and your caddy wore Packers cheese heads during the 2011 Phoenix Open. Did someone from the team take notice?
I figured it was a once in a lifetime experience so I had to go for it. We have some great photographs and I know I look funny, but the Packers did manage to win the Super Bowl that year!
You and your wife are heavily involved with Blessings in a Backpack, what about that charity inspires you?
[My wife] Amy and I feel that educating our youth is important — and how can a child properly learn on an empty stomach? Blessings in a Backpack provides food for students to take home on weekends. These kids rely on lunch at school Monday through Friday, but then often go hungry on Saturday and Sunday. With the nutritious snacks and meals that a local grocery partner provides for them, they hopefully come back to school on Monday with a full stomach, ready to learn.
You've had a couple holes-in-one on the tour, what HONESTLY runs through your mind in the seconds following?
Wow, that was sure fortunate is my first thought. Thankfully, I can honestly say that all of my holes-in-one (four career ones) have come after striking the shot just the way I wanted and then it was a bonus for it to go in. My first in competition came at the 2001 New Zealand Open when I was probably going to miss the cut. However, I struck a 5 iron perfect on my second to last hole of the day that rolled in for a one. Now I had to summon the courage to make at worst a par on the finishing hole to make the cut. So in that case, I was nervous because I didn't want the hole-in-one to go to waste.
---
More sports and food crossovers from Food Republic: