Our 5 Favorite Beer Pairings From This Weekend's SAVOR Blowout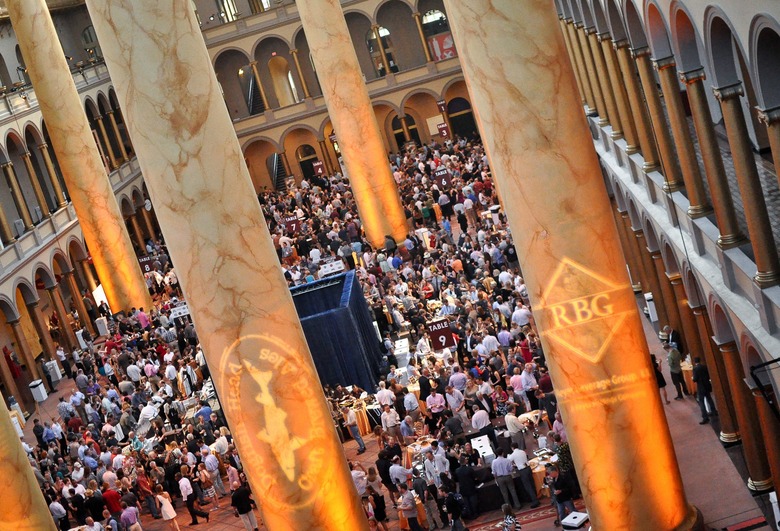 Too many times to count, beer has served as our appetizer, entrée and dessert, the sole source of our evening's caloric intake. Solid food is an afterthought to loads of liquid bread.
Not so last weekend in Washington, D.C., where the Brewers Association hosted SAVOR: An American Craft Beer & Food Experience. The festival's mission is simple to take over the National Building Museum, then partner some of the country's top breweries with dishes devised by Adam Dulye of the Monk's Kettle, one of San Francisco's finest beer-focused restaurants.
Before Saturday night's main course, we broke bread at the Brewer's Brunch at Birch & Barley. The restaurant and its upstairs bar, Churchkey, have become the epicenter of the city's beer and dining scene thanks to the one-two efforts of chef Kyle Bailey and beer director Greg Engert. Taking advantage of a quirky local law that allows the bar to pour just about any beer it can acquire (instead of wading through the legal muck), Engert sources beers not commonly found on the East Coast.
The main event assembled some of America's best brewing talent to lead diners through six courses complemented by beer as unusual as they were delicious, such as the Black Berliner Techno Weiss devised by Bluejacket (the restaurant's in-the-works brewery) and Virginia's Devil's Backbone. "It defies expectations," said Bluejacket brewer Megan Parisi, holding aloft a glass of the dark and sour German ale that only weighed in at about 3.4 percent. The tangy ale was a fine fit for the pickled vegetables, while Boulevard Brewing's wild yeast–spiked Saison Brett found harmony in the beet-cured Arctic char.
Also intriguing was Durham, North Carolina–based Fullsteam Brewery's Carver, a lager made with plenty of sweet potatoes. "We're all about being a Southern brewery," explained founder Sean Lilly Wilson as we dove into buckwheat crumpets studded with bacon, English peas and corn. On the other hand, homemade ricotta cavatelli and breakfast sausage sidled up to Terra Incognita, a dark, lightly leathery barrel-aged curiosity also dosed with the wild yeast Brettanomyces. "We wanted to do something that was earthy and had food-friendly flavors," explained Sierra Nevada founder Ken Grossman of the beer made in conjunction with Boulevard Brewing (it was SAVOR's official commemorative beer).
That sour, wild yeast–infected beers were the stars of brunch was no accident. That evening, as we ping-ponged around the 74 breweries scattered beneath the towering ceiling, the coming trends of craft beer became apparent. More than ever, breweries are tinkering with souring bacteria such as Lactobacillus and the wild yeast Brettanomyces, creating tart, funky beers that'll make you pucker with pleasure. Fruit, vegetables and herbs are also taking their starring turn, as are smoked malts that are providing beers with a campfire complexity. Here are five of our favorite finds from SAVOR 2012 and their accompanying food. Note: Some courses were paired with multiple beers.
1. Mother Earth Brewing: Double Wit Blackberry paired with huckleberry and Meyer lemon crème puff
We've long been fans of this brewery in eastern North Carolina, but brewmaster Josh Brewer (seriously!) knocked us out of the park with this beer fermented with blackberries and aged in pinot noir barrels. Look for more fruit-based released in the Window Pane Series in the future.
2. Upland Brewing Company: Gilgamesh paired with roasted beet and chèvre tartlet, sherry gastrique
Based in Bloomington, Indiana, this brewery has made big waves with its collection of sour beers, headlined at the festival by Gilgamesh. The Flanders-style red was doctored with all manner of wild yeasts and critters, then sent to slumber for a year in oak bourbon barrels. It was a lively, complex pleasure.
3. Denver Beer Company: Kaffir Lime Wheat Beer paired with pickled Hawaiian tombo, radish and preserved lemon
Long a hallmark of Thai cuisine, light and aromatic kaffir lime proved to be a tailor-made complement to the smooth, hazy and slightly tart all-day sipper.
4. Avery Brewing Company: Musct d'Amore paired with huckleberry and Meyer lemon crème puff
Though it's known for its big, over-the-top IPAs and stouts, Boulder, Colorado's Avery also runs a serious sour-beer program, exemplified by the Muscat d'Amore made with 150 gallons of Muscat Blanc grape must, as well as both Belgian and Brettanomyces yeast strains. After 14 months in Chardonnay barrels, the result was a golden delight with echoes of dry white wine.
5. Yazoo Brewing Company: Fortuitous paired with roasted beet and chèvre tartlet, sherry gastrique
In the curious intersection of several trends, the Nashville brewery lightly soured its cherry wood–smoked porter, then aged it in bourbon barrels. The smoky outcome has notes of smoke, cocoa and oak wrapped up in a pleasing tartness.
---
More beer stories from Food Republic: