Things People Put In Their Sandwiches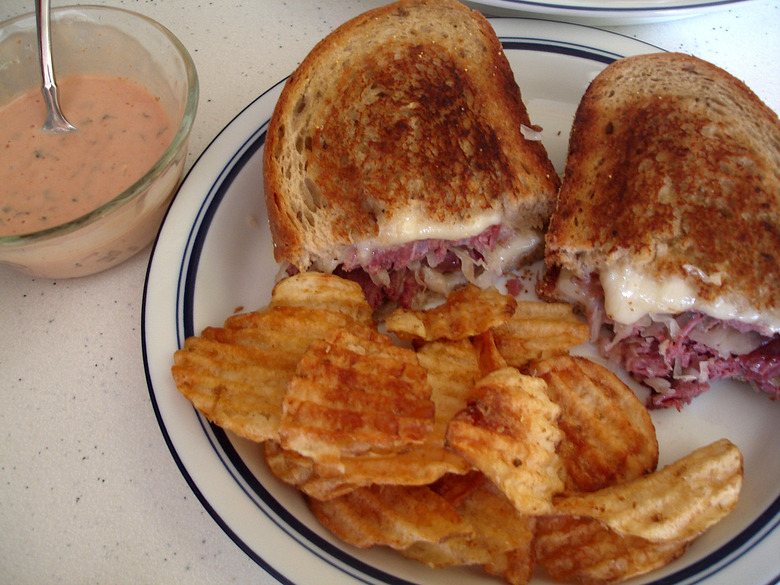 creative sandwich ideas
We may receive a commission on purchases made from links.
It's not an uncommon practice to put "extra" stuff in your sandwich, like potato chips or fries. If you have discerning taste when it comes to complementary textures and strategic hits of salt, there's a world of sandwich add-ins out there that can turn your boring turkey on wheat into a way more satisfying lunch.
First, and most logically, potato chips or fries. But again, strategy. If you've got a fried fish sandwich, salt and vinegar chips are the way to go. Ditto a turkey burger with barbecue chips, a Reuben with dill pickle chips, a torta with sour cream and onion chips (if you can possibly fit them in — don't stress if there's already too much going on in there) and, my personal favorite, a tuna sandwich with these Maui sweet onion kettle chips from Deep River Snacks.
As for fries, unless you're going the way of the chip butty (which sort of defeats the purpose of this post), spicy waffle fries add a layer of crunch, texture and savory flavor well-suited towards a hot sandwich like chicken parm or grilled cheese with bacon and tomato. Don't forget about alternative fries like zucchini, avocado or even pork. Yes, pork fries. Your BLT just got juiced up. Looks angry.
Besides those two food groups, consider the following:
Asian shrimp chips — excellent in grilled cheese
Banana chips (peanut butter just swooned)
White cheddar popcorn
Your sandwich just got as loud as it is delicious.