Richard Rosendale, Bocuse USA's Man In The Bunker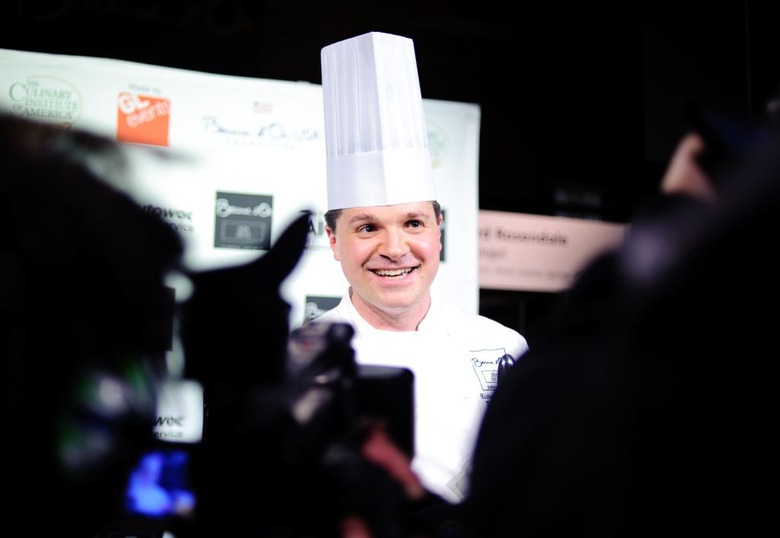 When we last caught up with Richard Rosendale, the chef who was selected to rep the USA in the 2013 international cooking competition known as the Bocuse D'Or, he had just beat out several peers for the honor and he was adamant in his resolve to do what others before him have failed to do: get to the podium in Lyon. "We're gonna bring it!" he told us.
Six months later, Rosendale sounds — and looks — even more confident. We met up for coffee during a quick stop through New York City the other day, where joined Bocuse coaches Gavin Kaysen and Daniel Boulud at a benefit for Citymeals-On-Wheels. Then, it was back to his day job as executive chef at the luxurious Greenbrier Resort in West Virginia, where he spends his spare time practicing for the grueling Bocuse D'Or in a nuclear fallout bunker (described in his answers below).
He'd also just come off a week training with Grant Achatz, who is also helping out a U.S. team that is looking infinitely stronger than past entries; besides Bocuse USA president Thomas Keller, there's also been a big funding push, and the building of high-tech kitchens at the Greenbrier and near The French Laundry.
In fact, hearing Rosendale describe his digs, it sounds more like he's training for a war than a culinary competition, and his sharpened physique — he's got a personal trainer now — makes him look as much Marine sergeant as chef.
Your schedule's pretty crazy these days, right?
I'm doing a lot of traveling these days. I was in Chicago with Grant for a week. It was awesome. Next week I've got a real quick trip. I come up to New York for a meeting with Thomas [Keller] and I fly back that day. And then I'll fly out to Aspen [for the Food & Wine Festival] the next day. That's why I have a physical trainer and just stay fit. I'm not ready to run any marathons, but I want to make sure I'm not fatigued or getting sick. I can't be out of the game for two weeks.
While you're training, you're also holding down your job at the Greenbrier?
Yes. My official title is executive chef and director of food and beverage. I oversee a $55 million operation, 13 food and beverage venues. It's a 200-year-old hotel. What's happening down there is just important as what I'm doing with the competition. The hotel was purchased by Jim Justice and in, like, two years he turned it around. We've added a 100,000-square-foot casino. We have our own 44-acre farm, so we grow about 75% of the produce for the hotel. We have the oldest apprentice program in the United States — that's where Mike Voltaggio and I met.
What's the story with the Bocuse training kitchen you had built there?
They built a kitchen that is a replica of the one I'll be cooking in France. They built it in a part of the Greenbrier that was a nuclear fallout shelter; in the event of a nuclear war it would have housed Congress. So I took what was the old cafeteria kitchen, and in collaboration with the Bocuse D'Or USA foundation, our sponsors and the Greenbrier, we put a kitchen in there. To the inch it is the same as the one in Lyon.
Did you find any old SPAM or weird freeze-dried foods down there?
It's crazy. It's really like walking into a movie. There's 25-ton blast doors and rifles. It's like an underground city. I tweeted whenever the kitchen was done that the Greenbrier houses yet another national secret: the Bocuse USA kitchen, in addition to the bunker. It's really, in my opinion, like a chef's dream.
They built a test kitchen on the West Coast as well?
The way we've looked at it, the Greenbrier is the East Coast training and the West Coast training is at the French Laundry.
When you went to Chicago with Grant Achatz, what were you doing with him? Is it like a stage at Next?
We did go to Next and Alinea. The point of going out there at this [point] in my career, you can't go to these great restaurants and try and change your style. You can evolve your style. What would be a flawed approach would be to abandon your style every time you go somewhere. I look at it as the wealth of people around me, they are all resources. Between Gavin, Grant and Gabriel [Kreuther, executive chef at The Modern and assistant coach to the Bocuse USA team], Thomas and Daniel — it's an all-star lineup. To have all of them as a resource, there's nothing I can't seek and not have great feedback. Ultimately, I need to filter that. It has to be your food. Your style has to shine through at the end of the day. Otherwise you'll be in the kitchen by yourself cooking someone else's food.
Last time I saw you, you had just been handed the reigns. How have you evolved?
I think that the refinement of the dishes has gone to another level. Some of the flavor profiles — I'm trying to be a little more open-minded to unorthodox approaches and techniques. I always have been, but going to Alinea, you're exposed to more of them. Now the biggest thing is like having all these resources. Whatever it is that I need, it's right there at my fingertips. And having the kitchen at the hotel, that's phenomenal — we have about $150,000 worth of equipment installed there.
How are you setting yourself apart from past US teams, which haven't fared so well?
Equipment is one thing. To give you an example of the extent to where we're taking this, every piece of equipment we have, there are two sets. We have one to use in the United States that will stay at the Greenbrier so we can practice right until the last day. The second set will get shipped to France so we'll have everything right down to the peeler exactly as it is in the United States.
How has your food evolved, specifically?
One of the garnishes I did that stood out in New York [at the Bocuse D'Or USA trials] was our beet garnish. The beet was cooked inside of a very flavorful mulled red wine and raspberry vinegar liquid, then we gelatinized it and wrapped it around a tube of beet and stuffed it with an apple puree down the center. Basically, we went out to Alinea and by the addition of another ingredient, locust bean gum, we added more elasticity to it. Now we can make it more supple and creamy, almost like melting in your mouth, and still wrap it around the beet. That's an example of having a resource like Grant. We also have resources, like if there's a particular type of serviceware we can get it made. We have silversmiths at our disposal. Glassware experts. People to do AutoCAD drawings for the platter.
Is that part of the competition, presentation?
The majority of points are for the flavor but, but presentation is a chunk. If you're going to the Bocuse D'or you're cooking with one chef from each country, so, like, we all love the taste of mashed potatoes, but that's not enough. The presentations are wildly over the top; the technique that goes into them is extremely ambitious. You're putting your best against the guy next to you. If you both have great-tasting dishes but one person has incredibly complex recipes inside of it, he's going to score higher.
What about the competition you're talking about. Do you know anything going in Europe or what you're going to be up against?
I'm so focused, at this point I knew everybody is doing a lot but I don't even care. I'm focusing on what I do. Anything else is wasted energy. I can tell you that there is some other competitors that are putting a lot into this. My wife and I have been together since the seventh grade; we've been together a long time. She's seen me compete over the years and she's like "Rich, I knew you were going to make it through the U.S. tryouts, but I know this is going to be difficult because you're going and cooking against another bunch of Rich Rosendales." Meaning other guys who are really intense. That's just who I am. I put everything into it.