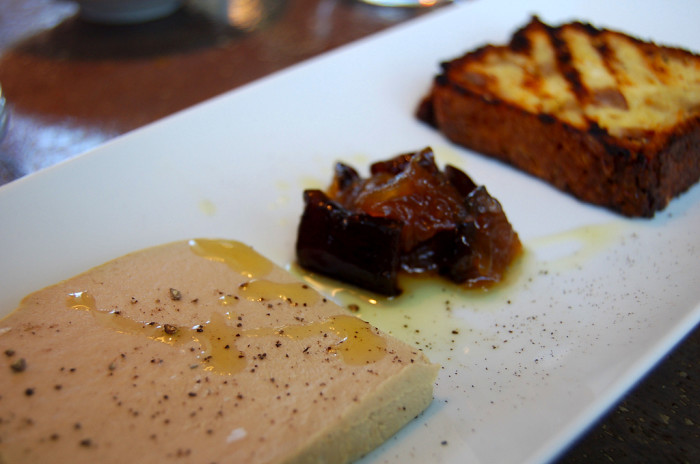 Last week, a group of food-enthusiast friends gathered in Los Angeles to bid farewell to a beloved icon of culinary history. The foie gras ban, which goes into effect statewide in California on July 1, is a relief to some and a tragedy to others. In this circle, the consensus was definitely "keep on stuffing."
Hathanh Nguyen, 26, from Pasadena, celebrated passing the bar exam last week by purchasing a pound and a half of goose liver from Gelson's, a California specialty market, with the intention of sending it off in style. "There was a moment of hysteria when they couldn't find it in any of the back fridges, and the guy offered me chicken liver pâté instead. I hulked out, but then the day manager found it and I reconstructed the building and put out the fires."
Nguyen invited friends who would appreciate her efforts (and sizable investment) towards memorializing the delicacy. "We had a moment of silence for the goose," says Nguyen, "thanked it for its sacrifice, I said I hoped it had a happy and moderately ambulatory life and then we slayed everything on the table."
An avid cook, Nguyen kicked off the dinner with a simple foie crostini with Irish butter, salt and pepper, then moved on to apricot and bourbon-glazed chicken wings, pan-fried, stuffed with foie and briefly roasted. She finished with a duo of seared scallop and foie over roasted garlic, cauliflower and Yukon Gold puree, drizzled with a pomegranate-shallot reduction.
The point of the dinner, besides to feast in good company, was to spark a conversation, specifically whether they should be grieving foie's loss. Jorge, who asked that he remain anonymous due to a conflict between his profession (he works with animals) and his palate, felt there were better uses of California's already stretched resources.
"I find that Californians spend a rather large amount of time quibbling over inanities that are, quite frankly, beyond my ken," he said. "With respect to food, I think the nutritional content of school lunches could have benefitted greatly from the time and energy that went into the foie gras ban."
Nam Phan, Nguyen's cousin and an outspoken fan of foie offered this reasoning: "Have you seen production cattle and chicken farms? There are bigger fish to fry if you're into frying fish. Gavage (as I have been told) is biologically less "torturous" to some ducks/geese/waterfowl as it would be for, say, a cow."
Some were unaware that foie gras was even under fire. Bryan Gomez, another dinner guest and brand manager at a Los Angeles fashion label was in the dark. "I honestly didn't even know that foie was being banned in California until Hathanh invited me to Foie Fest," he said. "While I understand that the ban on foie in California is a step towards animal-friendly consumption, I take more issue with factory farming and sights like Cowshwitz [CAFO operations]."
All arguments that have been made before, admittedly; however, the criticism flowed as freely as the wine during this heated dinner debate. (It should be noted that at no point did anyone stop eating).
Gomez added, "Taking steps toward moderation and sustainability seems more sensible to me than renouncement of any type of food."
"I have to admit that I find gavage repugnant," said Jorge. "I've heard that there are more humane foie methods, wherein the fowl are permitted to engorge themselves rather than being force fed — a concept I would favor over the traditional gavage. In such a case, we're only guilty of treating the goose as we would any other human being we see eating massive amounts of horrible foods with negligible nutritional value." He admitted he'd come to the dinner with tempered expectations. "It IS the hideously diseased liver of a waterfowl, after all."
Countered Phan: "Stuff double."
Now that foie is banned in the Golden State, effective July 1st, gourmets have a choice to make: leave California, reverse Grapes of Wrath-style, for the rich, liver-tolerant states beyond or find a viable substitute. As for Nguyen, "Thank god my mom is bringing home more foie from Paris later this week."
---
More on foie gras from Food Republic: