Ernest Alexander Is A Fan Of Breakfast For Dinner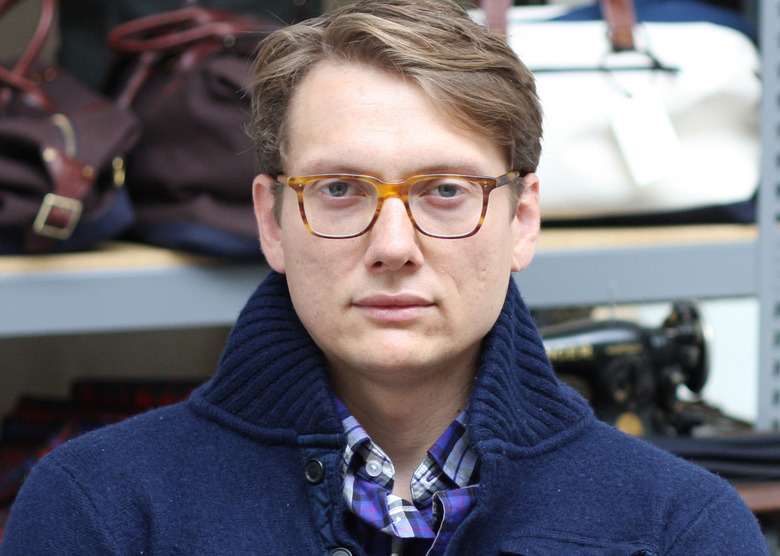 Ernest Alexander
For a former ad man working on fashion brands, Ernest Alexander always had a desire to make the clothes. When his quest for the perfect messenger bag left him wanting, he decided to design one himself. He took a sketch to a workshop in NYC's Garment District and the rest, as they say, is history.
He built the whole aesthetic of his company based on that first bag. While the product offerings have expanded to a variety of accessories, neckwear, denim, shirting and outerwear — as well as a flagship store that opened in SoHo just last week — Ernest Alexander hasn't strayed from his vision of dressing what he describes as the "urban, dandy, preppy woodsman." This confluence of styles represents an admiration for American classics with British undertones. With his new store, a foray into suiting for fall, and a women's capsule collection in the works, we're sure to see a lot more from Ernest Alexander.
Where did you grow up and how did that influence your style?
My grandmother and great grandmother were seamstresses. I grew up outside of Boston in sort of a normal suburb playing little league. My parents thought it was really important that I went to a good school and saved up for me to go to private school. It was an all-boys high school. We all wore a coat and tie like in the movie School Ties. That played a big part on my style. It was very Northeast and I think that was the beginning of my classic American, preppy leanings.
Any favorite meals as a kid?
My mother is Latvian and she always made these great Latvian pancakes. Very thin, like crepes, stuffed with cottage cheese and jam. We'd have those for breakfast, but sometimes we'd have them for dinner. I'm a big fan of occasionally doing breakfast for dinner.
Do you tend to cook or dine out?
I actually tend to cook a lot more than your average New Yorker. I really enjoy the whole process of throwing different ingredients together. I'm terrible with measuring things. I just go with the flow and do it to taste. What I really hate is cleaning up afterwards. We have a rule in the house that the person who cooks doesn't have to clean up. It works in my favor.
What do you like to make?
There's a recipe that I'm obsessed with. It's actually Tyler Florence's recipe for beef bourguignon. It's amazing. It's a six-hour deal where you sear the beef shoulder, put it in a burgundy red wine reduction and let it simmer all afternoon long. Add a little sour cream and chives. Toast some Tuscan peasant bread and use that to scoop up the beef stew. I think the red wine sauce really makes it. [Florence is] kind of one of my secret man-crushes. Sort of randomly, he bought one of our bags. I usually don't get star struck, but I'm a huge fan. He has a rugged American cooking style, which I enjoy.
Who tends to cook more at home? You or your wife?
Definitely me. My wife grew up in Manhattan and she's the queen of takeout. The people at Westville know her voice by now. I try to balance that out and cook as much as I can.
Any favorite restaurants?
We generally try to stay in the 'hood. There are a couple of great places we love going to. This tapas place called Tertulia. We know the owner, Seamus. He's just the nicest guy. We've literally spent six hours there. They have this one Brussels sprout appetizer that is amazing. We like going to a lesser-known Italian place on 13th Street called Gradisca. They have fresh made pastas and hearty Tuscan comfort food. All the wait staff is Italian, so you feel it's legit. Cafeteria for their breakfast or late night with the mac and cheese is pretty fantastic. Oh and the Meatball Shop. We had a pop-up shop in the East Village and would go over to Stanton Street for lunch. They just opened one on Greenwich Avenue.
What's in your fridge right now?
A half-drunk bottle of pink champagne. We recently celebrated my son's first birthday, but he didn't have any. Actually he had one little dab. I have a new bottle of Texas Pete's hot sauce. Usually I do little hot sauce packets from the deli, but I finally invested in my own bottle of hot sauce. I'm pretty proud of it. We have a lot of salami and prosciutto from Eataly. They're great because it's on the way home from work, so I like to stop in and pick up something to snack on. And we have leftovers from last night, which I actually cooked. Barbecue chicken and then I did this mesclun salad with tomatoes, fresh bacon and a homemade dressing. I took olive oil, squeezed in a whole lemon, added some salt and pepper, a bit of Dijon mustard, and then whipped it up. It's a tangy mustard dressing that I like to make on the fly.
Now that you have 1-year old son, will you be making any mini Ernest Alexander?
Definitely, we are talking about making kids bow ties, mini chambray shirts, and maybe even some shorts. It's funny. When you have kids, you start thinking in a whole new mindset. Even with food, really. My daughter is 4 and we actually love cooking together. The other weekend we made bread together. It's a simple recipe and it's fun for her to punch the dough. It a creative thing we do on weekends. Now she wants to open a restaurant with me – a pizza, hot dog and pretzel stand in front of the apartment.
What's your theory on white shirts in Italian restaurants?
I think it's a big no-no. Especially they way I tend to eat. If you slurp your spaghetti one strand at a time, there's bound to be some shrapnel.
What are 5 key pieces guys should have this summer?
Definitely a good pair of flip-flops. Something that's not too surfer-y, but no mandals.
A chambray button-down looks really cool and breathes well. Popovers are kind of nice. It's the short-sleeve shirt thing, but doesn't look cheesy. It has a nice design and dressiness to it. You've got to have a great pair of sunglasses. I have a pair from Oliver Peoples that have a vintage look, but with slightly modern inflections and a tortoise shell trim. And of course you need a great travel bag. After Memorial Day if you're traveling, you'll need something that is lightweight and casual, but you feel good taking everywhere and that's big enough to pack everything for the weekend.
Ernest Alexander
98 Thompson Street
New York, NY 10012
212-775-1199
---