OXO Corn Stripper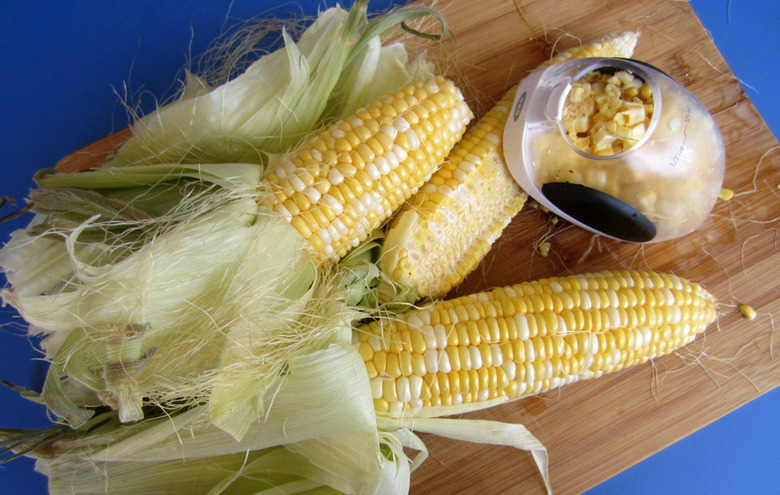 Corn is a summertime staple, but prepping it can be a messy task. A single slice of the cob and kernels are guaranteed to fly all over the kitchen counter. OXO tries to simplify this seasonal chore with its corn stripper, a mouse-shaped tool that removes kernels with a single swipe. Corn is cut with a stainless steel blade and stores in a neat half-cup vessel — no muss, no fuss. We tested it on both raw and grilled cobs to see whether or not this gadget was a godsend.
Positive (+)
There's nothing complicated about assembling or using this tool. As advertised, a sharp blade ran straight across corncobs (fresh and cooked) and trapped kernels in a clear storage vessel. A top hole allows users to turn the stripper upside down and empty loose kernels straight into a bowl or pan. Soft nonslip grips on both sides are a thoughtful detail, and dishwasher safe parts make it easy to clean.
Negative (-)
It takes a few tries to find the right angle for stripping — our first three attempts left us with half-cut kernels in different sizes. And the size of the storage chamber holds only one cob's worth of corn, so if you're prepping for a group, it becomes a hassle to constantly empty the container. Finally, the tool only minimizes — but doesn't guarantee against — messy prep work. Kernels that shaved off in large clumps still came spilling out of the top hole and fell onto the kitchen floor.
Verdict
Any obsessively clean cook with good knife skills can strip cobs with a standard chef's knife. The rest of us will fall in love with this tool's convenience. Even if it's only used a few times each summer, its small price and size make it a worthwhile investment. Corn Stripper; $13.99, oxo.com
---
More Gourmet Gadget Tests on Food Republic: