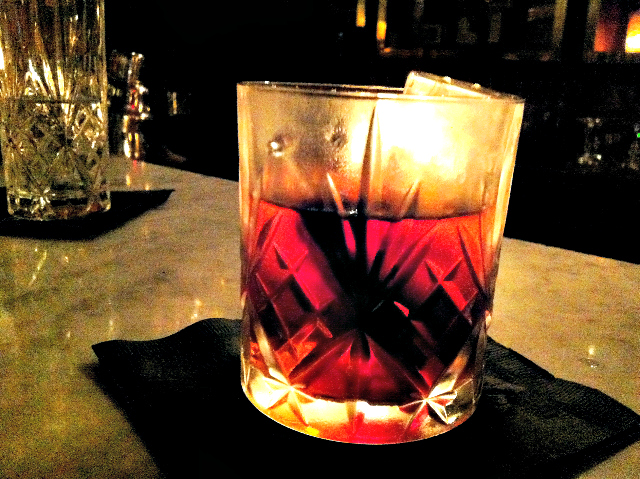 During the great folly that was the Prohibition this country entertained back in the 1920s and early '30s, American bartenders were forced to decamp to places like Cuba, London and, of course, Paris. In cities around Europe, these expatriated barkeeps opened "American bars" where American-style mixed drinks and cocktails were served. Recently, Paris decided to return America the favor.
Several years ago, a group of friends in Paris decided to start their own American-style cocktail bar inspired by New York's neo-speakeasy trend. They called it the Experimental Cocktail Club. It was hard to spot, and even harder to get into. But the concept was based on solid, if rather inventive, mixology. In Paris, where ordering a martini usually meant getting a glass of rosso or bianco, it was truly experimental. The shaken and stirred concoctions were as imaginative as cocktails must have been to Jazz Age Parisians.
Recently, the friends behind the Experimental Cocktail Club opened an outpost right here in the U.S. — they also opened a branch in London's Chinatown in late 2010 — bringing their American-style drinks home, so to speak. Located in a colonial-themed space (Zuber wallpaper depicting riverboating natives; cushioned bamboo chairs) on Manhattan's Lower East Side, the bar serves elaborate cocktails, some of which list half a dozen ingredients or more. But for New York, a city that not only helped pioneer cocktails the first time around but also initiated their triumphant comeback, exactly how experimental is the Experimental Cocktail Club?
Well, for starters, the experimental part comes in with the variety of infusions and housemade syrups. A Jack O'Lantern gets butternut squash-infused rum to go with its cinnamon bark syrup, coconut milk, egg and nutmeg. Vermouth is infused with artichoke and Campari with toasted walnut for the L'Américain, also made with thyme water and orange oils. The drink comes carbonated and bottled (trend alert!). A Curious Prescription is made with reposado tequila, pear eau-de-vie, manzanilla sherry, and homemade salted mezcal caramel syrup, shaken with lime juice and habanero bitters. You get the idea.
There is no wine by the glass – unless you count the wine included in so many of the cocktails: a Cognac drink by the London mixologist Tony Conigliaro made with gomme (a type of sugar syrup), crème de pêche, lemon juice, egg white and Sauvignon Blanc. Pisco is mixed with Malbec syrup, lime juice, sweet vermouth and a Fernet rinse. But there are several good Champagnes, including one by the coupe.
Perhaps one of the biggest experiments are the "vintage cocktails": $150 drinks made with really, really old booze. There's a Stinger made with Hennessey from the 1960s and crème de menthe from the 1940s. A Bobby Burns is made with Scotch, Benedictine and Antica, each of which could be as old as your mom. A vintage dry martini made with 60-year-old gin will set you back $200. Pricey for a drink, of course, but an affordable luxury when you consider that a bottle of wine that old might set you back thousands.
So, just how experimental is the Experimental Cocktail Club? Enough to give even the most jaded American a drink he'd be hard pressed to find elsewhere. (Although, he may only be able to order it once per pay cycle.) Cocktail fetishists who frequent the likes of P.D.T. will flip for the kinds of complicated drinks most people don't attempt at home. And even if all you're hankering for is a straightforward martini or Old Fashioned, this enchanting lounge with an eclectic soundtrack (French jazz, Portuguese Bowie) is as good a place as any to quaff it. You'll be just as likely to sit next to a pretty Américaine as a Parisienne – any experimentation that ensues will be entirely up to you.
Experimental Cocktail Club
191 Chrystie St.
New York, NY 10002
---
Read more about mixology on Food Republic: