Sauternes, The Fine Sweet Wine Of Bordeaux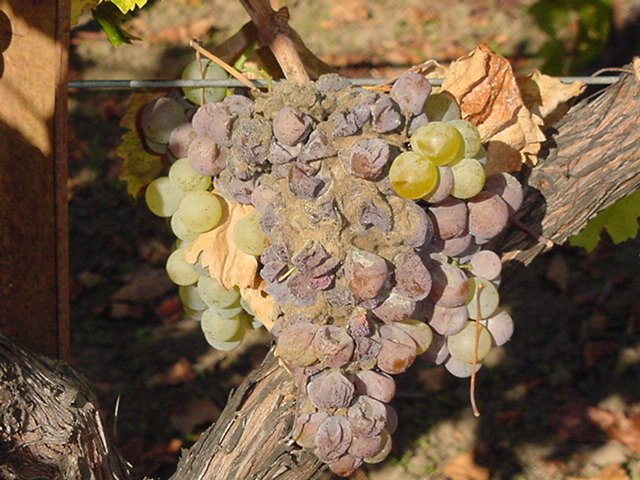 Noble Rot
If the grapes aren't rotten, they don't want 'em. Why? Because makers of Sauternes dessert wines, of the southern Bordeaux region, depend upon the mold Botrytis cinerea to infect their grapes, shrivel the berries into super-sweetened raisins and entirely transform their flavors. By the time the wine goes to bottle, Sauternes can seem like a magical thing — a golden, honey-like wine, about 13-percent alcohol, deliciously sweet but complex enough to accompany a savory dinner. The most prestigious of Sauternes wines may draw hundreds of dollars per bottle as new releases, and aged for decades in the bottle, the best ones get even better, and more expensive. The priciest ever sold was an 1811 bottle of Chateau d'Yquem, recently purchased for £75,000, or the equivalent of about $140,000.
Yquem is, in fact, probably the princeliest of the Sauternes wineries, and has been in the biz for centuries (its first vintage came in 1666). Across the rolling hills of the region, many other properties also make Sauternes. At every road crossing, signs point in each direction to Chateau this and Chateau that. Many such estates host drop-in visitors, but you might call ahead to avoid awkward rejections and humiliting retreats down the long, hedged drives. Village wine shops offer tastings, too — arrangements that give a person a side-by-side look at a spectrum of Sauternes from different producers.
Great vintages in the Sauternes region arrive once a decade or so, as do the lousy years — when unfavorable weather conditions hamper the proper development of the "noble rot," as winemakers call the Botrytis mold. In such seasons, much of the wine that is produced may be sold bearing anonymous labels that read simply "Sauternes." That's where people like you and me come in — because these generic bottles may be just $10 or $15. Sure, these may not be "trophy wines," but they'll still taste like honey and pineapple, they'll go well with fois gras or Roquefort — the classic pairings — and they'll give you the basic idea of what Sauternes is all about.
Sauternes in review:
Madame de Rayne, 2005. 750 milliliters. $12. At one-fiftieth the price of the big-name bottles, this one's a score. The vintage is replete with citrus, stone fruit, honey and tropical notes, and the effects of age are already showing in the wine's buttery, hazelnutty finish.
Chateau Pineau du Rey, 2010. 750 milliliters. $12. Most Sauternes spend two years aging in new oak barrels following fermentation, and this vintage is as fresh as they get. I would advise cellaring it for some years and seeing what happens. As it stands, the 2010 is fruity and tasty, but still a bit simple.
Chateu d'Yquem, 2008. 325 milliliters. $200. I tasted this one following a tour of the acclaimed estate, for which visitors who call ahead are hosted free of charge. Chateau d'Yquem's Sauternes carries a perceived value that outweighs any praise or criticism one might care to furnish. The 2008 is elegant, pineappley, perfumey and colored like honey. Worth its price or prestige? Hey — it was delicious, but I wouldn't buy it.
Want to stay "local"? In California, at least one winemaker is making Sauternes-style wines — and he isn't just winging it. Marco Cappelli spent five months in 1985 working at Chateau La Tour Blanche, in the Sauternes appellation. Here, he learned to properly trim and train the vines, identify the "noble rot," exclude berries not perfectly affected, and send the harvest to barrel and bottle just like Sauternes producers have been doing for centuries. Today, on California soil, Cappelli makes golden, honey-sweet wine using Semillon and Sauvignon Blanc grapes from a coastal location where summer sun and morning fog encourage Botrytis cinerea is all its moldy glory. He provides the wine to two labels — Swanson Vineyard, which calls theirs "Crepuscule," ($90/375ml bottle) and Miraflores Winery (Cappelli's own), which bills the blend "Botricelli" ($40/750ml bottle). Cappelli acknowledges that the French vintners of Sauternes do a slam-dunk job of making a unique regional wine, but he swears his renditions might fool you in a blind tasting.
Sounds like a test worth taking.
---