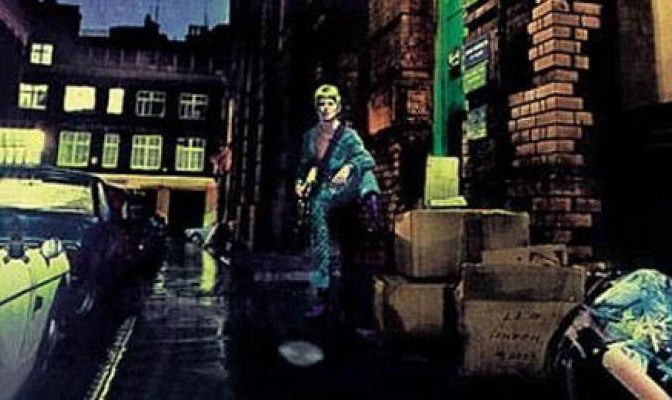 It's one of the greatest albums of all time*, with one of the most recognizable covers, and now David Bowie's The Rise and Fall of Ziggy Stardust and the Spiders from Mars is 40 years old. To celebrate, restaurants, pubs and bars on London's Heddon Street are offering all sorts of specials and specially named drinks and dishes this Wednesday, June 6.
Gimmicky PR stunt? Maybe, but Heddon Street is where Bowie, dressed as his futuristic, A Clockwork Orange–inspired alter ego Ziggy Stardust, struck a pose that became the classic cover, way back in 1972. The Regent neighborhood is dedicating a plaque to commemorate the image and the album, and local restaurants are creating drinks like the "Stardust" cocktail and the "Rock & Roll Suicide" — a sort of martini with absinthe added in, at Strawberry Moons bar. Of course, there'll also be a performance by a Bowie tribute band playing Ziggy in its entirety.
The shabby-looking locale pictured on the cover has come a long way since Bowie's photographer, Brian Ward, captured that image, and now Regent Street is a pedestrian-friendly destination with restaurants — the plaque actually resides between two al fresco dining establishments.
And what a great idea — to pay homage to a character and a true rock classic with a celebration and a (hopefully) permanent plaque.
If you happen to fall to earth on or near Heddon Street on Wednesday night, lift a "Stardust" to Ziggy and salute David Bowie.
---
*Seriously, check out "Starman," "Sufragette City," the epic title track, "Rock & Roll Suicide" — it's stunning.