When It's Too Hot To Grill, We Hit The Hiyayakko Tofu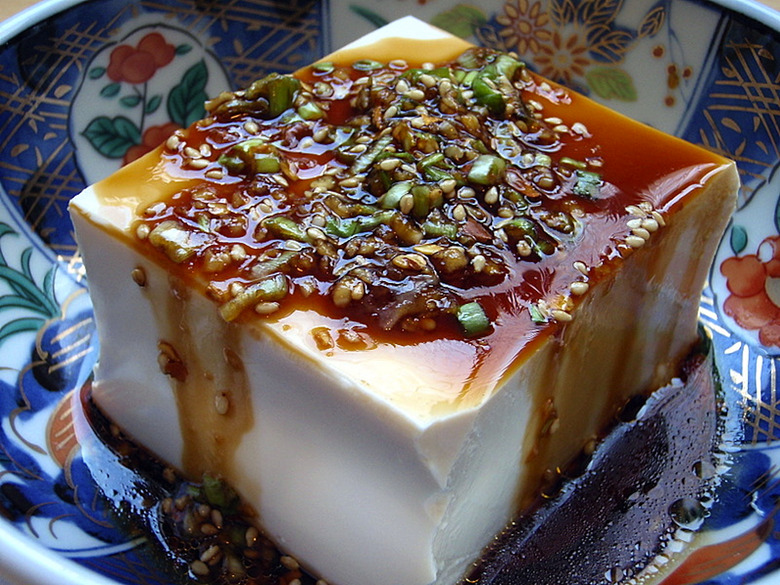 Hiyayakko
I really shouldn't complain — it's going to get a lot hotter, humid and less kitchen-friendly. Because I'm obsessed with eating, the process of packing up my coats and sweaters immediately prompts a mental slideshow of my favorite hot weather foods.
Summer produce is on there, of course, as is a long list of grilled meats. Sometimes it's too hot to eat meat, though. Yes, that is a thing. And rather than fight off that instinct with a sausage, I turn to a Japanese chilled silken tofu dish called hiyayakko.
Here's how you make it: open package of silken tofu and drain well. Place slab in a shallow bowl. Douse with soy sauce and sprinkle with grated ginger and sliced scallions. Eat with a spoon. I like mine with a little sriracha and sesame seeds, too. Insider tip: freezing the bowl beforehand keeps it nice and cold. It's incredibly refreshing and really delicious. Plus it costs, like, $3.
Silken tofu has a custard-like texture and sweet, mild flavor. It also has tons of protein and is very easy to digest, unlike the cowboy ribeye that still feels like it's in my stomach from last weekend. Yes, as I adapt to the newfound power of the sun, which is neither custard-like, mild nor sweet, I rely on Japan to ply me with solutions to problems. Like my quest to find a super-tiny air conditioner to fit in my super-tiny window.
More hot weather food at Food Republic: