Kobe Desramaults Takes Us For A Belgian Spin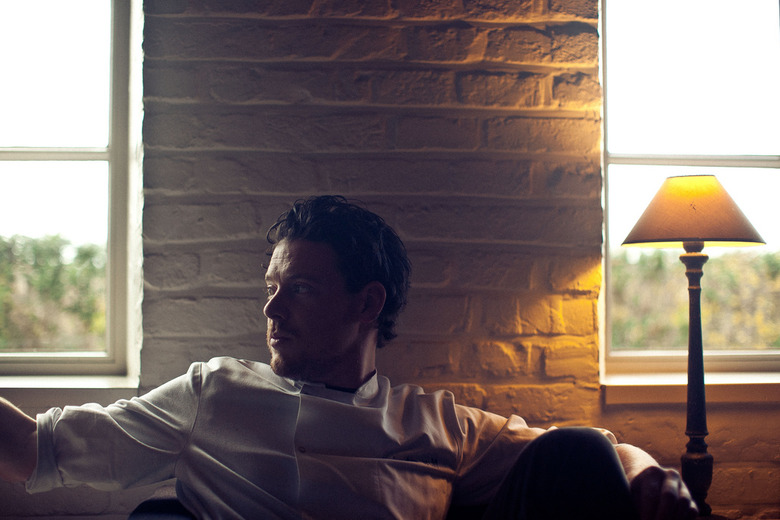 [Edit note: In this food-mad world, few diners from outside Belgium make it to In De Wulf, Kobe Desramaults' Michelin-starred restaurant that sounds like it not only falls geographically between Spain and Denmark, but between the highly creative fare of Spain's Ferran Adrià and the resourcefulness found at René Redzepi's Noma in Copenhagen. Parisian food writer Annette Vezin was headed that way, so we asked her for an account of her experience and an interview with this rising-star chef.]
Though his restaurant In De Wulf is about as off-the-radar as a Michelin-starred spot can be, 32-year-old Kobe Desramaults has been turning enough heads in Europe that it's tough to snag a reservation. Back in 2005, the young Belgian returned home after stints in Holland and Barcelona to take over his mom's old café. He instigated a complete renovation of the property, built a new kitchen, hired a staff, went for a rustic interior straight out of an architecture magazine and threw in an 8-room hotel on the first floor, presumably for gastro-tourists who don't want to forego the wine pairings with their intricately presented dinner.
Today, Desramaults oversees a staff of young chefs who are serious about their food. English, Flemish, French, Spanish — it's all spoken in the kitchen. On Saturday morning, as there is no lunch service, the staff goes to the beach to have fun... and to pick up seaweed. Later, in the kitchen, they'll use the seaweed as well as herbs and flowers from the fields next to In De Wulf.
It's a style of playing off the land that Desramaults says he owes in part to Michel and Sébastien Bras, well-known in part for an ornate salad served at their gastronomic destination in Laguiole, France. "When I saw the Bras' famous 'gargouillou,' apparently a simple mixed salad with young vegetables, seeds, herbs and flowers artistically thrown on the plate, I thought, well, it's not that complicated. Then you taste. And you understand why it has become so famous."
This is In De Wulf. Just taste, Kobe Desramaults does the rest.
How did you decide to start In De Wulf?
I was born not far from here in 1980. My parents had a café in a barn, a bistro where they'd be pouring beer. My father wanted to get into music, to organize concerts. They were the ones to come up with the name In De Wulf. They divorced and my mother continued to run the brasserie, where she served knuckle of ham with mustard sauce and terrines of rabbit and chicken.
Until I was 12, I took care of preparing desserts. I liked being in the kitchen, but I had no desire to become a chef, even if at school I wrote that I did!
Until I was 18, I had difficulties staying focused. I changed schools something like 10 times. I managed to get an internship at a little local restaurant. In the beginning it was hard. I didn't do so well in the face of structure. I wanted to be free. But after a certain time, I understood the importance of the chef de cuisine's place in the kitchen. It was a complete shock — a pleasure to work with ingredients, with one's own two hands.
You worked in Belgium, then Holland and Spain — a European initiation?
After two years, I was referred by the chef to his friend Sergio Herman, of the restaurant Oud Sluis, with three Michelin stars in Holland. It was there that I discovered creative cuisine. He then put me in touch with his friend in Barcelona, and I left for Comerc 24, where the chef had worked with Ferran Adrià of El Bulli for some 20 years. I learned about tapas El Bulli–style, yet another revelation! When my mother told me she wanted to sell her restaurant, I decided to make my way back to Belgium and try my hand at running it. I was naïve, 23 years old at the time, nothing in savings. I started cooking my mother's cuisine and, to selfishly make myself happy, put together a little creative menu. On weekends, the restaurant was busy; weekdays, very slow.
And the fairytale ending?
Yes, a well-known food writer in Belgium came, Pieter van Doveren (from Knack magazine) and gave me a 9/10 rating. From one day to the next everyone wanted a table. I decided to offer my creative menu everyday and to evolve the restaurant.
How would you describe your cuisine?
It's organic. changes daily based on what the farms can supply, but also on herbs that we find, seaweed that we pick up. You have to be curious, learn and everyone in the kitchen gets into it.
Any other projects?