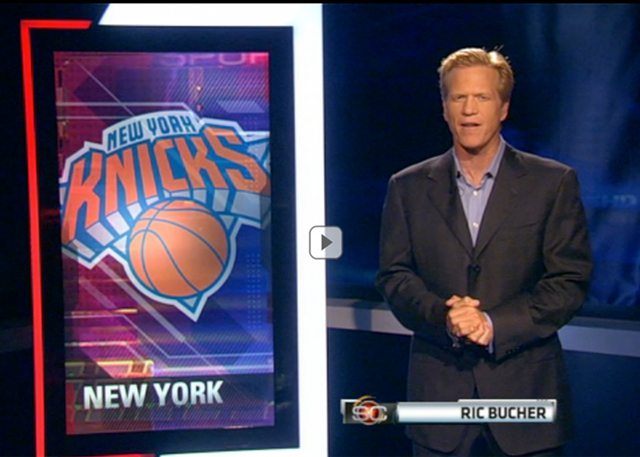 Some people dream of a job where they get to travel the world. Other people dream of a job where they get to sit courtside at big-ticket NBA games. Ric Bucher doesn't dream about those jobs. He has those jobs. As a reporter for ESPN, Bucher shows up on the sidelines of the NBA's biggest games and contributes stories to the various NBA shows on the network. He's also a senior writer for ESPN The Magazine. While the job may seem glamorous, it also involves a lot of hard work and a ton of time on the road.
With the NBA Playoffs in full swing, Bucher is jetting back-and-forth from NBA city to NBA city to see just how this crazy strike-shortened season is going to play out and since a man's gotta eat, we wanted to see what his food life was like when he's not speaking directly to the camera. Here's what he had to say:
What's your favorite NBA city to eat in? What's the best thing there?
I couldn't pick just one. I've literally had a memorable meal in every city – even Cleveland. Most memorable: Oklahoma City. The chef's table in the Skirvin Hotel kitchen with chef Andrew Black.
Now for the flipside. What's the worst NBA city to eat in?
There are no worst cities, just bad situations. I seem to get caught in New Jersey a lot picking up energy bars and a bag of almonds from a convenience store to make do for a post-game dinner. Then again, they're Brooklyn-bound so that takes care of that.
Which team has the worst media room food?
Boston and Miami used to be dreadful, but they've both improved greatly, especially Boston. Since teams almost always charge now for the media food, I don't eat it all that often. I would rather spend my money trying the concourse food or somewhere away from the arena. Maybe it's familiarity, but my hometown Warriors are pretty disappointing. A lot of same ol' same ol'. When it's not roast chicken, steamed vegetables and Caesar salad, it's like a jolt of electricity.
How many meals a week come from room service?
I almost never order room service. One, I have a skimpy per diem. Two, I don't like not knowing exactly when it will show up. Three, I like walking the area around my hotel just to get a feel for it. I'm big on going out and bringing something back to my room.
Which NBA player would be the best dinner companion?
There are those I already know would make for great conversation — Tim Duncan, Manu [Ginobli], Steve Nash, Blake Griffin, Pau Gasol, JJ Redick, Kyle Korver, Joakim Noah. And then those whose brains I'd like to pick – KG [Kevin Garnett], JaVale McGee, DeMarcus Cousins, Andrew Bynum. Guards and forwards are the most naturally personable. Big men are the most fascinating. But if I can only pick one, I'll go with Metta World Peace. Just to see where he'd take the conversation.
Explain the NBA player's Cheesecake Factory obsession to me.
There's a massively varied menu. Large portions, large booths (good for long limbs and torsos.) And a certain degree of privacy within the booths. And athletes are creatures of habit.
Who is the healthiest eater in the NBA?
[Steve] Nash, from what I can tell. Last I knew he'd cut out sugar completely.
Least healthy?
Lamar Odom has to be one of the worst veterans when it comes to eating candy and junk. Most rookies come in not eating very well, but the schedule forces them to improve.
Have you witnessed any odd eating habits from players?
Watching guys scarf chicken fingers or pizza or a hot dog an hour or so before the game never ceases to amaze me.
Who's the biggest NBA foodie?
Lots of guys insist on great restaurants — some even have owned one. But I don't know how many of them would qualify as foodies. The Euros don't count, as they're almost inherently more cultured than most US-born NBA players. Spurs coach Gregg Popovich spends considerable time during the offseason searching out little-known exquisite restaurants and he's a wine expert. He turned me on to a great restaurant, Quince, in my backyard (SF) I'd never have found.
Do you have any pre-game eating rituals?
I have to have a quality cup of coffee or tea to take to my seat. I've also been known to smuggle in a quad-shot Americano in a spill-proof mug. I save my dessert for after the game. Unlike Nash, I have not forsaken sugar.
---
More about sports on Food Republic.