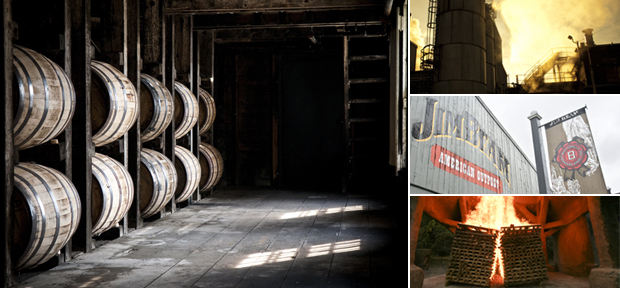 American Whiskey. We all drink it. Or at least we all should — supporting a true American industry is downright patriotic. For those who knock the stuff back regularly, all you need to know is what you like and how you like it. But just in case you want a side of trivia along with your tumbler of Maker's, we've made a list of things you didn't know about the brown stuff.
1. Flavored bourbon is a thing
By this point, we've all cringingly come across marshmallow and Swedish fish vodka (and if you didn't cringe, kindly close your browser page and move along, you). Technically, a bourbon laced with added flavor is not a bourbon, but it generally contains the same base spirit. A clear move to lasso non-whiskey drinkers, these inventions span syrupy sweet black cherry Red Stag from Jim Beam to the surprisingly fresh and clover-tinged Jack Daniel's Tennessee Honey. I'm not saying these bottles will occupy a shelf on my bar anytime soon, but they are certainly catchy, and well on their way to whipped cream vodka insta-fame.
2. Bourbon distillers hang out together (for the most part)
Though mega liquor companies may battle it out on the streets between reps and distributors, the good old boys in charge of the juice have been swapping yarns and pouring fingers for each other for generations. Fred Noe, seventh generation distiller for Jim Beam, grew up alongside Wild Turkey master distiller Jimmy Russell. Their dads wouldn't let them travel together for fear of calling the wrath of God upon bourbon country. When Heaven Hill lost several warehouses and a distillery to a fire in 1996, the rest of the bourbon industry came to the rescue with lent space and resources, like any good family would.
3. Kentuckians don't drink mint juleps.
To Kentuckians, the julep exists on one day and one day only — Derby Day — and even then, it's an obligatory gesture of tradition. When asked about the julep, Jimmy Russell told me how to automatically discern foreigners from the locals — as soon as My Old Kentucky Home is finished playing, the locals put down their juleps and pick up the bourbon.
4. A safe killed Jack Daniel
One morning Jack Daniel walked into his office and attempted to open the distillery safe. Upon trying the combination several times and failing to crack it, little 5'2″ Jack hauled off and kicked the safe and broke his toe. The toe never healed and over the course of six years he fought an infection that eventually took his life in 1911, the year after prohibition in Tennessee began. The safe still sits in his original office on the distillery grounds.
5. George T. Stagg is like an orgasm in your mouth
No, seriously. I blushed on first taste. I strongly suggest sitting alone to drink this warm, spicy eruption of 15-year-old Kentucky bourbon, so you can be quiet and think about what you've done.
6. Until the 1980s, distilleries had two locks on every door
The first lock was for the distillery operators and the second was for a government revenue agent required by law to live on the property to document the operation's production and taxes. Some distilleries made living conditions as Spartan as possible, not even providing the agent with a working bathroom.
7. Jimmy Russell's wife Joretta is equally as badass as he is
She's worked at Wild Turkey longer than he has. In fact, he relies on her palate regularly as a second opinion to his own. Hey, girl.
8. The defunct Stizel-Weller distillery is coming back. Sort of.
The Van Winkle family's original property has been closed to the public since 1991, and now stands quietly awaiting reopening while the Bulleit family creates its own tourism experience. Tom Bulleit's office is where Pappy Van Winkle used to sit with a shotgun by his side, infamously shooting birds from his office window in the midst of business meetings. The property also houses an incredible archive of near-century old bottles and ledgers from the days of old Pappy himself.
9. Two distilleries spell their whiskey without an "e"
George Dickel and Maker's Mark considered their liquid to be on par with the old country's Scotch, so they left out the "e" and called it good.
10. Louisville is where it's at. We should all move there, immediately.
Nationally underrated and locally prized, Louisville is a city of beautiful bones and adept bourbon drinkers. We'll forgive them the horrifically named KFC Yum! Center stadium, because the sheer amount of exceptional watering holes is certain to erase such silly semantical errors.
The dreamy Wonderland-like Proof on Main at 21c Museum Hotel and grand Old Seelbach Bar are both serious temples to bourbon, while Meat, St. Charles Exchange and the Silver Dollar are examples of cocktail culture burbling beneath the surface of the South. Prime the pumps at Edward Lee's lovely hobbit hole of a restaurant 610 Magnolia or lusciously marbled meat locker, the Blind Pig.
---
More about whiskey on Food Republic: