Why Does Every Chef Big Up Pappy Van Winkle?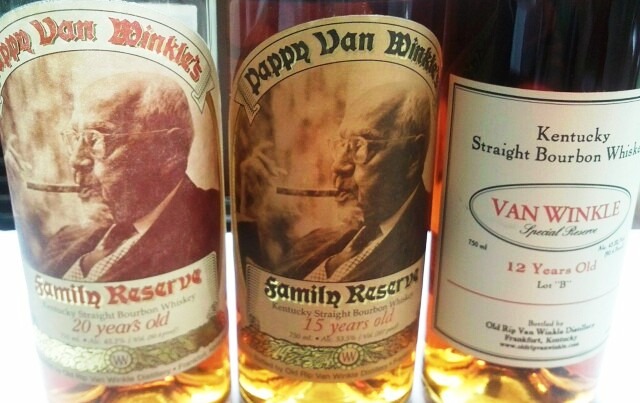 Pappy Van Winkle
During my extended, slightly boozy, conversation with Mississippi chef and restaurateur John Currence a couple weeks back, I interrupted his minor rant about charcuterie plates to ask him, straight up, what the deal was with chefs and Pappy Van Winkle.
Proselytized by people like Sean Brock and David Chang and long sought after by bourbon freaks (there is a 90-person waiting list for any of the products at my local spirits shop in Brooklyn), the makers of Pappy — specifically the extremely likeable distillery president Julian Van Winkle III — have been able to etch the product into foodie folklore. There's even a brisk resale market on eBay.
I've sampled the stuff a couple times. Once at the Momofuku book launch party. Another time from a bottle of the 15-year Family Reserve that a friend of mine found at the Big J's Wines & Liquors in a sketchy section of Gowanus. I found the brown liquid to be extremely hot — spicy and almost undrinkable. There's 15 years of wood on this product and no way of hiding from it. But I prefer a so-called softer bourbon — Black Maple Hill NV comes to mind.
"Usually the [aged] bourbons are too woody and too harsh for me, but there are some exceptions," said Four Roses master distiller Jim Rutledge, diplomatically, in an interview with Food Republic last year. He doesn't sell anything aged longer than 12 years.
So what it is about these 20– and 23-year-old bottles? We pick up with Currence.
Are you going to tell me Pappy Van Winkle is your favorite bourbon like every other chef?
I can't tell you that it's not. There's Pappy Van Winkle, then there's everything else. If you give me a choice, I'll drink the 15-year-old over anything else in the world. Some folks want to romanticize 20– or 25-year-old, how profound it is. But it's a wonderful bourbon.
Supposed I tell you Black Maple Hill is better...
The Van Winkles are very dear and wonderful friends.
I just hear so much about it and it all feels so...arbitrary.
But if everybody you talk to who drinks bourbon says Pappy Van Winkle is the best, then what? It's empirical. What's number two?
That's what I'm trying to figure out. There's a bit of an echo chamber with bourbon and these gentlemen, the Van Winkles. They do seem like very nice people.
The bad thing is that bourbon is the party train right now. You have a lot of people that jump on and drink it and glom onto it without understanding. And with any fad, you have that same sort of activity. And the worst thing in the world is that you have people drinking it, or smoking illegal cigars, and they don't really appreciate it. They're just doing it because people say it's the greatest thing in the world. And that's the unfortunate part. You can't change it and you fight through it. But they'll all be hammered, no matter.
---
More brown spirits coverage on Food Republic: