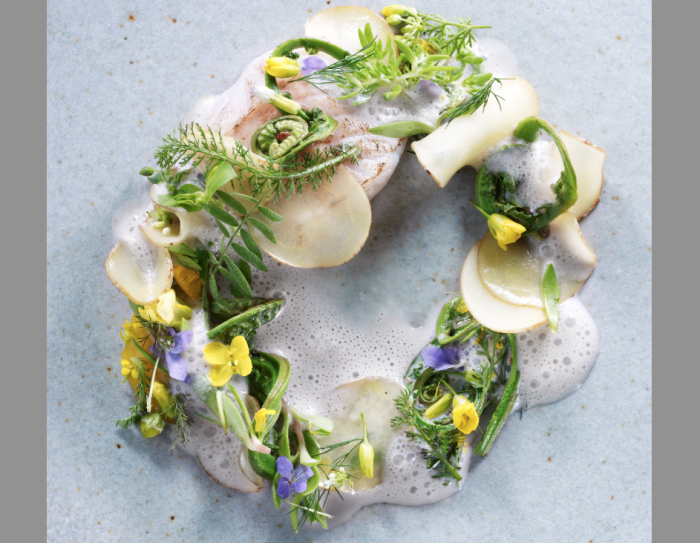 Using flowers as garnishes to amp up a dish's visual appeal is nothing new, but more recently we've seen a major upswing of restaurant menus featuring edible blossoms as actual flavorful components to the overall dish.
This blooming national trend goes hand in flower-plucking hand with the increasingly popular foraging movement, but not just in the form of herbs and greens that spent some extra time in the ground to blossom into flowers. Carnations, cornflowers, violets, nasturtiums, marigolds and chrysanthemums are just as likely to show up on your plate as in that vase near the host's stand.
At San Francisco's Rose Pistola, chef Pablo Estrada tops a brunch plate of poached egg and hash with a cluster of tiger eyes and nasturtiums, while chefs Fredrik Berselius and Richard Kuo of Frej in Brooklyn feature over a dozen different flower varieties on their rotating tasting menu. Other hot eateries embracing the flower as a key ingredient include The NoMad, Yunnan Kitchen and Parish Hall in NYC, as well as SPQR and RN74 in SF.
It's definitely a fad that's built on some substance, especially when the buds do provide a deliberate flavor, but when you're about to tuck into a plate of tiger eyes (a.k.a. "pansies"), what does this say with regards to the conceit that you are what you eat? Are flowers the equivalent of being spotted at the bar with a pink– or rose-colored girly drink in hand, or do they add to the woodsy appeal of a dish?