Book Review: 'The Man Who Changed The Way We Eat'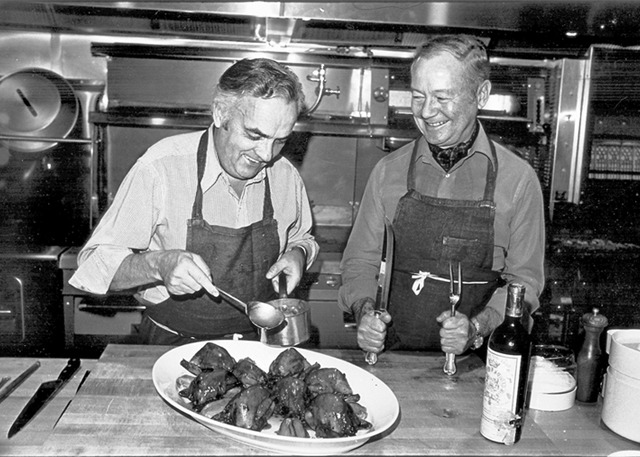 We may receive a commission on purchases made from links.
For a certain segment of the food-loving public, chefs — heck, line cooks — have surpassed rock stars as the people we idolize. These days, food writers, restaurant reviewers, vintners, purveyors and even caterers ride the wave of culinary stardom directly into the hearts, minds and reality TV casting couches of a hungry American public.
So it can be difficult to remember our not-so-distant culinary past, when the only food writing American newspapers saw fit to print appeared in the so called "women's pages." When James Beard was not a tony awards ceremony but rather a Greenwich Village bon vivant who most of the country wouldn't have been able to pick out of a police line-up. When ramps were just onions.
In The Man Who Changed the Way We Eat: Craig Claiborne and the American Food Renaissance (Free Press, May 2012), Thomas McNamee reminds us just how recently our appetites have changed. In 1957, Claiborne virtually created his role as restaurant critic and food editor at the The New York Times, positions he held intermittently until 1988. He also authored over 25 cookbooks and helped shepherd the careers of such food world luminaries as Julia Child, Marcella Hazan, Henri Soule and Madhur Jaffrey.
But Claiborne's greatest significance to the modern reader lies in his starring role in the continuum of culinary history. He single-handedly made undercover restaurant reviews the standard (since fodder for such successful memoirs as Ruth Reichl's Garlic and Sapphires and Alan Richman's Fork It Over), and championed the arrival of French fine dining service and haute cuisine on American shores. While he was not above promoting his own celebrity, Claiborne was first and foremost a writer. It is fitting that, in modern memory, Claiborne is frequently overshadowed by his contemporaries-turned-television-stars Julia Child and Jacques Pepin.
McNamee's prose comes most alive when he illuminates the timeliness of Claiborne's story, such as how the legendary Ecole Hôtelière de Lausanne has now shifted its curriculum towards the corporate hospitality models that so irked Claiborne during his matriculation. The author's description of Claiborne's obsession with the Frenchified mid-century restaurant Le Pavillon is moving not only in its portrayal of the man's own insecurities, but also as harbinger of how modern critics can find themselves unwittingly impartial when reviewing the restaurants of favorite matinee idol chefs.
No stranger to demystifying culinary legends, McNamee's last title was the best-selling Alice Waters and Chez Panisse (Penguin Press, June 2007). And while The Man Who Changed the Way We Eat might not be as even in tone as Claiborne's own rollicking memoir, A Feast Made for Laughter, McNamee ultimately proves how Claiborne changed not just the titular way we eat, but also the way we as a nation consume culinary culture. His is a timely story of changing American tastes and the onset of edible celebrity.
---