Schmidt Bros. 15-Piece Downtown Block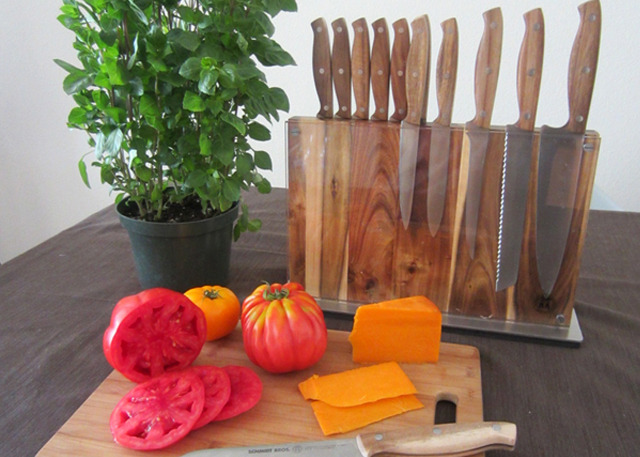 Schmidt Bros.
We may receive a commission on purchases made from links.
Professional chefs normally avoid all-inclusive knife sets, instead opting for a carefully edited collection of tools — a hand-forged Japanese fish knife here, a German cleaver there.
For home cooks who don't have that luxury, a fully loaded package is a neat and convenient alternative. But how many types of knives do you need, and how much are you willing to spend? Tricked-out knife blocks can cost as much as $2,000, and we doubt you'll ever notice the difference between those 3 ½" and 4" paring knives in the set.
Home furnishings brand West Elm teamed with Schmidt Brothers Cutlery for an exclusive line that suits the needs of the average cook. Their 15-piece Downtown Block strives to cover every base at an affordable price — all while looking great on your kitchen counter. The dual-sided block has clear acrylic protectors and displays your knives like a work of art. The set includes: 8-inch chef, 8-inch bread, 7.5-inch Santoku, 6-inch boning, 5.5-inch tomato, 5-inch utility, 4-inch paring and six 4.5-inch steak knives.
We put the set through a few simple tests to see how it fared.
Positive (+)
We've already established that the design is decidedly cool. Staying true to West Elm's eco-friendly and modern aesthetic, the wood block and handles are crafted of exotic acacia wood and have a beautiful grain.
Performance-wise, the high carbon German stainless steel blades functioned exactly as they should: the bread knife sawed neatly through a crusty peasant loaf, while the tomato knife cut and cored a ripe heirloom from the green market with zero resistance. A curved heel on the base of the blade — a patented design feature — also allowed for a comfortable grip as we sliced and diced through veggies and steaks.
And let's not overlook the little perks. The set comes with a sharpening stone to bring dull blades back to life, as well as an illustrated guide to basic knife skills for the true kitchen novice. Extra room on the block also allows you to keep those stray knives with which you are reluctant to part.
Negative (-)
The weightlessness of these knives can be an issue for cooks who are used to brawny tools. Also missing from the equation are kitchen shears and a honing steel, which are common components in even the most basic knife sets. But the biggest drawback is maintenance. Schmidt Bros. recommends that the wood be treated regularly with mineral oil, and that the blades be hand cleaned and thoroughly dried with every use. Without careful handling, the wood block risks mold and corrosion. The babying required of this set may not make it a worthwhile purchase for those who are admittedly careless.
Verdict:
In the battle of style versus substance, this knife set strikes a perfect balance. It probably wouldn't last long in a restaurant kitchen, but it's a functional and affordable introductory set for the person who likes to cook at home. Go ahead and take pleasure in showing it off — that way there'll be room in your kitchen drawers for other gadgets and doodads. Schmidt Bros. 15-Piece Downtown Block; $333.26, amazon.com
---
More Gourmet Gadget Reviews On Food Republic: