Mastering The Art Of The Grill Date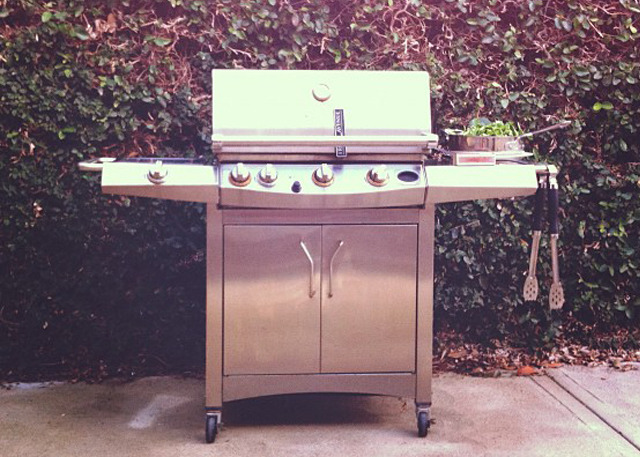 Clearly you've noticed that it's Grilling Month around these here parts. If you haven't, then open your eyes and fire up that grill. As the Resident Love Cowboy, I thought now was a good time to talk about the smokiest subset of cooking for your special someone: The Grill Date. Grilling is inherently sexual. There's a lot of time spent handling meat, applying rubs and making sure there's enough heat to get the job done. If all goes well, you'll wind up with the unmistakable sounds of ecstasy – I'm talking mmms, not oohs. The only major difference – depending on how Fifty Shades of Grey you're feeling – is the presence of grill marks.
A Grill Date can be the perfect way to shake things up now that the snow has melted and your untanned skin is being reintroduced to UV rays. It's the antidote to the stodgy winter pot roast date. Sure, sipping a bottle of red next to the fire is cozy and all, but you want to get down and dirty under the Tuscan sun. Did I just make a dated Diane Lane reference? Wow. Sorry. Moving on.
If you've got some room on your grates and you're not just cooking on your George Foreman Grill from college, aim for an all-grilled menu. Go all the way and throw some grilling into your cocktails to start things off. How about this grilled lemonade recipe from Marcus Wang of Kingsford Charcoal? I'll take six gallons, please.
For your first course, make a grilled salad. Check out this simple grilled radicchio salad for inspiration. If you're not crazy about charring your lechuga, hit up Pesto Superstar Jess Kapadia's grilled corn pesto macaroni salad. Grilled corn is such a summer staple that it should definitely be on your Grill Date menu, but keep this in mind: nobody wants to make out with chunks of niblets in their teeth. Stick with non-cob recipes for the best results or you'll have to go on a less-than-sexy floss run immediately after dinner.
For the main event, get your meat on but don't overdo it. Avoid anything that may look or seem heavy. Heavy and dates don't mix – a lesson I learned from an ill-fated Bucket of Goulash date a while back. A thick ribeye may sound awesome to you, but your date may feel differently. Try something lighter. I'd recommend fish, but I'm the world's worst fish griller so I can't speak much from experience. If you've got pescagrilling skills, go for it. I think a solid beer can chicken (here's a beer can chicken recipe) is always a good choice/conversation piece and you can't go wrong with skewers of meat. Make sure you grill up some veggies, too, and you've got yourself a rather impressive date menu that didn't require hours at the stove.
Be forewarned: there's a snag with the Grill Date that you don't encounter with your run-of-the-mill "let me cook for you" date. That's the location and output of the grill. Location isn't so much a problem as an opportunity. Instead of running back and forth from the grill outside, set up an area close to the grill for you and your date to enjoy some drinks while you cook. If you have a backyard, use it. If you're doing the makeshift apartment grilling thing, set up some chairs close to your balcony. You just need to eliminate the annoying disappearances while you check the chicken. The output of the grill is another story. Grills create smoke. It's a fact of life. The best you can do is position yourself out of the direction of the wind. Or find a girl with a smoke fetish.
It's almost summer. You're a man. Incorporating your grill into your dating life is the best choice you can make as the days get longer. So fire up the coals and get your very first Grill Date going. When it's over, pop in your DVD of My Dog Skip and let the magic happen. Crap! I Diane Laned again!
---