Grilling God: Michael Lomonaco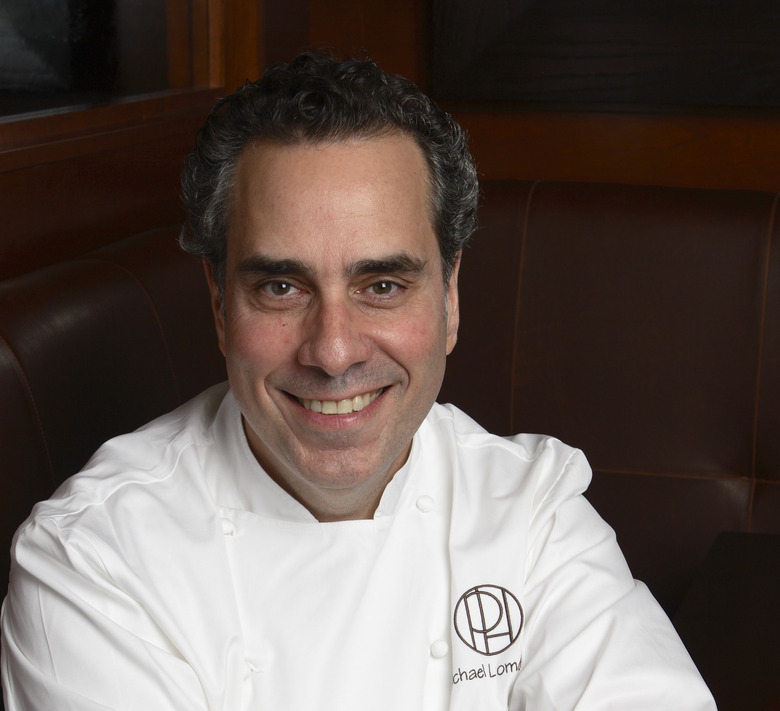 May is Grilling Month at Food Republic, where we are offering pro tips from chefs and other well-known grilling gods.
You don't have to be the executive chef and managing partner of a steakhouse named for an exceptionally large cut of beef to grill like Michael Lomonaco. But it couldn't hurt, right?
Thankfully, most home grillers don't face the constraints of cooking over 900-degree charcoal in a busy New York City kitchen — or on camera for the taping of a Food Network show. But Lomonaco, well, he's used to it. Porter House is an ode to all things prime, perfectly grilled and meaty. Who would have thought the Time Warner Center was packing so much heat?
What is the biggest mistake the home griller can make?
In general terms, preheating is really necessary. It's exactly what grilling is all about — heat. Indirect, direct, whatever method, you need a properly preheated grill. I'd say the most important thing is building the fire in enough time to let the charoals go to a white stage, when they're hottest, or even preheating a gas grill and making sure that the cook surface has been heating. People just want to get grilling, but you have to be patient and prepare.
Do you prefer working with gas or charcoal?
Charcoal. When I say charcoal, I mean hardwood charcoal, not briquettes. I don't have anything against briquettes, I just prefer real charcoal. You get smoke that has a wood-like flavor, and it burns really hot. I probably have 800-900 degrees coming off at Porter House. At home, you can get up to 500-600 degrees, the temperature you need to really get a good crusty finish on a steak or ribs or chicken. You could do a gas grill for everyday convenience and charcoal for the others, but a gas grill needs cleaning in and of itself. Keep the gas jets clean and free of previous remnants so they burn hotter. Cleaning it frequently will make it more efficient.
What's your favorite cut of meat to grill, and how should our readers prepare it?
Okay, let's talk steaks and beef. My favorite meat to grill is beef and a ribeye is a great steak to cook on the grill — a real bone-in cowboy ribeye because it's a thick cut, 1 1/2-inches. My second favorite is exacty the opposite, a skirt steak. When I say the opposite, I mean "not on the bone." It's a very thin cut of meat, but it's really excellent over some wood chips; it's beautiful.
What do you drink with that?
Cold beers, a good summer beer or ale from Brooklyn Brewery makes me very happy. Even in the summer I can drink red wine with a steak, although it can be a little oppressive if it's not at cellar temperature. About 55 degrees is a great temperature to enjoy red wine with steak. If it's too warm, it becomes...not a great pairing. I really lean more towards local brews.
How do you know when a burger is done?
Cooking to your own preferences is a hard thing to describe to other people. I would say this about burgers (besides that there's nothing better than a burger cooked over an outdoor fire): I never use frozen meat. I would really steer you away from frozen beef patties, and send you to the market for freshly ground beef. Get the higher fat content rather than leaner. That is going to give you the tastiest burger.
Over a hot fire, a good ground beef made into a patty will send off lots of flareback. You might get a little fire from the fat dripping into the fire, so I always recommend that people keep a spray bottle of water around to put out the flares.
What is the single most important piece of grilling advice you could give?
Keep your barbecue grill away from the house. Every year people have problems with having their grill too close to a building, to their home, garage, a shed — it should be built away from a building, that's important. Honestly, I recommend people keep a fire extinguisher nearby. Once you have that, it's just a party.
---
More Grilling Gods on Food Republic: