7 Crucial Stops On The American Whiskey Trail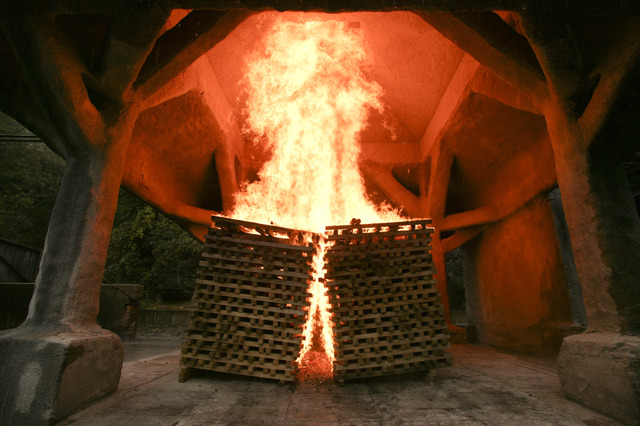 The Music City is a lovely place to begin a trek along the great American Whiskey Trail. Before taking off from civilization, be sure to make a stop at a honky-tonk or two — Robert's is a good bet for High Life-laced bluegrass. It doubles as God's house on Sunday mornings, should you want to make some anticipatory penance prior to parading through the South.
For civilized company and a cool, dark respite, hit the Patterson House, an expertly run cocktail canteen from the team behind Chicago's Violet Hour. The shelves are filled with all the bourbons you're about to track down, and a few you've never heard of — a session of Old Fashioneds is just the thing you need to whip your liver into fighting shape. Click on the first photo to view as a gallery.
Stop #1: George Dickel
Utterly charming and provincial, Cascade Hollow, where George Dickel resides, is exactly where you'd expect to find Tennessee whiskey. The spirit's every last detail is created with traditional methods, from tracking batches in leather-bound ledgers to ringing bells as a means of communication between still operators. Dickel is so down-home, when they picked a new distiller they filed a newspaper classified ad and found John Lunn, a local chemical engineer. He then wooed former distiller Ralph Dupps to help him and in true to Tennessean fashion, Dupps still lives out back of the rick houses, likely stealing midnight nips (well, I would if were him, anyway). 1950 Cascade Hollow Rd., Tullahoma, TN, 931.857.4110
Stop #2: Jack Daniels
Essentially the Disney World of whiskey, the Jack Daniels distillery is shiny-smooth and totally convincing. I say convincing because such a ubiquitous brand is easy to discount as a frat boy default when surveying the category of American whiskey. In order to preserve Jack's origins, the distillery acquired the surrounding acreage to maintain the whiskey's pristine water source. Not only do they create their own hard sugar maple charcoal on site, but they also spray it down with high-proof white dog for ignition. Which is exactly why you should invest in a bag of Daniel's charcoal for this summer's grilling. 182 Lynchburg Hwy., Lynchburg, TN, 931.759.6357
Stop #3: Wild Turkey
Though the historic domain where Wild Turkey once stood has been rebuilt as a sterile series of concrete and corrugated metal buildings, Wild Turkey remains a stellar whiskey house ruled by one of the most badass distillers in the United States, Jimmy Russell. An imposing man with a tendency for tall tales, Russell's legacy is marked with the introduction of Wild Turkey rye, an innovation that has influenced the way cocktail bartenders build American whiskey-based cocktails. 1525 Tyrone Rd., Lawrenceburg, KY, 502.839.4544
Stop #4: Woodford Reserve
Woodford Reserve is considered one of the new kids on Distillers' Row. Inhabiting a verdant, historic property just outside of Frankfort, Kentucky, Woodford has proven itself on the high-brow end of bourbon — introducing oddball collectors items like the Seasoned Oak and Rare Rye editions through its Master's Collection. Bring a picnic and lay out along Glenn Creek for a lazy weekend afternoon, or set up a special lunch with Ouita Michel, the distillery's chef-in-residence. 7855 McCracken Pike, Versailles, KY, 859.879.1812
Stop #5: Maker's Mark
An idiosyncratic bunch, Maker's Mark insists upon a seven-generation heritage as the cornerstone of its brand identity. Sure, the earlier generations made eye-squinchingly, mouth-burningly bad whiskey (to which they admit), but when Maker's Mark was coined, it became the solid gold stuff we drink today. Now the bucolic Loretto distillery does its damnedest to let you know they're the only bourbon to rotate barrels, hand-dip each bottle, and be named by a woman — Marjorie Samuels, bless her icon-creating heart. 3350 Burks Spring Rd., Loretto, KY, 270.865.2099
Stop #6: Jim Beam
Another seemingly ubiquitous brand, Jim Beam is also the grandfather of the Small Batch bourbon group that includes Booker's, Knob Creek, Baker's, and Basil Hayden's. The property, which includes the elegant and woodsy Knob Creek House, is expanding as is the portfolio with Devil's Cut, a bourbon made with the traditional method of 'sweating' barrels to draw out leftover whiskey. It is then mixed back in with the six-year product and bottled at 90-proof. 526 Happy Hollow Rd., Clermont, KY, 502.543.9877
Stop #7: Buffalo Trace
Perhaps the most surprising of the bourbon houses, Buffalo Trace makes all means of spirits — well whiskey in plastic bottles, organic vodka, Peychaud's bitters, and the highly coveted Pappy Van Winkle line. When booking a tour, try to request Freddie Johnson, a walking history book of all things whiskey, Kentucky and Americana. After spending 52 years wandering the property, Johnson can tell you every ghost story and any bit of bourbon folklore you ever wanted to know including how to catch moonshiners and the best places for buffalo grazing. 113 Great Buffalo Trace, Frankfort, KY, 502.696.5926
---
Read more about American whiskey on Food Republic: