London: The Food At Wembley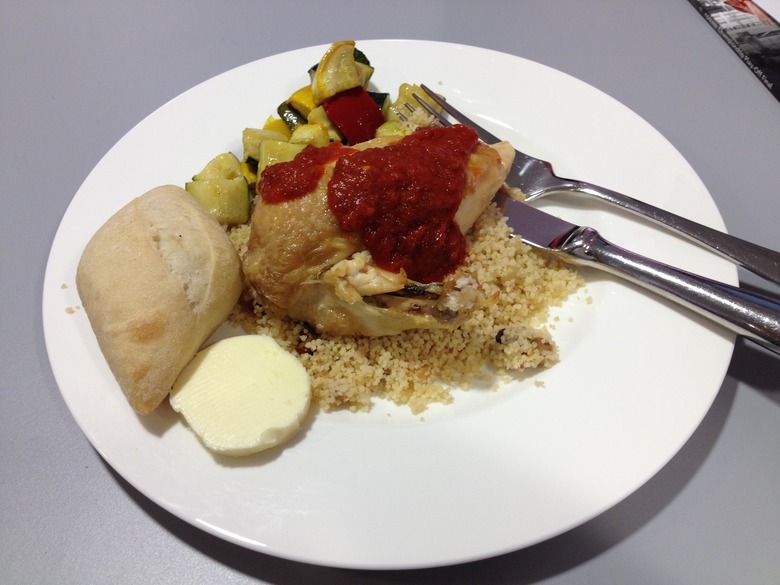 Wembley Stadium. It's one of the most iconic sporting venues across the globe and as such, any event there is instantly over subscribed with requests from the world's media.
The FA Cup Final, UEFA Champions League Final, The Football League Play-Offs — all are major global events that have captured the imagination, having been staged at the new venue since its redevelopment in 2007.
Food Republic formed a part of the media scrum last Saturday at this year's Championship Play-Off Final between Blackpool and West Ham United, but from the outset, it became apparent that events at Wembley are perhaps not the only attraction for members of the press pack in the modern era.
The Championship Play-Off Final is often dubbed the richest game in soccer, with the winners of the match being promoted to the English Premier League and receiving an estimated $150 million windfall.
But ahead of kick-off on Saturday, it was difficult to focus, as the culinary delights on offer in the press booth screamed at us.
The menu consisted of corn-fed chicken on a bed of couscous complimented with a desert of banana tart and chocolate sauce. Remove the image of journalists punching away at their laptops, sweating over deadlines and we could very well have been in a famous West End eatery as we tucked into our food.
It was more than sufficient for a cost-free meal ahead of any occasion, but what was perhaps more striking was that it came before a soccer game. What's happened to the trusted burger and fries combo from yesteryear? Even pie and mash? It's a question that continues to evade us as we dig a little deeper into English soccer, but on this evidence, frankly, who gives a damn?
The match itself threw up its fair share of entertainment, with Carlton Cole's opener for West Ham being the perfect starter. Thomas Ince's equalizer for Blackpool shortly after the interval was very much a worthy main, but the 45,000 West Ham supporters in attendance were dished up the perfect dessert when Ricardo Vaz Te sealed the victory for the Hammers with his 87th-minute strike.
They call Wembley the Venue of Legends. If the press box food is anything to go by, such status could very well switch from the playing field to the kitchen.