London: Hus Vedat, A Not-So-Secret Chef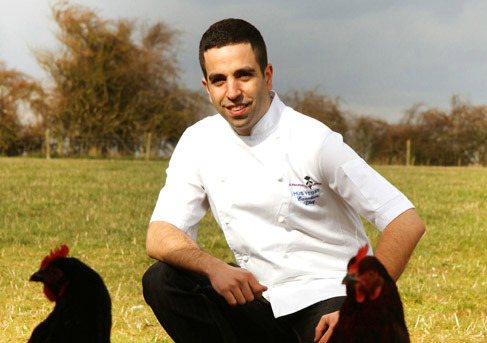 Hus Vedat photo
Hus Vedat wears chef whites to work instead of a trench coat and dark glasses, but the building in which he cooks everyday was once better known for its furtive spy meetings than its squid ink raviolo.
London's St. Ermin's Hotel, which reopened last year under new ownership after a nearly $50 million restoration project, was a hot spot for British intelligence agents during the mid-20th century. The recent film, Tinker, Tailor, Soldier, Spy, based on the John le Carré classic spy novel of the same name, is said to be loosely based on events that took place in the hotel.
"I grew up with James Bond until I was a bit older and realized I didn't like James Bond," says Vedat, who helms the Caxton Grill in St. Ermin's Hotel. "Not sure if there are people still leaving suitcases filled with secret documents here and saying, 'Charlie Foxtrot,' but we're still near Scotland Yard."
The hotel does, indeed, continue to play host to Scotland Yard regulars, but it's hard to say if spies still hang out in the bar (which was once shadowy and is now incredibly warm and stylish), or are still recruited in the restaurant, as they once were. Not only was the MI6, Britain's secret intelligence agency, based in the hotel, but Winston Churchill formed the Special Operations Executive here, an elite team of covert agents enlisted to gather intel that would eventually help bring down Hitler and, later, the Soviet Union.
So, what does this all mean for his menu? First of all, the secret is out. This guy has some skills.
Vedat cooks in a modern-European style and is a staunch follower of the local, seasonal farm-to-fork movement. It means that he spends a lot of time in markets seeking out new ingredients, and even pops up to the roof on occasion where the hotel houses its own hive of bees. The bees provide honey for a number of dishes, including afternoon tea service.
"In the U.K., we go through seasons where we don't have very much to work with apart from beetroot, apples and pears. It creates a challenge, but it also informs my style," he explains.
Vadat says he's inspired by his wife's family, who are winemakers in Rioja, where eating what's in season is a way of life rather than a trend. His in-laws provide more than mere inspiration: they produce a wine, Riba Guda, that is on Caxton Grill's list. Guests can sample it by the glass, carafe, bottle, or even as part of a Spanish flight of three.
Come this summer, when London hosts the Olympics, the hotel and restaurant (including the terrace, a rare amenity in the city) will surely be busy, especially given its prime location steps from St. James Park in Westminster. So, if you're planning a trip across the pond to watch the games, you had better book soon.
As for the chef's London picks, Vedat says he's lucky to be able to eat out quite a bit despite the demands of running a high-profile hotel kitchen. He recommends Mishkin's, a self-proclaimed "kind of Jewish deli with cocktails" in Covent Garden; and Dinner by Heston Blumenthal at the Mandarin Oriental in Hyde Park.
"We're not going to do a specific Olympic menu, like 'runner beans' or something like that," jokes Vedat. "We just do what we do. We just might be a bit busier."
---
More London Coverage On Food Republic: