Grilling God: Martha Stewart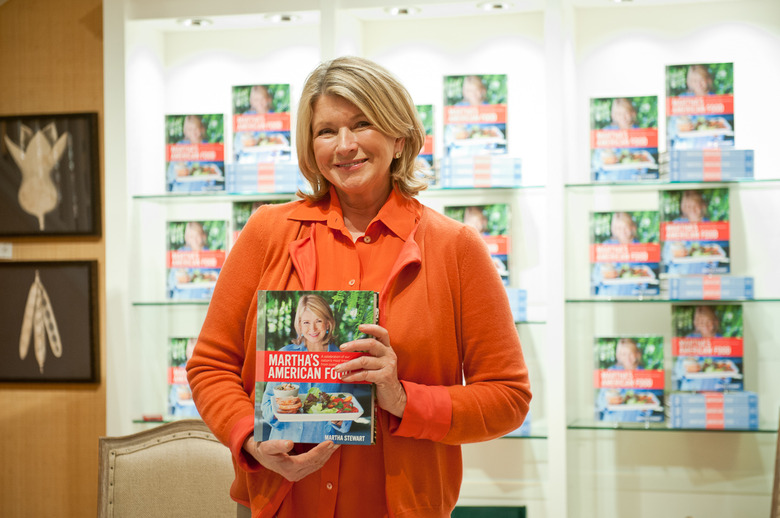 We may receive a commission on purchases made from links.
May is Grilling Month at Food Republic, where we are offering pro tips from chefs and other well-known grilling gods.
We had the opportunity sit down with the inimitable Martha Stewart and ask her for some grilling tips and advice at a recent New York City book signing for her new cookbook Martha's American Food: A Celebration of Our Nation's Most Treasured Dishes.
Our first impressions of the mightily impressive mogul of the hand-crafted were: there is nothing a normal person can do that Martha can't do 10 times better. Even if you don't have a custom-made flat grill handy (what do you mean you don't?), all she asks is that you just don't char the meat, people!
Gives us your best "quick grilling tip from Martha Stewart."
Many people use too hot a fire and char their food. I hate charred food and I think grilling should be as careful, and well orchestrated, as cooking on a stove. For me, I use a large custom-made flat grill that a friend of mine made for me. I get the coals really hot before I start to cook and use a spray bottle to keep the flames from sputtering. I try to cook slowly and well. Without charring.
What's a good side that you would recommend?
My potato salad or our macaroni salad is amazing.
What do you think are the mistakes people make with, say, turkey burgers?
Over cooking and [adding] not enough flavoring. Turkey can dry out real fast!
---
More grilling tips on Food Republic: