5 New Meatball Recipes To Juggle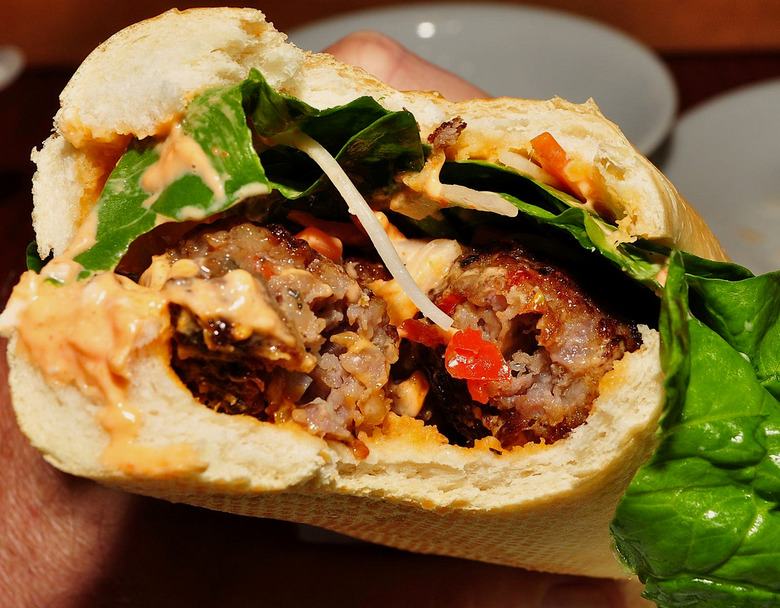 meatball recipes
I made three dozen meatballs over the weekend. Where I found the time between Googa Mooging and...oh, that's right. I was one of the unlucky "few" unwilling to stand in a half hour line for pork belly in the searing heat with...gulp..."foodies." But Richard said not to hate, so hate I shall not. I gathered my dignity and souvenir Googa Mooga plastic stemless wine goblet and went home to take out my frustration on several pounds of ground meat. My theory was that a wild abundance of meatballs would make me feel better. And I was right.
The first batch was a mix of ground chicken, hot Italian sausage, chopped mushrooms, lots of minced onion and crumbled feta. Those are for sandwiches or sliders. The second batch had lamb, fresh mint, tons of garlic and za'atar (a super-awesome blend of sumac, other Middle Eastern spices and sesame seeds). Those are for appetizers. The third was porcupine meatballs, and this was simply because when one Googles "meatballs," something called "porcupine meatballs" comes up. While it turns out the recipe leaves a lot of perfectly good porcupine meat on the table, these rice-spiked beef meatballs are a meal in themselves. Those are for nights when "I have nothing in the fridge or freez...hey, I have porcupine meatballs!"
So make tons of meatballs and keep them around. It's very satisfying work. They freeze famously well and make your standard "no food in the house" fare of spaghetti and jarred sauce far less discouraging. Here are our picks:
And speaking of Swedish meatballs, IKEA has this thing called a meatball sundae: 3 Swedish meatballs over mashed potatoes with gravy, lingonberry sauce and a little Swedish flag. Actually, I could go for one of those. Remember the 30 Rock where Frank wanted IKEA delivered for lunch? Is that a thing? In any case, it's nice to know I'm not the only one who associates shitty particleboard dressers with verifiably delicious Swedish meatballs.