Tales Of The Cocktail Spirited Awards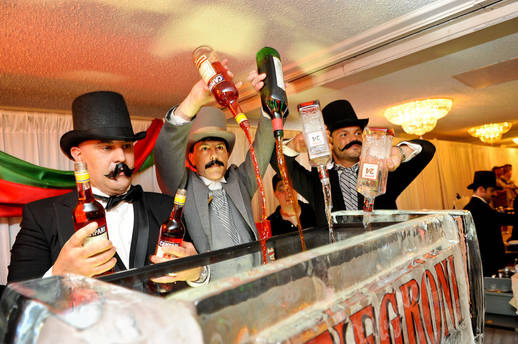 Love cocktails so much that you're dying to attend a five-day convention discussing everything that relates to them in the dead of New Orleans' face-meltingly muggy summer? Then you're in luck. Tales of the Cocktail returns for its 10th year this July 25-29.
The annual conference-slash-party-slash-awards for the spirits industry is also a drinkfest that's open to the public. Sure, it's crawling with bartenders, alcohol brand ambassadors, cocktail consultants, distillers and booze bloggers, but don't let that fool you. Above all, it's a good old-fashioned food and drink bonanza, with extra focus on the drink. We'll be down there covering all the action.
In the meantime, below is a complete list of the nominees for the annual Spirited Award, which are sort of like the James Beard Awards of the cocktail world. There are so many familiar faces on the list! What a party it will be.
And the entire Food Republic editorial staff is honored to be nominated in the inaugural Best Cocktail Writing (Non Book) category. And what great company. We're totally beating Saveur for most Sazeracs consumed over the course of a week.
American Bartender of the Year
Eric Alperin
Jamie Boudreau
Derek Brown
Markovaldo Dyonisis
Charles Joly
Vincenzo Marianella
Ivy Mix
Jeffrey Morganthaler
Joaquin Simo
Naren Young
Best American Brand Ambassador
Erick Castro
Elayne Duke
Jamie Gordon
Guillaume Lamy
Gaston Martinez
Jackie Patterson
Todd Richman
Jim Ryan
Nick Van Tiel
Neyah White
Best American Cocktail Bar
Anvil Bar & Refuge – Houston, Texas
Bourbon & Branch – San Francisco, California
The Drawing Room – Chicago, Illinois
Dutch Kills – Long Island, New York
Clover Club – Brooklyn, New York
Columbia Room – Washington, District of Columbia
Harvard & Stone – Los Angeles, California
La Descarga – Los Angeles, California
Mayahuel – Manhattan, New York
The Varnish – Los Angeles, California
Best Bar Mentor
Bridget Albert
Sven Almenning
Julio Bermejo
Wayne Collins
Francesco Lafranconi
Chris McMillan
Steve Olson
Julie Reiner
Thad Vogler
Dushan Zaric
Best High Volume Cocktail Bar
Beretta – San Francisco, California
Clover Club – New York, New York
Craft & Commerce – San Diego, California
Eastern Standard – Boston, Massachusetts
Flatiron Lounge – New York, New York
La Descarga – Los Angeles, California
Macao Trading Co. – New York, New York
Sable Kitchen & Bar – Chicago, Illinois
Seven Grand – Los Angeles, California
The Tippler – New York, New York
Best Cocktail Writing – Author
Jenny Adams
Jarden Brown & Anastatia Miller
Paul Clarke
Wayne Curtis
Gary Regan
Robert Simonson
Jason Wilson
Dave Wondrich
Naren Young
Best Cocktail Writing – Non Book
Barchick.com
Barlife UK
Find. Eat. Drink.
Food Republic
Liquor.com
Mutineer Magazine
Saveur
Shakestir.com
Tasting Panel
Time Out NY
Best International Brand Ambassador
Colin Asare Appiah
Jacob Briars
Ian Burrell
Tal Nadari
Matt Pomeroy
Jamie Terrell
Manuel Terron
Claire Smith
Angus Winchester
Brian Van Flandern
Best New Cocktail/Bartending Book
The American Cocktail by the Editors of Imbibe
Beta Cocktails
Bitters: A Spirited History of a Classic Cure-All
Gaz Regan's Annual Manual for Bartenders 2011
Home Bar Basics
Living Loaded: Tales of Sex, Salvation and the Pursuit of the Never Ending Happy Hour
The Mixellany Guide to Vermouth & Other Apertifs
Best New Product
Bombay Sapphire East
Chairman's Reserve Spiced Rum
Cocktail Kingdom's Blue Blazer Mugs
Cognac Pierre Ferrand 1840 Formula
Fee Brother's Gin Barrel Aged Orange Bitters
Lillet Rose
Perlini System
Redemption Rye
Steve Schneider's Standard Issue Ice Mallet
Tomr's Tonic Syrup
Best Restaurant Bar
Bar Agricole – San Francisco, California
Beaker & Flask – Portland, Oregon
Heaven's Dog – San Francisco, California
No. 9 Park – Boston, Massachusetts
Rivera – Los Angeles, California
Sable – Chicago, Illinois
Saxon + Parole – New York, New York
Slanted Door – San Francisco, California
International Bartender of the Year
Massimo Greco
Misty Kalkofen
Zdenek Kastanek
Alex Kratena
Max Larocca
Sam Ross
Michael Madrusan
Shawn Soole
Phil Ward
Dushan Zaric
World's Best Cocktail Bar
Black Pearl –Melbourne, Australia
Callooh Callay – London, United Kingdom
Clover Club – New York, New York
Drink – Boston, Massachusetts
Eau de Vie – Sydney, Australia
Mayahuel – Manhattan, New York
Nightjar – London, United Kingdom
The Varnish – Los Angeles, California
World's Best Cocktail Menu
Aviary – Chicago, Illinois
Bar le Forvm –Paris, France
Black Pearl – Melbourne, Australia
Callooh Callay – London, United Kingdom
Clover Club – New York, New York
Mayahuel – Manhattan, New York
Raines Law Room – Manhattan, New York
The Roosevelt – Sydney, Australia
Sable – Chicago, Illinois
Whistling Shop – London, United Kingdom
World's Best Drinks Selection
Artesian at The Langham – London, United Kingdom
Canon – Seattle, Washington
Capri Lounge – Cologne, Germany
Daddy-O – New York, New York
Death & Co. – Manhattan, New York
Eau de Vie – Sydney, Australia
Sable – Chicago, Illinois
Salvatore's at The Playboy – London, United Kingdom
Sanctuaria – St. Louis, Missouri
Widder Bar – Zurich, Switzerland
World's Best Hotel Bar
Artesian at The Langham – London, United Kingdom
Clive's Classic Lounge – Victoria, British Columbia
Clyde Common – Portland, Oregon
The Connaught – London, United Kingdom
Lantern's Keep at The Iroquois Hotel – New York, New York
Roomer's Bar – Frankfurt, Germany
Sable Kitchen and Bar at Hotel Palomar – Chicago, Illinois
The Spare Room at The Roosevelt – Los Angeles, California
Vesper Bar at The Cosmopolitan – Las Vegas, Nevada
The Zetter Townhouse – London, United Kingdom
World's Best New Cocktail Bar
Aviary – Chicago, Illinois
Candelaria – Paris, France
Canon – Seattle, Washington
The Everleigh – Melbourne, Australia
Happiness Forgets – London, United Kingdom
Harvard & Stone – Los Angeles, California
Maison Premiere – Brooklyn, New York
Mother's Ruin – New York, New York
Whistling Shop – London, United Kingdom
The Zetter Townhouse – London, United Kingdom