Local Agriculture Takes A Beating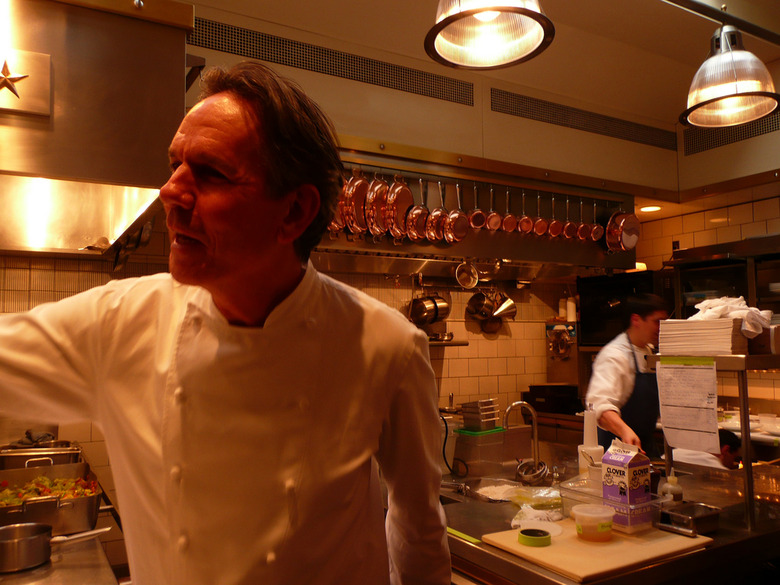 Thomas Keller
Local food was involved in not one but two brawls this week resulting in nine arrests and an eruption of incensed tweets. Chef-icons Thomas Keller of French Laundry in California and Andoni Luis Aduriz of Mugaritz in Spain told The New York Times that they prioritize taste over supporting local agriculture, inciting a debate that has fired up the food world and prompted heated rebuttals. Activists who passionately support local food in Berkeley, California also found themselves in the midst of a debacle this week, but instead of fighting angry commenters they were up against the police. Unfortunately for local food, the two chefs and police came out on top this go-round.
Chefs vs. Local Food Movement
When chefs like Thomas Keller and Andoni Aduriz say something, the culinary world listens attentively, which is why their dismissal of local food worship in an interview with The New York Times created a firestorm. "With the relatively small number of people I feed, is it really my responsibility to worry about carbon footprint?" Keller asked Times reporter Julia Moskin. To him, that's the government's problem, not his.
But others disagree. Nick Wiseman wrote a response in The Huffington Post calling the chefs' prioritization of aesthetics over social responsibility "sorely disappointing." He writes, "Chefs are at the forefront of food policy, whether they like it or not." Others took to Twitter to voice their opinion on the subject, and the sheer number of tweets caused The New York Times to devote another post just to them. Chefs Keller and Aduriz have yet to respond to the controversy.
Berkeley Farm Occupiers vs. The Police
It's not often that we hear accounts of the police cracking down on community farming, but this week occupiers at the recently founded farm on UC Berkeley-owned Gill Tract had a run in with the law. The movement — dubbed "Occupy The Farm" — began almost a month ago on Earth Day by 200 volunteers. Community groups wanted to see an agriculture research site created on these valuable 10 acres of class 1 agriculture soil, but UC Berkeley plans to have the land developed instead. The volunteers protested the decision by starting a small farm on the property and optimistically celebrated their three-week anniversary right before the protest came to an abrupt end on the 14th. Campus riot police blocked off the area and arrested nine people associated with the protest, effectively ending the movement. But if we had to guess, even with the arrests the protestors won't be put off for very long.