Happy New Salad Dressing Day!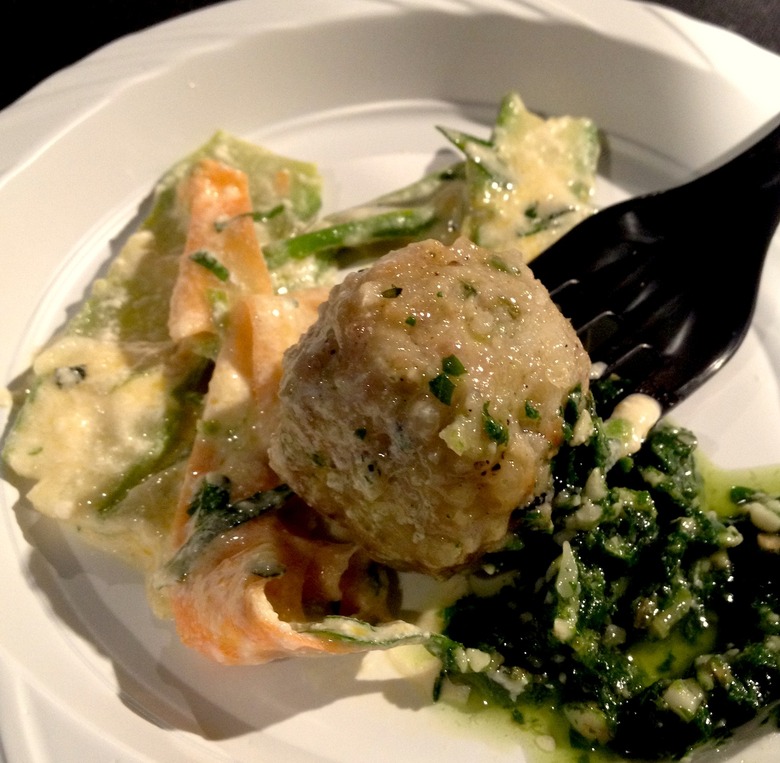 salad dressing recipes
No, it's not meatballs. That's not a salad dressing. I could get into a meatball salad, though. I wish our office was closer to either Meatball Shop location, they put meatballs on everything. There's a salad that they paired with their superb small plate at Taste of the Nation a few weeks ago with a dressing that makes me want to eat salad, this salad in particular, by the barrel. And I have a feeling it would go well on any number of others. Like so many others have before me, I will now directly lift an idea from them. Thanks, Dan Holzman.
The magic ingredient in their dressing is fresh ricotta cheese, made with local Ronnybrook Farm milk. This dressing is only magical if you use the highest-quality ricotta, or make your own with spectacular milk. The willing subject is a salad of shaved carrots, zucchini and asparagus. I went home and toyed around with the recipe until I came up with this, which dresses enough salad for four people (or one Jess, consumed by a craving):
1 1/2 cups fresh ricotta
1/2 cup highest-quality extra-virgin olive oil (super green)
3 tablespoons fresh lemon juice
zest of 1/2 lemon
1/4 cup curly parsley, finely chopped
1/2 teaspoon kosher salt
lots of freshly ground black pepper
chicken stock, for thinning
Mix in a medium bowl with a fork until smooth, then thin with chicken stock by the teaspoon until it reaches a consistency that will generously coat the vegetables without being too runny. Dress the salad and keep at room temperature.
I think this is going to be my favorite new summer side dish — the lack of pronounced acidity keeps the veggies crisp, while the olive oil, citrus and herbal elements really bring out the fresh flavors of spring and summer produce. Here are a few other salad ideas that could benefit from this stroke of brilliance:
Vinaigrette called while I was making that list. Apparently it's not happy about this new development.