Test Kitchen Fail: BBQ Pulled Pork Macaroni Salad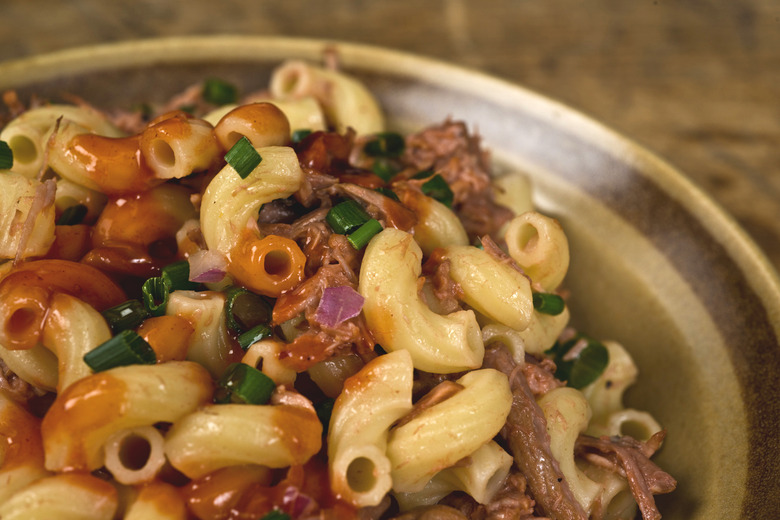 macaroni salad recipes
Very rarely do we have a test kitchen fail whose frown we can't flip upside-down. When all the muenster melted off our tuna melt, we didn't cry. We proudly photographed the pile of goo, affectionately dubbed it "The Tuna Blob," ate every melty, delicious bite and touted it as Sandwich of the Week. Sadly, the same cannot be said of the barbecue pulled pork macaroni salad Matt suggested we make when we were formulating the test kitchen game plan.
Matt: "I was spitballing."
This dish turned out so gross none of us could eat it. And I braised that pork with aromatics for hours. HOURS. SO many aromatics!
But the fact remains: we want barbecue pulled pork macaroni salad. It sounds really good, Matt was right. I just don't know how to do it, I fold. This is clearly a quest for someone with vast experience cooking Southern-style food. I call upon you, our awesome, varied and populous readership, to salvage this recipe for us, so that we might sate our craving for something that works so well in theory.
As a prize for the wizard-level home chef who can pull off this daunting task, we offer a key tool for success in your summer grilling adventures. Nope, can't tell you what it is. It's a surprise. We have so already figured it out.
Email recipes to editorial@foodrepublic.com and let's do this thing!