Soccer Legend Ossie Ardiles: Eat Better, Play Better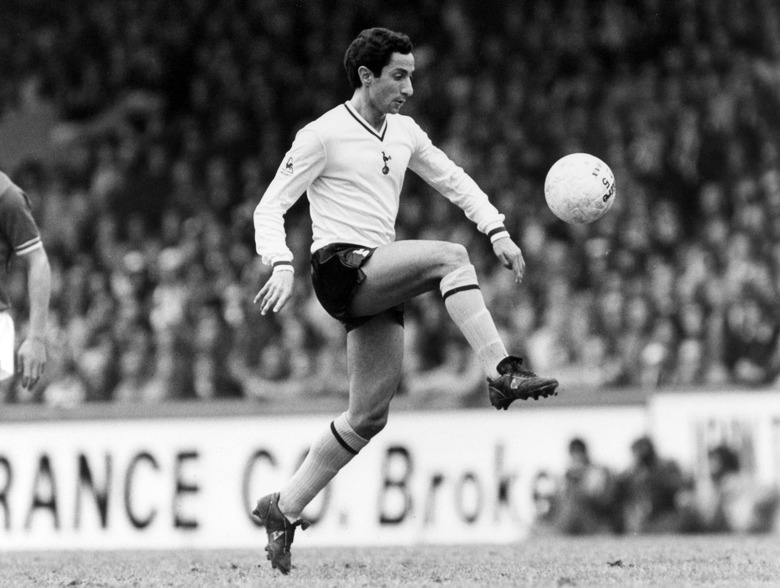 In the modern era, the notion of what makes a good soccer player is down to a lot more than his ability with the ball at his feet.
In times gone by some stars were able to get by on talent alone, but with science now playing a key role across all sports, soccer players and sportsmen alike must pay close attention to their diets and nutritional needs more than ever. That's why Food Republic is starting a new series on soccer and eating, kicking off with a retired star to find out how players ate and trained in the past, and picking up when the English Premier League teams begin practicing for next season in July.
The fact that athletes eat better now is a fact not lost on Tottenham Hotspur FC legend Ossie Ardiles, 59, a man who is well placed to highlight the differences in soccer today and 30 years ago, when more often than not players in England would opt for bacon and eggs after training as opposed to the healthier dishes available today.
Playing over 250 games for Spurs during a 10-year spell at White Hart Lane in the '70s and '80s, Ardiles won the FA Cup twice and was also part of the club's victorious UEFA Cup campaign in 1984. He also starred for his native Argentina during its 1978 World Cup victory.
Since his retirement he has enjoyed a successful managerial career and is currently manager at Japanese outfit FC Machida Zelvia. Speaking from Japan, Ardiles gives us an insight to how the culture of soccer has evolved.
Ossie, what are the main differences you see in players today and when you were in your prime?
Well, they are better for one, there is no doubting that. Many people have asked me on many occasions who I think the best in the world is or was and without hesitation I say Lionel Messi over Maradona or even Pele. Yes, they were great players in their time, but Messi stands apart. Not just for his ability as a player, but also his athleticism. To play in the modern game you must be a great athlete and without that ability it will be difficult to cope.
How much does this have to do with the way players now live their lives?
It has everything to do with that. Some players can play at a high level and enjoy alcohol away from the game, but they will rarely reach the top of their ability in today's game. There was a well-documented drinking culture in English football in the past, but that has gone now and players treat themselves much, much better.
You came to England from Argentina in the '70s. What were the differences in culture you spotted at the time?
In terms of the game, not much to be honest. Soccer is soccer wherever you play it and it was much the same in England. The fans were passionate about it and they came to the stadiums in their numbers, always looking to get behind their team. Looking back, there wasn't that much difference between the players either. In Argentina we played a different style, but we behaved the same away from football. You must understand, we didn't have the level of knowledge we have now, with performance analysts and nutritionists on hand to help us with fitness and our diet.
Is it a positive thing that soccer and sport is so well organized now?
Of course. Just look at how fit the players are now. Through that they are able to play better and the sport has evolved. As I said before, to reach the highest level you must be much more than a soccer player, you must be an athlete too and the only way to do that is take it seriously, train well and eat well. So many players are able to play long into their careers now and it is mainly to do with this. The impact has been huge. Players understand now that how they eat and rest after a game impacts on their recovery and that is only a good thing.
You are a coach in Japan now. What is it like there?
Our set-up isn't advanced as what you will find at the top European clubs, but that is to be expected. The principals are very much the same though and we monitor players every day, ensure they are training well and in their optimum condition. Soccer and sport in general has grown to the extent now that, unless you are fit and conditioned, you will find it difficult at any level. At my club now the players have their own regimes.
What is the soccer culture like in Japan?
It is very welcoming and since I arrived here in the new year, the people have made me feel very special. Soccer is not the number one sport though, so it is still developing and more women attend matches as a result, which produces a very different atmosphere to what you get in Europe or South America. I like it very much though and am enjoying it here.
---
More sports on Food Republic: