Minneapolis: 10 Things To Eat And Drink Now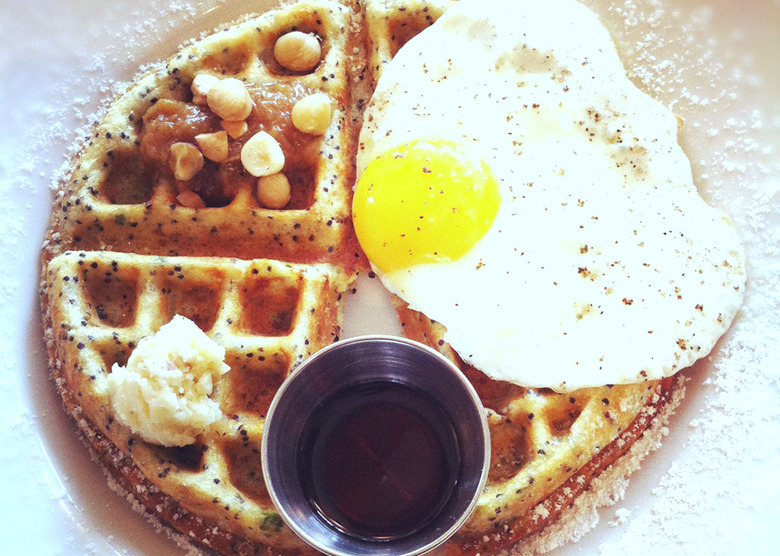 Whenever my wife and I told our friends and coworkers of our recent travel plans, we were met with blinking eyes, chased by an incredulous question: "Why are you visiting Minneapolis?" Uh, why wouldn't we visit Minneapolis? Bike-friendly and packed with great breweries, restaurants and more cheese curds than one man should eat in a lifetime, it's like catnip for culinary tourists.
Though we did little dining exploration in neighboring St. Paul (next time!), Minneapolis offered us plenty of food and drink to fill a weekend — and our bellies to bursting. Here are favorite things we drank and ate in the North Star State.
1. Chicken and Waffles at HauteDish
Minneapolis' industrial North Loop is a neighborhood in transition. Here, hulking warehouses and factories have been converted to art galleries, condos, coffee shops and bars, and the Twins' brand-new Target Field serves as an anchor. However, the area's red lights still shine bright, as strip clubs and sex shops still dot the blocks, as do border-blurring restaurants like HauteDish. Here, General Tso's sweetbreads are paired with foie gras fried rice; noodles are partnered with snails, Pernod and ricotta salata; and duck comes in a can, à la Au Pied de Cochon. My favorite? Brunch's buttermilk fried chicken painted in bacon maple syrup and plated atop a sourdough waffle. 119 Washington Ave N., Minneapolis, MN, 612-338-8484, haute-dish.com
2. Surly Brewing Furious
Located just north of the Twin Cities in Brooklyn Center, Surly has become one of the area's breakout breweries. It formulates immense, uncompromising creations like Coffee Bender, a porter­–brown ale hybrid that's cold-steeped with Guatemalan beans, campfire-licked Smoke lager and and the culty Darkness, a Russian imperial stout whose yearly release causes die-hards to queue up by the hundreds. Since I'm a hops junkie, I jonesed for the piney, toffee-accented Furious, a pungent palate wrecker sold by the 16-ounce can. surlybrewing.com
3. Lemon-Ricotta Hotcakes at Hell's Kitchen
Perhaps I've lived a sheltered life, but I've never devoured a transcendent pancake. Sure, I've eaten hundreds (thousands, perhaps) of satisfying, stomach-filling pancakes topped with plenty of maple syrup. However, none have haunted my dreams — till I nibbled the lemon-ricotta hotcakes at this underground, Ralph Steadman art­–filled eatery. Made with whole-milk ricotta and just-grated lemon zest, the hotcakes are as soft as gelato and so rich that a drizzle of maple syrup would be redundant. 90 S. 9th St., Minneapolis, MN, 612-332-4700
4. Fish Taco Torta at Tilia
With 21 craft beers on tap, an open kitchen, bright walls and 40 perpetually packed seats, "this place most reminds me of New York," my expat friend Nora said as we settled into our chairs and a dinner of homemade charcuterie and playfully goosed goodies. BLT hot dogs are served with pickled cauliflower. Red wine–braised beef cheeks are finished with charred bok choy and XO sauce. But I swooned for the fish taco torta: Well-fried fish is stacked on a pillowy bun alongside peppadew-pepper cole slaw, cilantro and crunchy tortilla chips. 2726 West 43rd St., Minneapolis, MN, 612-354-2806, tiliampls.com
5. Sake at Moto-I
Today, every town worth its salt boasts a brewpub — or five. But Minneapolis is America's only city that can claim this rarity, the first and only sake brewpub outside Japan. In the basement, Blake Richardson (also the owner of the nearby, German-influenced Herkimer Pub & Brewery) concocts more than seven different sakes, which are served alongside sumo on the television and excellent bar nibbles including homemade beef jerky, miso popcorn drizzled in pork fat and lagoons of ramen. 2940 Lyndale Avenue South, Minneapolis, MN, 612-821-6262, moto-i.com
6. Libertine at Fulton Beer
Seeking to bone up on my Minnesota beer knowledge, I spent an eve at Four Firkins, quite possibly the city's friendliest, most knowledgeable beer store. Owner Jason Alvey and Co. popped bottles and introduced me to local outfits like Belgian-inspired Boom Island, Steel Toe and Fulton Beer, which is home to Minneapolis' first brewery taproom. (They were illegal until 2011.) I paid a visit to Fulton, savoring the easy-sipping Lonely Blonde, Sweet Child of Vine IPA, aromatic Ringer Pale and the Libertine. The rich and malty imperial red ale is made with a smidgen of rye, imparting an appealingly spicy note. Yum. 414 Sixth Ave. N., Minneapolis MN, 612-333-3208, fultonbeer.com
7. Happy Hour at Republic
As a lifelong cheapskate, I'm a sucker for a super happy hour, and Republic's ranks right up there with the best of 'em. Every day from 4 to 6 p.m., many of the 50-plus, largely local beers are discounted to $3 (I particularly liked the West Side Belgian-style IPA from local outfit Harriet), and the kicked-up comfort grub also gets a serious shave. My choice: the grass-fed Thousand Hills hot dog done Chicago-style with sport peppers, pickle relish, tomatoes and mustard, served on a poppy-seed bun with a tangle of salty, skin-on fries dunked into homemade ketchup. 221 Cedar Ave. S., Minneapolis, MN, 612-338-6146, republicmn.com
8. Vegetable Sides at Brasa
Heaps of pulled pork, smoked beef and rotisserie chicken take the starring role at this fun, flesh-forward restaurant with food designed for sharing. But while the meat was mighty good, my wife and I favored the filling vegetable sides, namely the crisp yucca fries, candied yams, rustic cheesy grits and the warm chunks of honey-glazed cornbread. 600 East Hennepin Avenue, Minneapolis, MN, 612-379-3030, brasa.us
9. Asparagus, Fontina and Quinoa Waffle at Birchwood Cafe
Quinoa and waffle are not two words that typically rub shoulders, but at the funky, family-friendly Birchwood Cafe the grain joins forces with asparagus slivers and the Italian cheese to give this breakfast standby a savory complexity. A dab of hazelnut-infused butter and an oozy, sun-yellow fried egg are the fab finishing touches. 3311 E. 25th St., Minneapolis, MN, 612-722-4474
10. Masala Mama IPA at Minneapolis Town Hall Brewery
Since 1997, the venerable Town Hall brewpub has followed a successful formula: Quality pub grub, such as addictive fried cheese curds and a walleye hoagie, partnered with craft beers and flavorful, all-day-drinking brews including the Black H2O Oatmeal Stout, Hope & King Scotch Ale and my favorite, Masala Mama IPA. It's a crisp and bitter treat showered in flavors of tropical fruit. 1430 Washington Ave. S., Minneapolis, MN, 612-339-8696, townhallbrewery.com
---
More Minneapolis coverage on Food Republic: