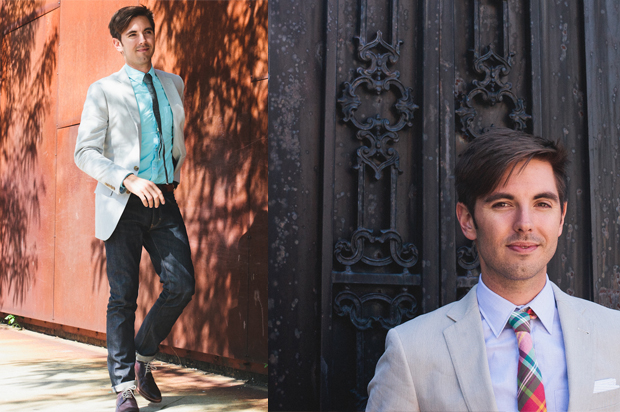 Stella Rossa Pizza Bar has been open for just over a year and it's already being declared one of LA's best pizzerias by those in the know. The man behind the Baker's Pride gas oven is chef/co-owner Jeff Mahin. At 28, he's one of the youngest partners ever at the Chicago-based Lettuce Entertain You restaurant group and a veteran of some of the world's best restaurants including The Fat Duck in England, Spain's Arzak and Nobu in New York City.
Mahin's pizzas are stunning — perfectly crisp crusts topped with the absolute freshest ingredients found just blocks away at the famous Santa Monica Farmers Market. But when I was invited to Stella Rossa for a spring pizza clinic, something else caught my eye: his dress shoes. The dude was wearing dress shoes to make pizza. That was more than enough to pique my curiosity, so I decided to see just how far Mahin takes his style past chef's whites. Read our interview below.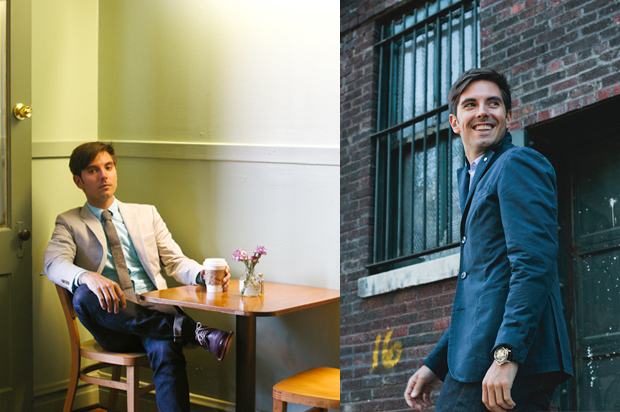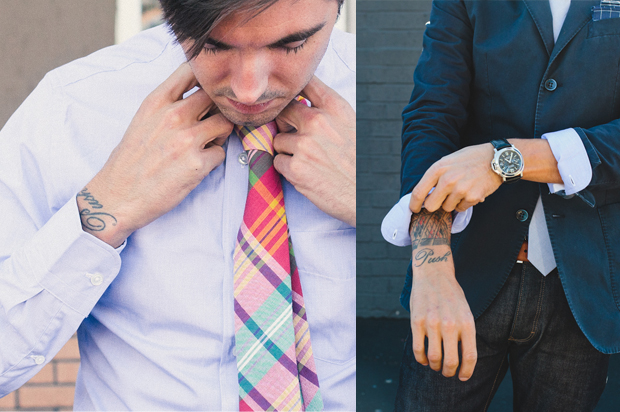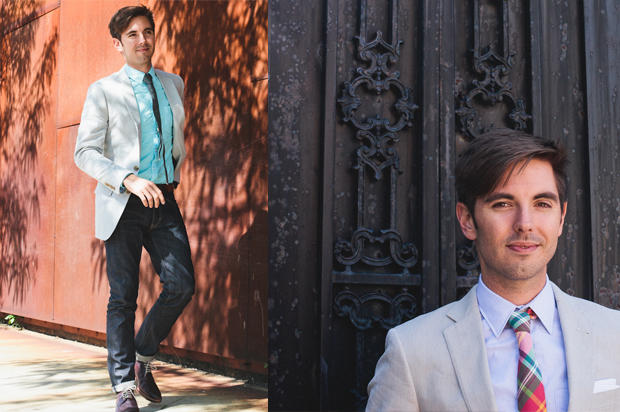 When you're not in your whites, what are you wearing?
Currently, I'm wearing raw denim jeans (J. Crew), wingtip dress shoes (Grenson), a J. Crew button-up shirt and a LBM 1911 jacket.
What's your favorite piece of clothing that you own?
I have a pair of Levi's jeans that I've had for five-plus years. They've faded from dark denim to super light and worn out. Lots of holes and stress marks. They're on their last legs, but I nonetheless love them.
You're originally from California, moved to Chicago for a while, and came back to LA. What's the difference in style between the two cities?
You don't need a thick parka to live in California, at least the places I've lived. I think that the style in California varies from north to south. I currently live on the west side of LA, so it's a bit more beachy casual — faded linens, light wash denim or cream colored pants. You don't see a lot of people wearing suits and ties here. Chicago is the good ol' Midwest. Lots of very hip people there, and lots of great style. I think the current look is a bit more American made, but dressed up.
Do you think you're more California now, or did some Chicago style creep in?
I have had the luck to live and cook all over the world, so I don't think that my style or type of style can be tied to either California or Chicago. I will say, however, that I don't think I have worn shorts in years.
Who's the most stylish chef you know and why?
Paul McGee (a mixologist for Lettuce Entertain You Enterprises, currently at the new RPM Italian in Chicago) takes the cake on that one — one could argue he is a chef of the cocktail game. Aside from Paul, Patrick Costa (of Stella Rossa) is a damn stylish chef.
Does your pizza have a certain style?
I notice that a lot of fashion is based on a lot of hard work and effort to create something that seems simple. Such is my philosophy with food and our pizza. We took a lot of time and energy crafting and perfecting our dough, making sure each item was balanced in texture and flavor. And the end result is something as simple as pizza, but hopefully better than what people expect pizza to be.
Let's talk shoes. Do you have a bunch of pairs you rotate through? Just a few? What's your favorite pair?
I have a lot of shoes, mostly dress shoes. I even cook in dress shoes. They are just more comfortable to me. I don't know if I have a specific favorite pair. I really like Grenson, Alden and Ticker.
What sets you apart from other chefs, style-wise?
I feel that it takes a certain amount of style and creativity to cook in general. For me – being that I am typically wearing chef whites – when I'm not in the kitchen, I like to dress it up a bit. Other chefs I know swear by t-shirts and jeans. I guess it's like a chef's cooking style: it varies from person to person.
What do you and your cooks wear in the kitchen?
My cooks are some of the more stylish guys I know. We started with dish shirts and jeans for all the guys, but, over the last year, they have all transitioned/demanded to wear nice chef's coats. But they still wear jeans. Armondo and Kevin always show up at the farmers market like it's a fashion show. It always makes me laugh. Love those guys.
Name something you would never wear?
Sneakers out on the town, or a sports jersey — just not for me.
What's the weirdest thing you own?
Amazingly bright blue-and-gold plaid golf pants — for when I go golfing.
Thoughts on cologne. Do you wear any? If so, what kind?
There's nothing wrong with smelling nice. I have and wear a few different colognes, though never in the kitchen. Currently, Tom Ford and Iris Poudre by Pierre Bourdon.
---
Read More Style Talk on Food Republic: