Dosa's Big, Fat, Gluten-Free Cousin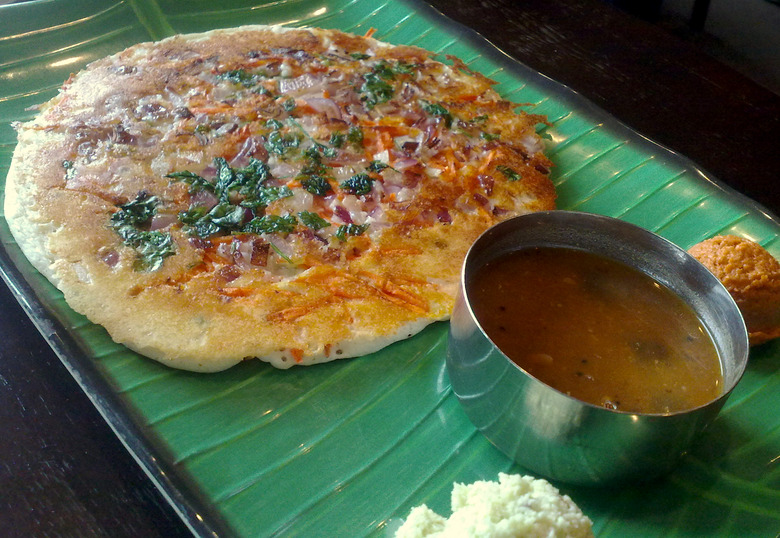 uttapam
I'm super, super excited to write about Indian food today. I've been listening to the below song on repeat for weeks, waiting for my obsession to burn out and to never want to hear it again — it usually takes 100 or so plays. This is made a lot more difficult by the fact that the video is insanely hypnotizing.
I'm totally dressing up as that girl for Halloween (it's very important to plan these things in advance) and I'm ordering an uttapam for lunch if I don't dislocate my head dancing by myself in the conference room. Ready?
This much lesser-known direct relative of the dosa is more of a pancake than a crepe. It's thicker and chewier with that same tangy flavor, owing to the mix of fermented ground rice and lentils. Its outside is crispy and just greasy enough, and the toppings are added to the batter before cooking. It's served with the same condiments as its thinner, flatter counterpart — sambar, a spicy vegetable stew, and fresh coconut chutney. I like mine with fried paneer, chopped tomatoes and lots of cilantro, almost like an Indian pizza. I'm sure the Dosa Hunt guys would approve of my brief foray into uttapam territory. Also I would like to take a brief foray into that van. There, I said it.
Along those lines, to the fellow writer I went out with last night who has been to far too many food events to have never eaten a dosa OR uttapam: I know where we're going for dinner next week. There's a song I have to listen to on the way there, though.
---
More Indian food for lunch on Food Republic: