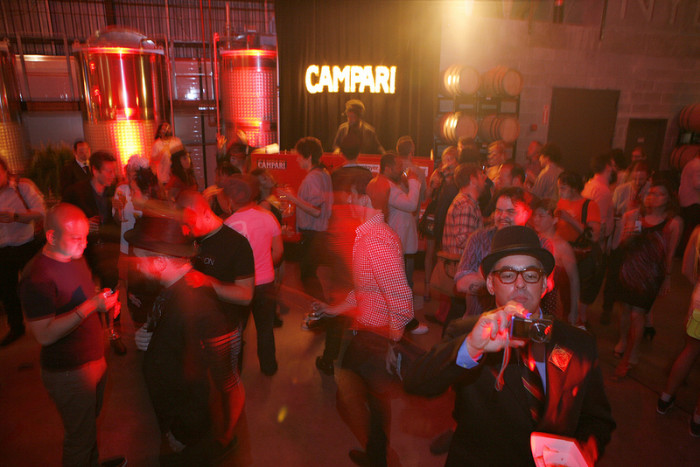 When it comes to cocktails, Simon Ford is the guy to know. After earning a Wine and Spirits Education Certificate in the UK, he went on to work for Seagrams and now holds the heady title of Global Spirits & Cocktail Brand Expert for Pernod Ricard USA. For real, it's on his business card. In Simon's weekly column, Drink Ford Tough, he tells you everything you ever needed to know about the art of the cocktail. And how to drink better.
During last week's Manhattan Cocktail Classic, New York cocktail enthusiasts came together for five days of panels, parties, more parties and no sleep. It was quite crazy. Back in 2009, I was one of 12 on the original advisory board planning the event with Dale DeGroff, Steve Olson, David Wondrich and others. We helped founder Lesley Townsend get it off the ground by hosting seminars and supporting the gala at the New York Public Library, which was absurd. I had watched the industry being built for the last 10 to 15 years and then, on one steamy night in May, I saw 2,000 cocktail enthusiasts in one room. I still think it was the largest single-room party dedicated to cocktails in the world.
What was remarkable about this year, and the most exciting validation of what we do as a bartending community, is that most of the people at the 2012 gala weren't industry people, but consumers who were interested in cocktails. It wasn't bartenders making drinks for bartenders. It was consumers coming to follow their favorite bartenders and people who wanted to check out what's new in the cocktail world.
Here are several trends that I saw happening during this year's MCC:
1. The Pop-Up Bar & The Guest Bartender
Right now the pop-up bar trend is really starting to form. Jim Meehan (of PDT) had an excellent pop-up at this year's gala. It all strikes me as an extension of the "Roustabouts" at Bar 1534 in New York, where two guest bartenders come in every Wednesday (I've been one of them). During MCC, Tony Conigliaro of London's Zetter Townhouse, was bartending at NoMad where he made my favorite drink of the week (see recipe and details at the end) and Christiana DeLucca from Chicago's Drawing Room was bartending at the Daily.
2. Bottled Cocktails
Bottled cocktails were so much fun this year. There were parties where they pre-bottled the cocktails and pre-diluted them. Then they keep them chilled so the bartenders can do really quick service when the event starts. I saw a lot of that this year — a lot of brands and bartenders buying into bottles. In New York, you can get bottled cocktails at Saxon + Parole by joining their bottle club. After you subscribe, they keep your cocktail bottle in their "Cabinet of Cocktail Curiosities" and when you come in they put it on ice and serve it to you. I have an El Presidente and a Vesper Martini sitting there that need to drunk with friends very soon.
3. Speed Bartending
Speed bartending also popped up everywhere during this year's MCC. There was Speed Rack, but also "It's a Rematch!!! Beeyatch!!!", hosted by Giuseppe Gonzalez and London Bartender Paul Mant, which is a cocktail competition for bartenders by bartenders. Every competitor puts in $100 and they have to make ten drinks accurately in the fastest time. The guy that makes the best in the fastest time wins all. I saw someone make 10 drinks in 81 seconds – the bartending equivalent of the 100 meter sprint!
4. Independent Spirits
This MCC seemed like the year of independent and entrepreneurial spirits. The brands that stood out for me that I tried and really, really liked were Chairman's Reserve (they have a very good spiced rum) and Death's Door spirit company. And everywhere I looked Steve Olsen was there pouring people some Del Maguey mescal.
5. Bartenders Giving Back
One of my favorite events this week was the Speed Rack finals (which I emceed). Sixteen female bartenders competed for the title of Miss Speed Rack and all of the proceeds went to support breast cancer. Another was the Bon Vivants' (a dynamic group of West Coast bartenders) Pork Out Punch party, where all of the ticket sales went to the KIPP National Network of public schools. It was really great to see the bartenders promoting and giving to charities as well as finding convivial ways to hangout that were more than just a party.
6. Celebration of Female Bartenders
I also felt like this year, partly because of Speed Rack, there was a celebration of the female bartenders. These 16 women kicked ass and showed the men how its done. They made amazing drinks in an absurdly fast time and it was all put together by Ivy Mix and Lynnette Marrero. Women like Audrey Saunders and Julie Reiner have been teaching men how to bartend for the last ten years so its nice to see them get some recognition.
At the end of the MCC I found myself at Basik, which was filled with bartenders drinking. But not one of them was drinking a cocktail. After five days of nothing but cocktails, everyone had a beer in their hand. And all discussions revolved around the next cocktail marathon – the Tales of the Cocktail in New Orleans. Until then, I'm drinking beer!
My favorite drink during MCC: Tony Conigliari's version of the Gibson
This drink stood out for me because there was beauty in its simplicity — it really let the gin talk. The Gibson is a drink I didn't think I liked until I had Tony's version of it. Plus, I love cocktail onions.
Ingredients
2 parts Beefeater Gin
1 part cocktail onion juice*
cocktail onion for garnish
Directions
*For the Cocktail Onion Juice
Blend the onions into a puree and then add juniper berries and let them sit for a little while. Run that mixture through a centrifuge to separate the pulp from the juice leaving a juniper-infused onion juice.
For the Cocktail
Stir gin and onion juice with ice. Then serve in a cocktail glass garnished with a cocktail onion.
Find a cocktail week near you:
July 2012: Tales of the Cocktail
August 2012: Kansas City Cocktail Week
September 2012: San Francisco Cocktail Week
October 2012: Boston Cocktail Week, Seattle Cocktail Week, Portland Cocktail Week November 2012: Los Angeles Cocktail Week
January 2013: San Antonio Cocktail Week
February 2013: Arizona Cocktail Week
May 2013: Manhattan Cocktail Classic
June 2013: Dallas Cocktail Week
---
You can follow Simon Ford on Twitter: @SimonJFord
---
More Drink Ford Tough on Food Republic.