The Latest Salvo In The LA Burger Wars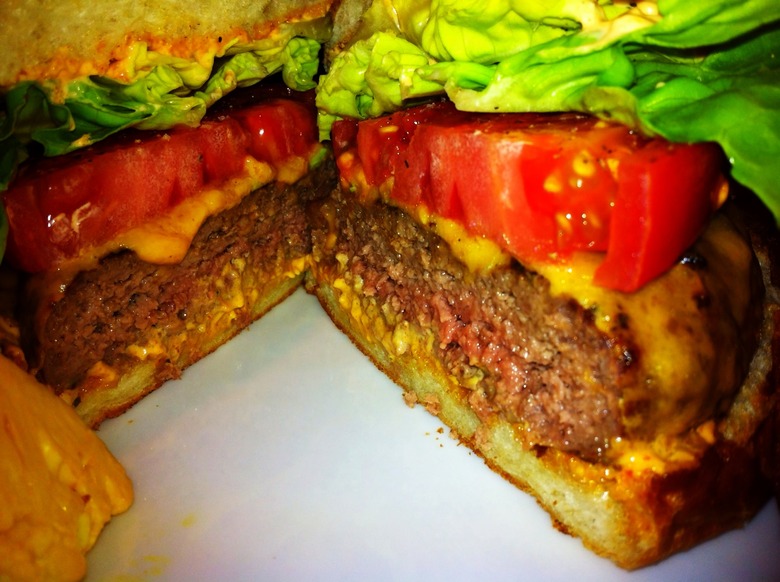 blue cow kitchen burger
There's an arms race happening in Los Angeles right now. Instead of weapons, though, this Cold War is all about bread and meat. Both superpowers, Umami Burger and Mendocino Farms, have started to expand at a rapid rate. Like a game of Risk between two pieces of bread, these companies seem intent on controlling as much LA sandwich marketshare as possible.
In the past few months, each brand opened a more upscale version of their concepts in Downtown Los Angeles. Umami debuted the Umamicatessan, where Umami Burger joins forces with other restaurants in a single space. It's like an inverted food court where you sit in one place and all the options come to you. Mendocino fired their own salvo with Blue Cow Kitchen, a more sophisticated take on their casual shops. With Blue Cow, the Mendocino Farms team took a shot deep into the heart of Umami and introduced their first burger. Lucky for them, it's a good one.
They did not arrive at this burger on a whim. Owner Mario Del Pero comes from a family of butchers. He grew up knowing the difference between chuck and sirloin (both of which are in their burger blend). Before opening Blue Cow Kitchen, owner Mario Del Pero, consulting chef Jason Travi and Del Pero's father went on a burger crusade where they tried most of the well-known burgers in LA. They then auditioned butchers to see who could give them the best beef and, in the end, they settled on a company which they fired within a few months.
The burger as it stands today is a testament to evolution. The beef and bun have changed, but all in the name of progress. Now they serve a small-grind 9-ounce patty on a buttermilk bun from Celestino Drago's Dolce Forno bakery. The burger gets "garden-fied" with butter lettuce and a thick slice of tomato that goes through a complicated week-long ripening process in the restaurant. After it's all dressed up, chef Josh Smith slathers on a tangy Creole remoulade and sends his little soldier to battle. In the Great Los Angeles Sandwich Wars of 2012, The Burger at Blue Cow Kitchen is on the front lines and luckily, this conflict has no casualties. Besides cows, of course.
Blue Cow Kitchen 350 S Grand Ave. Los Angeles, CA 90071, 213-621-2249
---
More Burgers of the Week from Food Republic: