Sammy Hagar On The Whole Food Is The New Rock Thing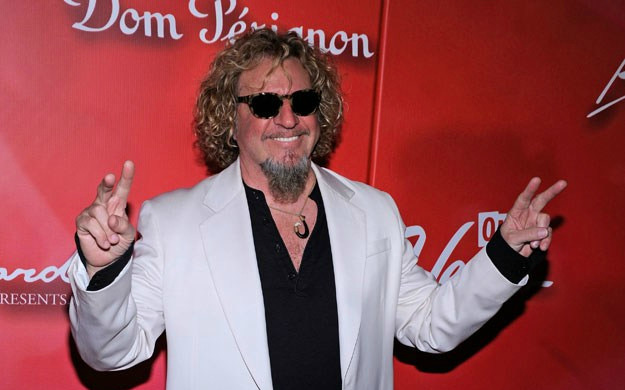 We're not going to stand on the sidelines anymore during this "food is the new rock" debate that has swept the Internet like a tidal wave of artisanal cheese fondue — a perfect blend of Kilchurn Estate Cave Aged Cheddar, Jansal Valley Smoked Gruyère and L'essence du Fromage Smoked Gouda, of course. First, The New York Times published a smart, reported trend piece on the subject. Then Gawker took the con side. Then Facebook Like buttons fanned the flames. Our dude Eddie Huang got in on the action too. Then our mom in Michigan called to see if we had heard about the Brooklyn food festival going down this weekend. Looks like somebody came out on top.
Anywayyyyys, we thought it would a good idea to ring up a guy who knows a bit about food + rock. Sammy Hagar has been running restaurants for 22 years and owns an extremely popular (and good!) tequila company, Cabo Wabo. When he hits New York, he hangs with Mario Batali. He and Emeril go on vacation every year. Oh and he's also fronted Van Halen on and off since 1985.
OK, on the topic of food being the new rock....
The chefs are the new rock stars, there is no question about it. My grandfather was a chef and, believe me, he was poor. He didn't have a brand-new car or was living in a big old house like Mario, Emeril and the boys. They have become superstars and people like watching their every move. And I'm one of them. I'm a fan and I own restaurants, so I see both sides of it.
And you rock too. You're one of the original Food Is The New Rock believers.
It's been 22 years, brother. We first opened Cabo Wabo then. I love it. I'm in the business of bringing people jobs, whether onstage or at the restaurants. I like being that guy.
When was the last time you went late with Mario Batali?
There's been many times. We're hanging out this weekend. We're starting at Osteria Morini and will probably hit a half-dozen spots.
---
We'll have more from Sammy Hagar next week.