NYC: Can Fulton Fish Market Be Restored?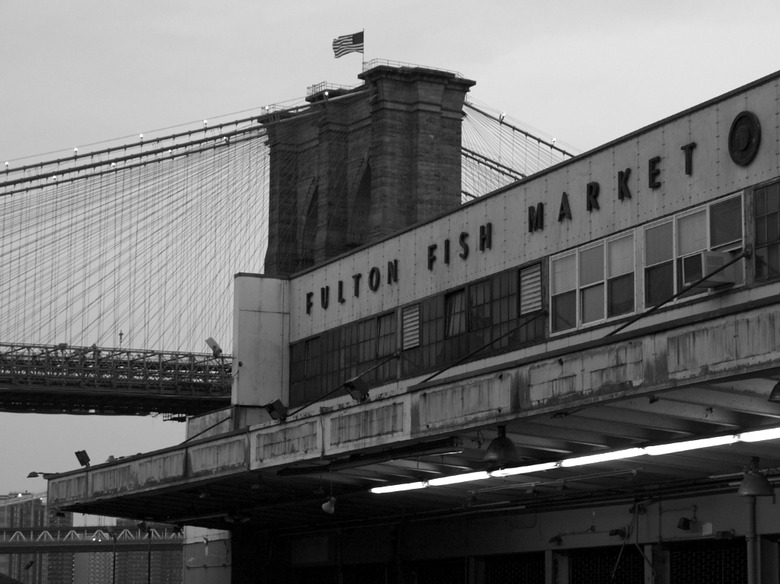 Fulton Fish Market
We may receive a commission on purchases made from links.
Last night, the Community Board One meeting in lower Manhattan had more people than there were metal folding chairs. The spike in attendance was due to one person — Robert La Valva, founder of New Amsterdam Public Market — who presented his vision last night for the derelict Fulton Fish Market site.
La Valva founded the New Amsterdam Public Market in the parking lot along the South Street Seaport in 2006 and it has been home to over 53 markets (and several festivals) since. But for him, this is only the beginning for the revitalization of the historic fish market site; the Fulton Fish Market moved to the Hunts Point section of the Bronx in 2005. La Valva specifically wants to preserve the Tin and Market buildings, but he's faced with many obstacles — among them property rights debates and expensive repair costs.
Last night, La Valva aimed to garner public support and build awareness for his vision. During his proposal he emphasized that this project would revitalize both the lower Manhattan district and rural economies in upstate New York. He pointed to the High Line as a successful precedent for turning abandoned public space into a major city attraction. For the fish market area, La Valva envisions a permanent year-round market, a center for culinary education, a food distribution center for local restaurants and a home for artisan food producers.
When La Valva first appeared before Community Board One in 2005 to propose the current New Amsterdam Market he was alone. Last night he said, "I wouldn't be here today without many of the people in this room because I am no longer speaking just for myself." He then asked the over a dozen past and present vendors in attendance to stand.
At the end of his speech the crowd gave La Valva a standing ovation and a flurry of audience members came up to deliver testimonials. Among them was Paul Greenberg, author of Four Fish and a Lower Manhattan resident. Greenberg praised La Valva's efforts to bring fresh seafood back to the area through the New Amsterdam Public Market. "There can be no more local food for New York City than seafood. We are an island. So in support of that I would say, let this be the greatest island market in the world," he said.
La Valva says he expects to have a business plan drawn up during the summer. In the meantime, you can support the project through volunteer work or donations.