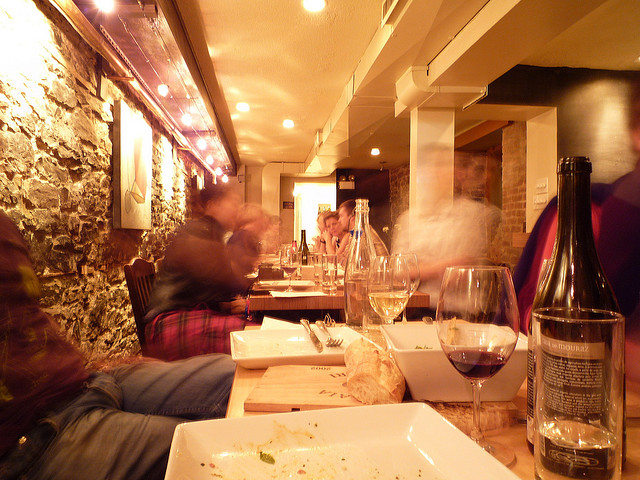 Sometimes, bar hopping means stumbling from dive to dive, getting sozzled on cheap shots with weak beer chasers. This was not one of those times: I was in Montreal recently with a few oenophilic friends for a wine bar crawl. The rather civilized evening took us to a handful of different bars à vin, each one ideal for a certain type of wine lover. We sipped on unusual by-the-glass options, polished off whole bottles, and dined on shareable plates. Didn't you know? Montreal is kind of a wine lover's paradise.
1. For the happy-hour drinker: Buvette Chez Simone
In Montreal, happy hour is called cinq-à-sept, as in: 5-7 p.m., the magic after-work tippling hour. Come cinq, this modern casual watering hole starts to fill up, from the outside in. The sunny terrace, overlooking a busy Mile End avenue at the foot of Mount Royal, is especially popular in the warmer months. Despite a laid-back attitude, a true aficionado is sure to find something to swoon over on the brief chalkboard-scrawled list. (Recently spotted: Chablis from Alice et Olivier de Moor; Francis Blanchet Pouilly-Fumé.) Snack on bites like calamari, local cheeses, or a whole roasted chicken that you can pick apart with your drinking companions like the ravenous little wine bar crawlers you are. 4869 Avenue du Parc, Mile End, 514-750-6577, buvettechezsimone.com
2. For trainspotting wine lover: Pullman
The whimsical split-level space is designed to recall the luxury train cars made popular by the likes of George Pullman, for which the bar is named. Sip on themed flights of three – rosé, say, or Beaujolais – beneath an oversized chandelier of inverted wine glasses. The bar also specializes in sweet offerings like ice cider (think: ice wine, but made from apples), and has a whole section of the wine list dedicated to vins de voile, which like dry sherry are wines vinified in a barrel under a film of yeast known as the "voile." The menu includes inventive bites like bison mini-burgers and port-steeped grilled cheese. All aboard, indeed. 3424 Avenue du Parc, 514-288-7779, Downtown, pullman-mtl.com
3. For the design-savvy oenophile: Pop!
Step into a mid-century modern room that could be the backdrop to a scene from Mad Men. Sleek Danish-style teak tables and bar manage to feel warm and cozy, especially on Thursdays when a live pianist entertains. The menu is shorter than what you get in the attached restaurant, called Laloux, but will keep you sated as you sip. There are crispy orbs of arancini, creamy hummus with fluffy pita, strangely topped pizzas, and raw oysters to pair with a wine list heavy on the organic, biodynamic and natural options. A suggestively named Gamay, called Point G (translation: G-spot), from the Loire went wonderfully with the platter of charcuterie. 250 Avenue des Pins Est, Plateau, 514-287-1648, popbaravin.com
4. For the natural wine geek: Les Trois Petits Bouchons
A number of wine bars in Montreal stock traditional, naturally made wines; this place prides itself on it. The eclectic list includes such cultish producers as Olivier Lemasson from Touraine, Domaine Gramenon from Côte du Rhone, Marcel Lapierre from Beaujolais and Roagna from Piedmont. The space feels cavernous, with its stone walls and subterranean setting, reminiscent of an Old World wine cellar. And yet, the atmosphere can get rather celebratory for a serious wine bar. After a couple of bottles, our waiter sent over a round of shots. Sure, it was a pretty eau de vie – an Audrey et Christian Binner Vieux Marc de Riesling Kaefferkopf from Alsace, to be precise. But it was a round of shots all the same. 4669 rue St-Denis, Plateau, 514-285-4444, lestroispetitsbouchons.com
5. For the late-night gourmand: Le Comptoir
There aren't many places in the world where you can get a fresh lobster-topped onion tart or pork chop with sea urchin foam at 11 at night. In this brightly lit, cheerful space, with a blond wood bar and chalkboard menu, you can get these and pair them with a beautiful bottle of wine. Another list specializing in organic and natural wines, Le Comptoir also acts as a late-night gourmet deli. You can order locally produced humanely raised nose-to-tail pork charcuterie to go, including headcheese, guanciale and pancetta. All this pork might make you extra thirsty, of course. A short selection of magnums will surely quench you before you head back out into the Montreal nuit . 4807 Boulevard Saint-Laurent, Plateau, 514-844-8467, comptoircharcuteriesetvins.ca
---
More about Montreal on Food Republic.