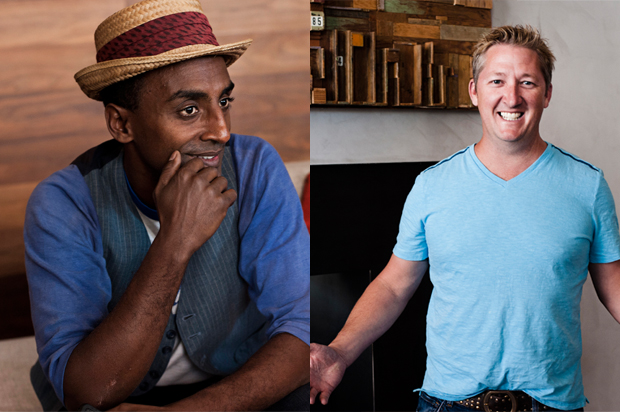 Last week we shared one of the clear highlights of the Food Republic Interview Lounge at the W Austin during Austin Food & Wine Festival, a candid chat with Andrew Zimmern. Right after the Bizarre Foods America host left the stage, Marcus Samuelsson and Tim Love decided to eschew individual interviews and instead sit on the couch together to talk barbecue. The result? More highlights!
The two respected chefs couldn't be more different on the surface: Samuelsson, Food Republic's co-founder, is best known for introducing Scandinavian fine dining to America during the '90s at Aquavit, then inspiring a 21st century Harlem renaissance with a culinary mash-up at Red Rooster in NYC; Tim Love is a straight-shootin' Texan with restaurants around Ft. Worth that focus on meat, meat and more meat.
Maybe it's these divergent paths that made their discussion about barbecue and cooking locally so fascinating — and at times amusing. Asked what types of animals he hunts on his ranch west of Ft. Worth, Love replied, "Anything with four legs." He then went on to talk about the various ways he flavors the meat at his new restaurant Woodshed — which features a different Animal of the Day, cooked on a spit out front, every day! For his part, Samuelsson noted, "Every country in the world barbecues," then went on to discuss his own experiences with how varied the barbecue experience can be. Eventually, he settled on the word "terroir," a word usually used when referring to wine. Love agreed emphatically. 
All this and more in this video interview from last month's Food Republic Interview Lounge at the W Austin.
Presented by our friends at the W Hotel Austin.