Ramen Diaries: Tetsu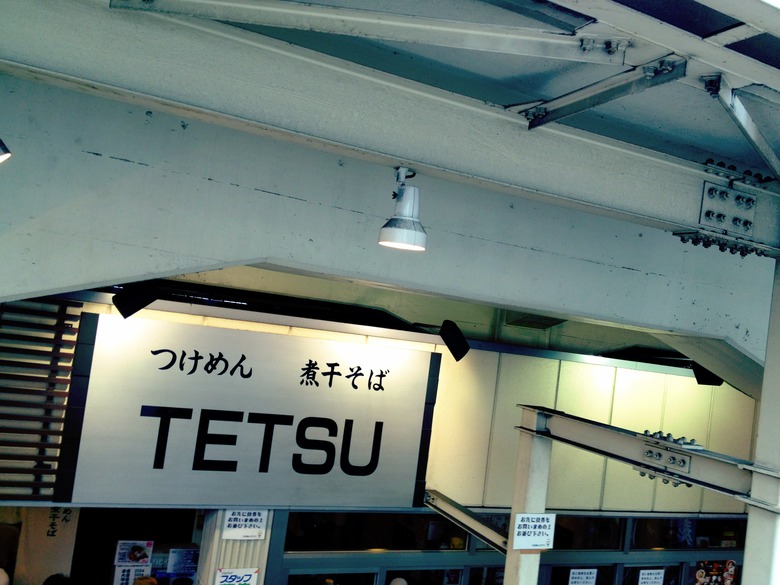 POP ETC frontman Chris Chu just returned from a trip to Japan, eating epic bowls of ramen daily. Last week, we debuted his tonkotsu-splashed diary of all the action (insert slurping sound). The trip comes to an end with this, a visit to Tetsu. POP ETC releases their debut album June 12 on Rough Trade.
Previously:
For my last bowl of ramen I decide to visit Tetsu, a small ramen joint popular for their tsukemen. Actually Tetsu only serves tsukemen, so I suppose it's a tsukemen joint.
In fact, Tetsu is largely credited with popularizing the current tsukemen craze in Tokyo, in part due to its unique style. I will go into this later, but I first wanted to make a quick note about why I ended up eating more tsukemen than regular noodle-in-soup ramen. For starters, tsukemen is just a variation of ramen. The ShinYokohama Ramen museum says there are 26 types of ramen, and honestly, there are so many more at this point — new styles, new fusions. (Check out this link for more on that.) Second, tsukemen is largely unheard of in America, and I was hoping to bring some attention to it. Thirdly, it's friggin' delicious! For noodle enthusiasts like myself there is nothing better!
OK then, back to the ramen. From the outside, Tetsu looks like a million other ramen joints: unassuming, simple, small. There is a standard vending machine menu outside, where you grab your ticket, and then wait in line. When I arrive at 1:30 pm the line and counter are filled with businessmen in black suits. I've visited Tetsu a few times, and there is almost always a line, no matter what time of day.
The menu at Tetsu is comprised of all tsukemen. Basically you have your basic tsukemen, noodles served cold or atsumori, and then you have a variety of toppings. More pork, egg, chili oil, etc. I go with the standard tsukemen, which comes with cold noodles and a couple slices of pork.
Within 5 minutes I have my bowl and I am slurping down. From the first bite you know that Tetsu is something special. For one, the noodles are beyond perfection. Just the right thickness, firm but chewy and perfectly oiled. The broth is very rich and quite thick. Filled with porky flavor, dried fish (bonito) taste and that perfect amount of yuzu citrusy-tang. There's not much more to say. This is tsukemen heaven. The closest comparison to Tetsu's tsukemen is Warito's. The broths are definitely similar in style — traditional ingredients, expertly prepared and bursting with flavor. I'd be hard-pressed to pick a favorite.
Some might complain that the broth at Tetsu is actually too rich or salty to drink, but the people who run Tetsu know what they are doing. As I mentioned before, Tetsu helped pioneer the new wave of tsukemen in part because of its unique style of serving this version of ramen. Once you are finished with the noodles, or halfway finished, depending on your taste, you can ask for a "yaki-Ishi" — basically a piping hot metal stone that you then put into your broth to heat it up. The yaki-ishi warms the soup up instantly. Next you are given a metal container of hot dashi that you can pour into the soup, and dilute it to your own taste. And voilà! A steaming hot bowl of delicious ramen broth for your enjoyment.
And that concludes my ramen/tsukemen journey! It was a delicious adventure. I hope that everyone reading this gets a chance to visit Japan and try their ramen. It is truly something to behold!
---
PS: Please send me your tips for ramen in the U.S. — especially the New York area — in the comments section below. Maybe the Ramen Diaries will continue!