Mexico City: Where To Sip Mezcal Now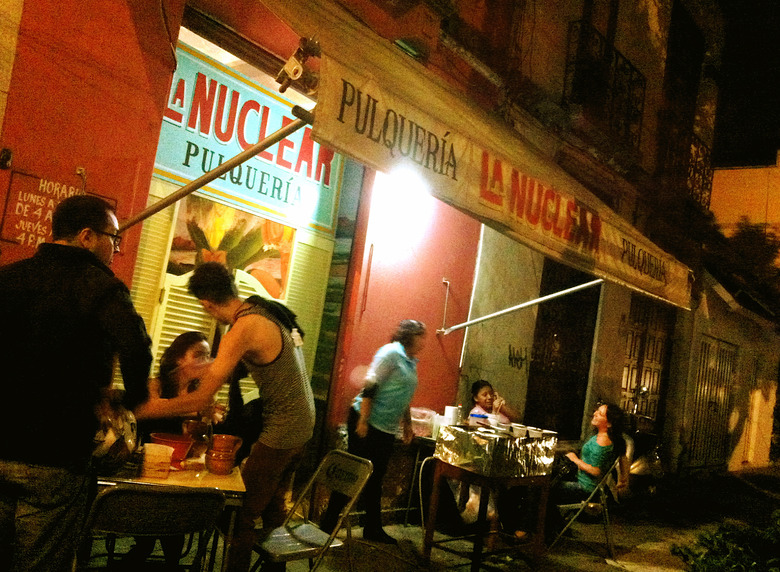 Pulqueria La Nuclear
Many a city gets compared to New York. Toronto is the Big Apple of the Great White North? Sorry, Canada. Not buying it. But Mexico City really can be likened to New York — it even hired ex-mayor Rudy Giuliani to consult on how to clean up its streets.
But is it safe? People kept asking me when I told them I'd be spending my birthday last month, alone, in Mexico City. Not that you're ever alone in a city of 20 million people. Yes, I keep saying, it's safe. As in, you can traipse from bar to bar at night without worrying about getting jumped (depending, like any big city, on the neighborhood). But the adventurous, borderline experimental, bars themselves — edgy and effortlessly cool — are anything but "safe."
While tequilerias are cropping up at every turn in the U.S., in the Mexican capital — or D.F (Distrito Federal) to the locals — mezcal is what every talks about. To wit: I checked out the opening of a new gallery and, while the exhibiting artist expounded on his vision of Mexican modernity, trays of refreshments were circulated: Champagne and mezcal. You won't find that in Chelsea. Just a few years ago, tequila's more rustic, smokier cousin was reserved for hipsters and artsy types. It's still shocking to certain folks over 40 that the drink, once associated with charros (Mexican cowboys) and miners, has made a comeback. Nowadays, just about every good restaurant and bar has a decent mezcal list.
I stayed in Roma, a gentrifying neighborhood teeming with public art and hip watering holes. Hotel Brick (Orizaba 95, hotelbrick.com) is a stylish boutique space with the sort of trendy lobby bar that serves fresh fruit cocktails priced to match the designer stilettos and wingtips that are the footwear of choice. Other hot spots in the hood are a little more laid back. Bistrot Broka (Zacatecas 126-B, brokabistrot.com) looks like a simple wine bar upon entry. Then, you start to notice people sneaking into the kitchen. It's only when you follow them that you realize that's the only path to the outdoor courtyard, where the real action is. Grab a table and ask for food; there's no menu, but the plates will keep on coming: inspired tapas, from traditional Yucatan lime soup to Asian and Moroccan-inspired bites. Vinos and cervezas abound, but I opted for the house's own mezcal.
La Botica Mezcaleria (Campeche 396, labotica.com.mx) can be credited with much of the spirit's resurgence. This tiny bar in the bohemian-chic neighborhood of La Condesa has sprouted several more branches in the city and beyond since opening in 2005, each with an extensive list of mezcals. Its owners have opened another bar, La Nacional (Nuevo León 120, lanacionalcondesa.com), dedicated to even lesser-known spirits of Mexico, including bacanora and raicilla, both derived from agave, as well as sotol. One of the most popular mezcalerias of the moment is La Clandestina (Av. Alvaro Obregón 298), a hole in the wall with no sign that still manages to be easy to find. See: Throngs of people waiting outside on a busy night.
Mezcal should be sipped, not shot, even though it's served in a shot glass. A light cerveza, like a Corona, is ideal for chasing it. But many of the locals would rather opt for one of the handful of craft beers now available in bars like La Nacional. Another fine chaser is pulque, the fermented agave drink that predates mezcal and tequila. Push through the swinging saloon doors of Pulqueria La Nuclear (Querétaro 161 int.5) for a rowdy crowd high on karaoke and flavored pulque. The waitress thought I might have made a mistake when I ordered a glass of the original: a viscous, cloudy liquid with a funky, herbaceous flavor. The piña colada-flavored pulque is the most popular, she told me. Go figure.
For my last night in Mexico City, I stayed at the adorable Red Tree House (Culiacan 6, theredtreehouse.com), which doesn't have a bar per se, but the staff is always happy to pour you a glass of wine to sip in the colorful, leafy courtyard. The communal breakfast tables in the brightly painted dining room, where just about every guest is some sort of cosmopolitan creative type, are a great place to find a new friend or two to go bar hopping with at night. Especially if you happen to be traveling alone. On your birthday.
---