5 Questions For Alex Guarnaschelli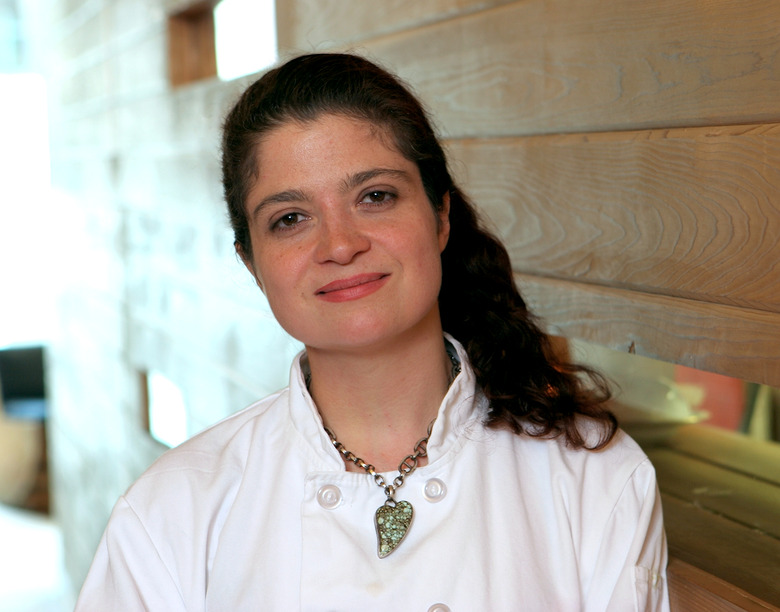 alex guarnaschelli
Any food enthusiast worth their fancy rock salt grater will recognize Alex Guarnaschelli from Food Network, Cooking Channel and Bravo. Every food enthusiast should hit her NYC packed-to-the-gills hot spots Butter and The Darby. Her New American cuisine is...well, it's pretty darn close to perfect. You see, Guarnaschelli doesn't believe in "the perfect dish." The dishes she does believe in, however, sound excellent. I called her up at the Darby for a quick chat in between her braising beef tongues and keeping tabs on the steady stream of crowd-favorite celebrities going in and out of the restaurant.
What are you most excited about cooking this spring?
This time of year is inspiring. I went to the green market this past Saturday and I saw the first rhubarb and strawberries of the season, and it felt like I'd been waiting forever for those ingredients to reappear. I really love this ramp pizza we make because ramps are only around for 5 minutes. We do it with fava beans, basil and pine nuts. Right now, I'm chasing the tail of the perfect preparation for asparagus, grilling it and serving it raw. I'm also working on my first cookbook, which will come out next year.
What made you realize it was time to write a cookbook?
My mother's a cookbook editor, so I certainly waited longer than other people. If your mother was Steven Spielberg, you wouldn't direct a movie, right? It's daunting. As all chefs experience, you're always inadvertently collecting recipes. It became clear to me that it could become a book probably a year ago, but it's not a "cheffy" book. I think chefs like to cook simple recipes, too. The book is really more about sharing.
Do you think your mom will have a lot of involvement with the book?
I've had too many dreams of her standing over me with a red pencil. I don't think she's going to be involved.
Does your daughter like being in the kitchen with you?
Yes, but I'm not pushing her in that direction at all. She's 4½, likes to eat and really loves cooking, but at her age I think she likes the idea that you're together in the kitchen — like the Rice Krispie Treats commercials where everything's perfect. I think that resonates with her. She's a little scared of the oven and I'm happy for that, but being in the kitchen with her has been an eye opener for both of us.
What are a few of your favorite recent celeb sightings at The Darby?
(laughs) I'm finding it really hard to have Pink and Kim Kardashian in at the same time. Pink got up, saw Kim and sang her "Happy Birthday." That might be pretty hard to top and was probably my favorite. My jaw literally dropped. The Darby's not a big room, it's an 84-seat restaurant so to have it be so intimate and see that is really quite something.
What else? We had Talib Kweli stand on the stage and rap. It sounded like he practiced it, but he really hadn't and it was stunning. Our favorite customer is hands-down Leo DiCaprio. Actually, he's my personal favorite. And Jeremy Lin ate the Tomahawk steak [30 ounces of Black Angus] almost by himself.
---
More chef talk on Food Republic: