Ramen Diaries: Afuri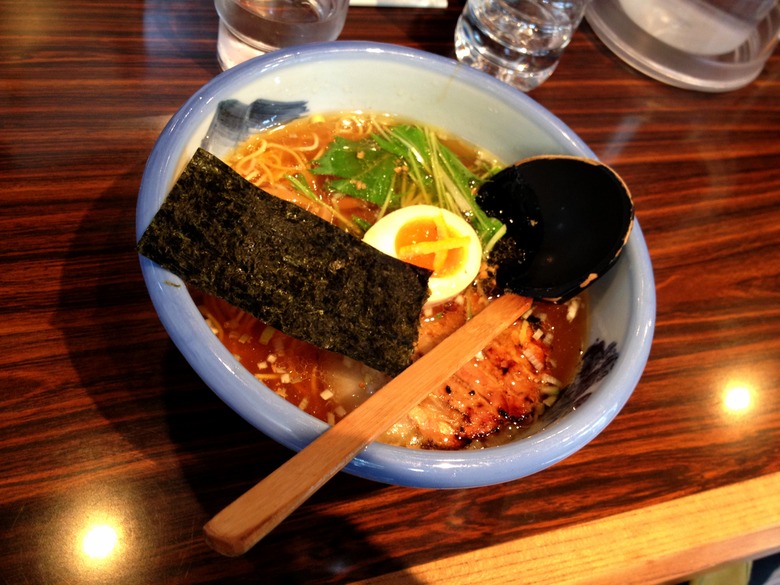 POP ETC frontman Chris Chu just returned from a trip to Japan, eating epic bowls of ramen daily. Last week, we debuted his tonkotsu-splashed diary of all the action (insert slurping sound). The trip's winding down, and with two stops to go, Chu is closing in on ramen nirvana. POP ETC releases their debut album June 12 on Rough Trade.
Previously:
Afuri is my next stop. Afuri is a ramen shop located right next to the Nakameguro station.
It's a newer shop that has quickly gained praise for its yuzu ramen. They also claim to use only mountain spring water in their broth, which has taken on a new meaning since the 2011 earthquake and consequent nuclear disaster has compromised certain supplies of Japan's water. The shop is laid out in a similar manner to most ramen shops, with a counter around the kitchen and a ramen menu vending machine, but it is a bit more spacious than the average ramen joint. The ceilings are high, and the seats are liberally spaced out. Kind of a nice change for people who may feel claustrophobic in some smaller, hole-in-the-wall type ramen joints. In the corner a TV is playing "Endless Summer–" esque surf footage, and the radio is playing more indie-ish rock and folk. Rumor has it they even play POP ETC in here every now and then, a reason in itself to go to Afuri I suppose.
I decide on the yuzu shoyu ramen, marked as one of the most popular choices on the menu.
The ramen here is displayed quite beautifully. This is probably the prettiest bowl of ramen I am served while on this trip. The toppings are also quite nice. Soft boiled egg, just the slightest bit runny. Chashu browned with charcoal, giving it a nice bit of smokiness. A couple sprigs of mizuna (a bitter leafy green). Overall a nice attention to detail that often gets lost when it comes to toppings.
The soup is similar to Hayashi in that it has elements of pork and seafood, but also chicken broth. In fact, I believe the Afuri soup may use chicken broth as its base, as that is the predominant flavor. The taste of seafood is still apparent, but the taste of pork is barely there. The yuzu flavor is also quite prominent, which pairs nicely with the chicken flavor. It's a kind of citrus-y chicken broth that I think would be perfect in the summertime.
The noodles are thin and wavy, characteristic of the Tokyo style of ramen noodle, but on the skinnier side. Probably the low note of this particular bowl. The noodles are a bit mushy, and also lack flavor. With a bowl of ramen like this, the thin noodle seems like the obvious choice, but I would be curious to try a thicker noodle. The broth is already so light on its own that the amount of flavor the noodle absorbs is next to none. Maybe a thicker noodle would allow for more flavor absorption?
Still, it's a quality bowl of ramen, suitable on a day when you don't want to go full-pork with tonkotsu style ramen. Although I will say that I'd probably pick Hayashi over Afuri if I was indeed looking for a lighter bowl.