The Ramen Diaries: Warito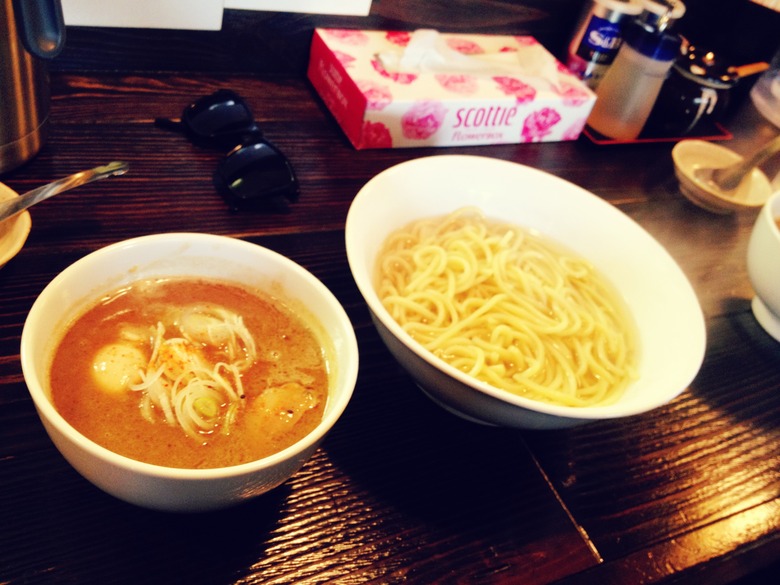 POP ETC frontman Chris Chu just returned from a trip to Japan, eating epic bowls of ramen daily. We asked him to keep a tonkotsu-splashed diary of all the action (insert slurping sound). POP ETC releases their debut album June 12 on Rough Trade.
Previously:
The next day (after Toride), I decide to try a place called Warito, a shop on the edge of Nakameguro, at the end of the canal. The tsukemen here is quite famous, so I decide to get to the ramen shop early. I arrive at 10:45 a.m., 15 minutes before the shop opens. There's already a line.
It is amazing to me that some of these ramen joints become famous based purely on word of mouth. The storefront and sign are so minimal. You could walk by it every day and not know it exists. I think most foodies love the adventure and the detective work involved in finding a new great restaurant off the beaten path, and I suppose that's a big part of what makes ramen culture so fun in Japan. There are over 4,000 ramen joints in Tokyo alone, and over 80,000 in Japan. There's always a new bowl of ramen to be had, and they are all different.
By the time Warito opens and we are seated, there are probably 15 people waiting behind us. In total, the shop holds around 12-13 people, so there are nearly 30 people waiting before they even open! People truly are crazy about their ramen in Japan. Needless to say, I am pretty stoked to be here.
As I touched on earlier, the atmosphere in a ramen shop is a big part of the experience. Warito is great in that it is very clean and efficient, but still maintains a more casual energy to it. I would say they take their ramen just as seriously as Hayashi, but the atmosphere is much more relaxed. The radio is audibly playing Top 40 tunes from Japan and America (Katy Perry was playing at one point and I had an aural/taste sensation combo that will go down in history as one of my most pleasurable moments).
I imagine this kind of atmosphere attracts a different clientele as well. Although still predominantly salarymen, there is, at one point, a family of four slurping down.
During the day Warito serves the rendition of traditional pork-based tsukemen. They also offer a bowl of hot seafood soba that I've heard is great. At night they offer a chicken-based tsukemen. Next time I'm in Japan you can be sure I will try all of these, as the tsukemen I get that day ranks as one of the best I've ever had.
I opt for the atsumori tsukemen. Atsumori is a style of tsukemen where the noodles are served in a bowl of warm broth.
The atsumori broth is very subtle, a diluted seafood dashi which adds a bit of flavor to the noodles, but moreover serves to keep the noodles warm. The noodles are thick, maybe a shade thinner than the spot in Yoyogi, but still thick. Expertly prepared. Not too soft, not too firm and wonderfully chewy. As a bonus, Warito allows you to choose your portion of noodles at no difference in price. Basically, take as much as you want, as long as you eat it. I opt for a medium portion.
As for the soup, well, it is out of this world. Simply mouthwatering. A tonkotsu (pork) and seafood broth, I would still describe this soup as balanced, but not like Hayashi's ramen is balanced. Hayashi is balanced in a way to retain its ingredients' subtleties. The soup at Warito is balanced in a way that every element is bursting with flavor. It is intensely porky, and boldly fishy. It has a yuzu tanginess and an onion bite that creeps up at you at all the right times. This is the stuff ramen dreams are made of.
The toppings are served in the broth, which is obviously the right move here since the broth is so incredible. In a standard bowl at Warito you have egg, chashu, bamboo shoots, and some sliced onion in the broth. Each topping was perfect. No flairs, just perfectly prepared, and submerged in the tastiest soup you've ever encountered. The chashu in particular, when drenched in broth, is supremely delicious. If you want to have one bowl of tsukemen in Tokyo, go to Warito.
You'll notice that people don't dilly-dally in ramen shops. As soon as you finish, you get up and leave so the next person can sit down. Even if you are with a friend, and even if you wait 45 minutes to sit down, there is no sense of entitlement. I absolutely love this about Japan. After getting the perfect bowl of tsukemen, I finish quickly and leave. The entire experience lasted probably 20 minutes, but I'll never forget it.
Warito
3-7-10 Aobadai, Meguro-Ku
Tokyo, Japan
---
Come back next week for the final two installments of Chris Chu's Ramen Diaries (for now). And be sure to check out POP ETC's Weekend Mix of songs that influenced their forthcoming record: